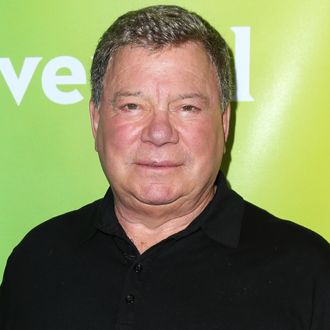 William Shatner likes to shit-ner on everything Star Wars.
Photo: Joe Lester/Corbis
Star Trek star and Priceline pitchman William Shatner has been vocal about his distaste for the Star Wars franchise for quite some time. Even J.J. Abrams's spot at the director's helm for both franchises won't usher in a new era of peace as long as Shatner is trolling Star Wars fans hard on Twitter. Shatner made fun of the first Force Awakens trailer last November, as well as the unveiling of the new trailer and poster last week. He wasn't even taken by little BB-8!
Or the lightsabers.
With the new poster, he implies the new franchise was copying older space-adventure stories:
He has photos, too.
It didn't stop there.
But of course, this beef is really about Star Trek versus Star Wars.
If you respond to him, he'll just use that as another opportunity to troll.
And troll …
And troll …
He isn't even afraid to sass back at regular people!
December 18 is going to be so much fun.