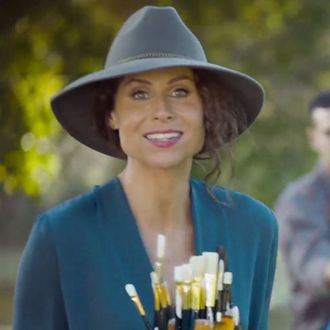 Last year, British charmer Minnie Driver teamed up with Mazda and NBC for their Drive4Good campaign, which sought to help people give back to their community (Good4Her). No, she wasn't asked to do this because her last name is Driver and it's about cars (what a cute guess of you); it was because she was on NBC's About a Boy at the time (RIP, NBC's About a Boy). Lucky for me (and you), this ad appears to be making the rounds again, as Minnie Driver doesn't say "2014" in it once, allowing it to be repurposed for this year's Drive4Good campaign (very clever of her).
The idea is it's a sort of charity contest that awards whoever's best at charity. Again, this was last year, so I can tell you who was deemed best at charity: Braeden Quinn (cool name) is a nice young man from Delaware who, despite being 11, operates a charity, Brae's Brown Bags, or 3B (cool name), which puts food, water, kids books (Good4Kids), and winter clothing (in the winter) in brown bags and gives them to people in need. By the time of his winning (congrats again), he had given out over 2,000 3Bs (what a nice young man). Here's a picture of him hugging the very proud Michelle Obama: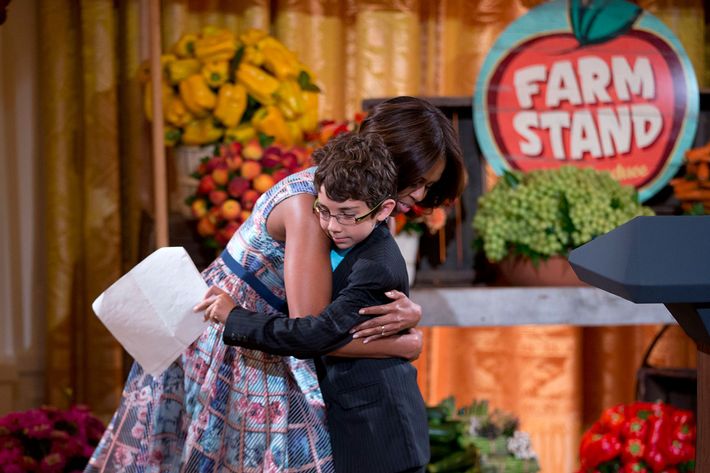 The Drive4Good campaign awarded Braeden $30,000 for his charity and a meeting with the very charming Minnie Driver. His response: "It makes my heart feel happy when I know that other hearts are being filled." Aww.
But I'm not here to tell you about this nice young man. Instead, I just want to recommend you watch the ad Minnie Driver (wearing a very cute hat) made for it below. Why? Because you need to hear her say the word Mazda, which she thankfully says multiple times throughout this ad. She says it so elegantly, so charmingly, like an archeologist brushing dirt off an ancient teacup she unearthed, like a whisper in your ear from a classy ghost telling you she exists but you shouldn't be afraid, like the relieved purr a kitten makes after sneezing. Okay, so here's that: