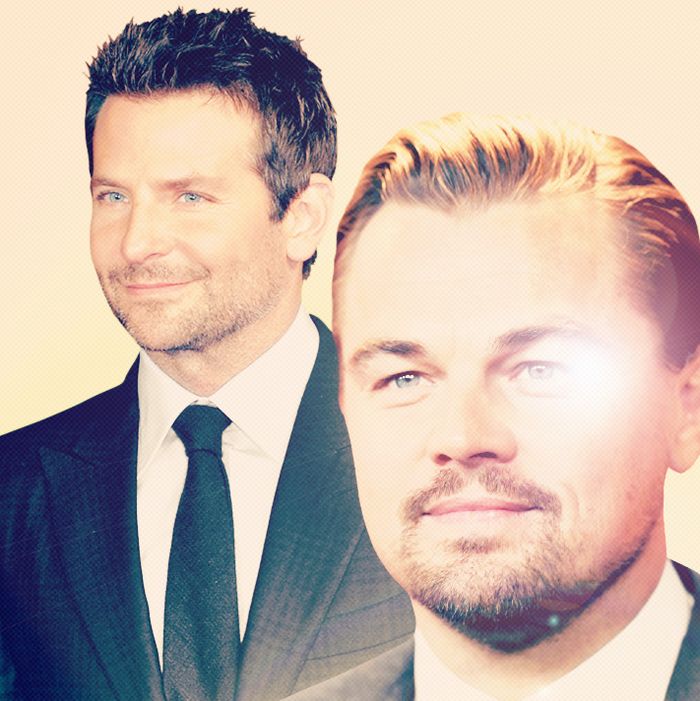 Photo-Illustration: Maya Robinson and Photo by Getty Images
More than just a reflection on the actors that make it, Vulture's list of Hollywood's 100 Most Valuable Stars offers a glimpse of the industry as a whole, and what the upper echelon of its on-camera talent looks like. As we take a deeper dive into 2015's findings, we'll look at the top actresses and comedians to make our list. But today we consider the actors, and what the top ten says about the men leading our movies today.
First, that top ten:
1. Robert Downey Jr
RDJ is the top dog in the Avengers franchise, making him the top dog in the film world. Could he benefit from stretching a bit beyond the Iron Man suit? Sure, but you could stand to be better about taking out the garbage, too.
2. Leonardo DiCaprio
Critics and studios love, love, love Leo, the only member of our top ten who doesn't do franchises, and this year could be a big one: He'll get one of his best shots yet at the Oscar he's been chasing with the release of Alejandro Gonzalez Iñárritu's The Revenant. He ate raw bison liver on set. Leo would like you to please share that tidbit with the nearest Academy member.
3. Bradley Cooper
While Aloha and Burnt, his two starring vehicles this year, both tanked in spectacular fashion, Cooper also toplined American Sniper, the highest-grossing movie of 2014. His appeal goes wide and deep thanks to the breadth of his work, which spans comedies like The Hangover to serious dramas like Silver Linings Playbook and Sniper.
4. Dwayne Johnson
Dwayne "more than just a Rock" Johnson finally got his own tentpole to stand on after San Andreas shook the box office. He's the biggest action hero we have right now, particularly if you put capes and suits aside.
5. Tom Cruise
Few actors have had weirder decades than Tom Cruise, but the latest Mission: Impossible, arguably the best of the bunch, proved that the face you see when you think of the term movie star still fits the bill as well as any other man in the world.
6. Hugh Jackman
Everyone loves Hugh Jackman, and while he might have the lowest studio score of any actor in the top ten, he still has the versatility to go from action spectacles like The Wolverine to dark drams like Prisoners. Just … don't mention Pan.
7. Channing Tatum
It's shocking to think that only a few years ago, Channing Tatum was just the dude from Step Up. He did Oscar-worthy work in Foxcatcher, even if it wasn't recognized, and the fact that he didn't take any of the blame for Jupiter Ascending's flop shows how much confidence the studios have in him.
8. Chris Pratt
Chris Pratt has made a remarkable career out of being the unlikely hero, a charismatic goofball with abs, and there isn't a dormant franchise in Hollywood that studios wouldn't reboot with him attached.
9. Tom Hanks
Hanx is the elder statesman of the top ten, with three decades' worth of experience charming you, then making you cry. Although his choices of late have been more prestige than theater-stuffing, they still underscore his incredible influence and respectability. Literally everyone loves him.
10. Matt Damon
What a weird year Matt Damon has had. First, he inflames the internet with insensitive ideas about race on his own show, Project Greenlight; then, he has one of the biggest hits of his career with The Martian. But with Damon returning to Jason Bourne, expect that latter milestone to be a better indication of his near future than the former.
So what should we make of this list?
The new generation of male movie stars has yet to materialize.
My colleague Kyle Buchanan has already considered the lack of young American actors on the come-up, particularly in comparison to the many talented and super-successful young actresses. But it's clear, looking at the top ten, that this extends beyond just Americans. The youngest actor to make our top ten is Channing Tatum, at age 35, and only three of the actors are younger than 40. Compare that to the list of women, which features five actresses under the age of 35. Of course, this has more than a little to do with the different standards — of appearance, of youth, of desire — that women are held to versus men, but vis-à-vis the men, it also illustrates an absence. Who's our male Jennifer Lawrence right now? Our male Shailene Woodley? Our male Emma Stone? The answer is that they don't exist. Only three actors under 30 even made our top 100 list, with Daniel Radcliffe leading them at No. 63; and the other two, Zac Efron and Miles Teller, did not have good years.
International drawing power is only becoming more important.
If you adjust the rankings to show only stars' box-office power overseas, No. 23 Vin Diesel skyrockets all the way to No. 3. That reflects Furious 7's astounding success in China — it made nearly $400 million, more than it did domestically — but it also exemplifies how an actor whom the U.S. might see as over-the-hill, or else more of a franchise player, can be an enormous presence in countries where the understanding of American entertainment is less comprehensive. Zach Galifianakis sees an even larger bump from this adjustment, climbing from No. 41 to No. 17, and most of the true top ten still fare pretty well — the lowest anyone slides is Tom Hanks, to No. 21. The writing's been on the wall for years now, but going forward, anyone who hopes to be at the top of Hollywood better appeal to the rest of the world as well.
Unless you're Leonardo DiCaprio, you're going to want a franchise.
Leo is the exception to an otherwise-ironclad rule: If you want to be a movie star in 2015, you need to be in at least one major franchise. Gone are the days when a star could carry an opening solely on the strength of his reputation: Even Leo can't really do that anymore, since his last huge hit, Inception, had the Christopher Nolan imprimatur going for it. Tom Hanks, the other actor who isn't currently attached to a franchise, still did the Da Vinci Code series and Toy Story not long ago, and many of the men who do have sure things, like Chris Pratt (Jurassic World) and Channing Tatum (Jump Street), continue to circle new properties that can run year after year. Robert Downey Jr. is the gold standard for how to become a titan now — trying to replicate Leo's rise would be like trying to pattern a presidential run on winning World War II.
Comedy might not be the focus, but you'd better be funny.
Although none of our top ten stars could rightly be called "comedians" — the highest-ranking actor to qualify would be Kevin Hart at No. 30 — they're all not only capable of being funny, they also seem to be drawing more and more on that skill. The Martian will compete in Best Comedy or Musical at the Golden Globes, meaning a likely win for best actor in that category by Matt Damon; The Wolf of Wall Street might've been the funniest movie of 2013 (and DiCaprio was rewarded accordingly with a Golden Globe for Best Actor in a Comedy); Bradley Cooper played a major role in Netflix's Wet Hot American Summer series; Channing Tatum has Jump Street; and the list goes on. I mean, Chris Pratt's mere existence should be a clear sign of this: When you have actors climbing out of network sitcoms to become gargantuan movie stars, clearly audiences are putting humor at a premium. The reason that there aren't more comedians up there, then, has to do with the fact that this humor needs to be broad and accessible enough to translate overseas.
Diversity continues to be a struggle.
We're used to seeing Will Smith and Denzel Washington at or near the top of this list, but both slid more than ten spots this year, leaving Dwayne Johnson as the only man in the top 20 who isn't white. While the top ten has never been terribly diverse, it actually appears to be getting less so: None of our big risers this year, male or female, are nonwhite, and the only person of color to make their first appearance is Idris Elba at No. 97. Even stranger is that as the box office skews more international, we've yet to see any foreign stars cross over into the American industry, the way Jackie Chan and others have in the past. When will we have another Chinese movie star? An Indian one? A Latino?