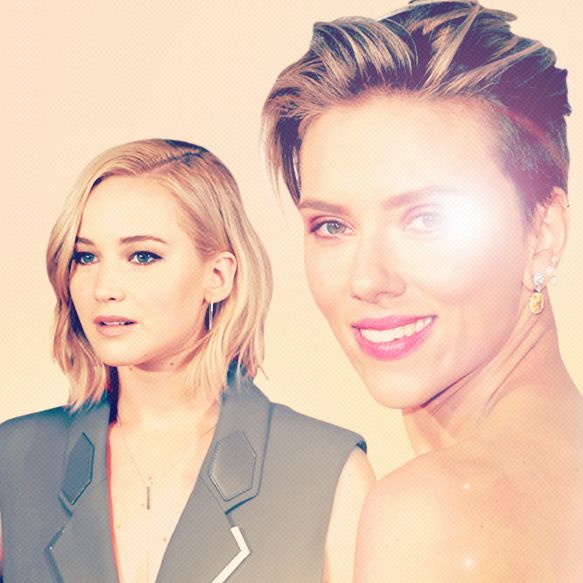 Photo-Illustration: Maya Robinson and Photos by Getty
This week, Vulture crunched the numbers and ranked the 100 Most Valuable Stars in Hollywood. Over the next few days, we'll break out even more analysis tied from the rank, including features that specifically examine the top ten actresses, actors, and comedians on the list. Today we're taking a look at the ten highest-ranking women: Who are they, and what five things can we learn from them about the state of Hollywood today?
First, the ten:

1. Jennifer Lawrence
She's our most valuable star overall for the second year in a row, owing to sky-high likability, gossip, Twitter, and studio value scores. And her sterling box-office record has only improved thanks to last fall's The Hunger Games: Mockingjay — Part 1, 2014's second-highest-grossing movie.

2. Sandra Bullock
Despite a recent stumble with the flop of Our Brand Is Crisis, she's still one of Hollywood's biggest names, with an Oscar and a terrific likability score. Her first animated movie, Minions, was a billion-dollar hit this summer; as long as her next live-action role is a good one, her tenure on our rankings should easily continue.

3. Scarlett Johansson
ScarJo's popularity among studio execs is second only to Lawrence's, and with good reason: In the past year alone, Johansson has shown that she can both carry a hit movie (Lucy made more than $460 million worldwide) and shine in an ensemble role (the Avengers films, which have done okay at the box office). She'll be doing more of the same next year, with roles in Hail Caesar!, The Jungle Book, and Captain America: Civil War guaranteeing another strong finish for her on the 2016 iteration of this list.
4. Angelina Jolie
Her only starring role of the past four years (that fell within the Most Valuable Stars measuring period) was Maleficent, though it helps that the movie brought in $758 million. Also helping Angie stay high on the list? The public's ceaseless fascination with her, as her social-media chatter and gossip scores are through the roof. Jolie's burgeoning directorial career will help keep the spotlight on her between acting projects — especially if she keeps casting husband Brad Pitt in her projects, as she did with By the Sea.
5. Charlize Theron
Theron took a Furiosa-fueled 29-spot jump up our top 100 list, with her acclaimed turn in Mad Max bumping up her box-office tally and reminding studio execs that she's a force. Next up she has the second movie in the Snow White franchise, The Huntsman: Winter's War, to help keep her situated in the Most Valuable Stars top 25.

6. Melissa McCarthy
She's the female face of current American comedy, with the domestic box-office and studio scores to match. What she needs to truly secure her place as one of the most bankable movie stars, period, is a hit overseas — and next year's Ghostbusters reboot may do the trick.

7. Meryl Streep
Her recent output has been uneven, to say the least, but there are a few things that will forever be in her corner: three Oscar wins, 19 nominations, and a reputation as one of the finest actresses of any generation. A strong studio score ensures that the roles will continue to be there, so the acting clinics — and subsequent nominations — aren't likely to subside.

8. Shailene Woodley
If it's a movie based on a book your younger cousin loves, there's a good chance Woodley's starring in it — and that's both a blessing and a curse for her. Fronting The Fault in Our Stars and the Divergent series has been a boon for her career, but also runs the risk of pigeonholing. She needs to land with an adult audience — perhaps via Oliver Stone's upcoming Snowden — and soon.

9. Emma Stone
Things are a bit up in the air for Stone at the moment: Her big franchise, Spider-Man, is being rebooted (and regardless, her character died in Spider-Man 2, spoiler alert, etc., etc.), and her two 2015 offerings, Aloha and Irrational Man, were DOA. She's got all the talent in the world, as evidenced by her Oscar-nominated turn in Birdman. She just needs the right project to get back on track.

10. Natalie Portman
She hasn't been in a movie since 2013, but when that movie is Thor 2, and the one before that is Thor 1, it certainly helps make an average box-office yield look impressive. Portman's been quiet of late, but has a bevy of projects queued up for 2016 — and her pedigree plus a bit of Oscar success (and, of course, those Thor takes) keep her high up the Most Valuable Stars list.

And here are five takeaways about those female A-listers.

They're more critically acclaimed than their male counterparts
Six of the top ten MVS actresses have won Oscars for acting, compared to only one of the top ten men. (And of the four women who haven't taken home the trophy, two of them have at least been nominated for it.) You could look at that data two ways, and here's the positive spin on it: Our most valuable actresses are also our savviest, picking projects that combine mainstream wanna-see with critical hosannas. On the other hand, maybe they have to work twice as hard as their male counterparts to get ahead. If a male movie star has a hit, his studio-value surge puts him near the top of the A-list. If a woman has a hit, she'd better get an Oscar, too, if she wants to secure her spot in the pantheon.

They still don't have enough power in Hollywood
They may be smarter and more awarded, but the biggest female movie stars still don't have anything close to parity with men when it comes to numbers. Only 34 of the top 100 actors on the list are women, and in order to put together a list of the ten highest-ranking actresses, you need to go all the way down to No. 37, Natalie Portman. (If you were collecting the ten highest-ranking men, you'd be done as soon as you hit No. 13, Matt Damon.) It's no wonder that even a two-time MVS champ like Jennifer Lawrence has trouble negotiating for the paycheck she more than deserves: Without enough female movie stars in power positions compared to men — and without very many opportunities for these women to band together in Bechdel-acing blockbusters — each key actress must go it alone when it comes to money and respect.

They don't do rom-coms
In decades past, the queen bee of Hollywood would inevitably be a rom-com queen like Julia Roberts or Reese Witherspoon, but Jennifer Lawrence only has one romantic comedy on her résumé, and it's a movie — Silver Linings Playbook — that many people doggedly refuse to acknowledge as a rom-com. Sandra Bullock is the sole star on this list who has an image strongly defined by romantic comedies, and even she hasn't made a rom-com since 2009. This female-targeted genre has been on the outs as of late, but it's even more apparent how passé the genre has become when you notice how little our leading women prioritize it, instead putting their star power toward blockbusters, dramas, and comedies without a strong romantic component.

They're action stars, too
Who needs rom-coms, though, when you've got arrows to shoot and butts to kick? Jennifer Lawrence stars in two major action franchises — The Hunger Games and X-Men — and this list of the ten most valuable actresses is a veritable who's-who of the women who can lead a slam-bam blockbuster, featuring Lucy's Johansson, Salt's Jolie, Mad Max: Fury Road's Theron, and Divergent's Woodley. Even Sandra Bullock, Melissa McCarthy, and Natalie Portman have gotten athletic for recent endeavors like Gravity, Spy, and Your Highness. It's no surprise, then, that four of our top ten women have ties to today's most dominant action-movie genre — the Marvel superhero film — and a fifth, Shailene Woodley, was originally cast in the most recent Spider-Man movie before her scenes were cut.

They're not diverse enough — or at all
At a time when television shows are finally starting to reflect the racial diversity of our country — especially when it comes to powerful women of color like Kerry Washington, Taraji P. Henson, and Viola Davis — the upper echelons of female movie-stardom remain lily-white. A meager two of the women on our Most Valuable Stars list are actresses of color, and they're in the bottom half of our grouping: Zoe Saldana, at No. 56, and Lupita Nyong'o, barely retaining a spot at No. 100, the year after she won an Oscar. (The fact that both of those women are readying themselves for motion-capture roles or movies that require them to paint their skin is a whole other, deeply concerning matter.) Hollywood doesn't merely have to start doing better in this regard … it needs to revise its rule book entirely and start asking (and answering) tough questions, because this shit has got to stop.