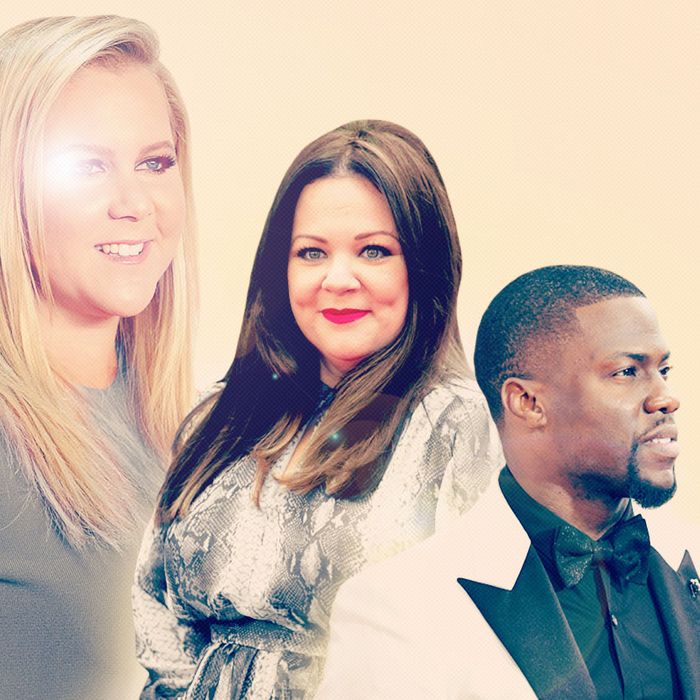 Photo-Illustration: Maya Robinson and Photo by Getty Images
Earlier this week, Vulture released its annual ranking of the 100 Most Valuable Stars in Hollywood. More than a measure of box-office potential, it's a ranking of overall stardom. In the days since, we have taken a closer look at the top actors and actresses on the list — each operating as a microcosm of the industry as a whole. Today, we're going to section off not a specific gender, but a specific genre – comedy. What is the state of the comic actor and how has it changed from just three years ago, when we first did this list?
First, the top ten:
1. Melissa McCarthy
The biggest comic actor for a second year in a row, Melissa McCarthy only strengthened her hold on the distinction this year with the release of Spy. She is in the middle of one of the all-time great comedy rolls, akin to ones we've seen in past decades from the likes of Eddie Murphy, Mike Myers, Jim Carrey, Adam Sandler, Will Ferrell, Jack Black, and Ben Stiller. And it should only keep going in 2016 with the release of The Boss, a movie, like Tammy, she co-wrote with husband Ben Falcone, as well as a little movie called Ghostbusters. 
2. Kevin Hart
For the second year in a row, Hart is the runner-up to McCarthy. Though he hasn't had a hit since Ride Along, which came out almost two years ago, Hart continues to make profitable, modestly successful movies. Hart is also by far the biggest stand-up comedian in the country, one who spent the last few months selling out arenas all over the continent. He's an undeniable comic commodity. 
3. Amy Schumer
Talk about someone who isn't in the same place she was last year. It helps when your first movie — and first movie appearance, really — is a hit. Even if her movie wasn't the biggest comedy of the year (that would be Pitch Perfect 2), Schumer was the biggest comedy star, dominating most of the mainstream conversations on the subject.
4. Zach Galifianakis
In Vulture's first MVS list, Galifianakis found himself at No. 30, seemingly poised to be one of the biggest comedy stars of the decade. Then his output significantly dropped, at least partly by choice, and his position on the list followed. But he shot back up this year thanks to his critically acclaimed turn in Birdman. Galifianakis has the goods to be a movie star, but it's hard to say he has the desire, considering next year his big project is an FX show in which he plays a failed clown.
5. Seth Rogen
It was around this time last year that Seth Rogen was in the news more than ever after The Interview became an international incident. It's hard to say where he'd be on the list if that movie came out and was a hit, but either way Rogen is riding high on the back of a celebrated (though commercially disappointing) turn as Steve Wozniak in Steve Jobs. If this weekend's holiday comedy The Night Before finds an audience, he'll be off to a great start for the 2016 list, too.
6. Will Ferrell
Is Will Ferrell ever going to return to his mid-aughts peak? Probably not. Is he going to remain relevant for years to come? Almost certainly – especially if he continues to work with other stars, whether it's Kevin Hart in Get Hard or Mark Wahlberg (for a second time) in Daddy's Home. Another spin as Mugatu in Zoolander 2 will surely help.
7. Jonah Hill
A light year for Hill, with his only movie, the thriller True Story, coming and going with few people noticing. Fortunately, Hill is still part of an internationally successful comedy franchise, 22 Jump Street, and has more career Oscar nominations than Matthew McConaughey.
8. Kristen Wiig
Though she spent her entire post-Bridesmaids movie career making understated indies, her brief roles in comedies – like Anchorman 2 or Wet Hot American Summer: First Day of Camp – showed Wiig can still make audiences laugh, if she wants to. With Ghostbusters and Zoolander 2 coming out next year, it appears she wants to. 
9. Tina Fey
Though it's been half-decade since the last time (and first time) she starred in a box-office success, 2010's Date Night, Tina Fey is a beloved comedy icon. Will Sisters be the hit we've been waiting for from her? It doesn't really matter. Fey isn't going anywhere.
10. Jason Segel
Ironically (or is it?), it was a dramatic role, as David Foster Wallace in End of the Tour, that put Segel back in the public's good graces after the abysmal Sex Tape. The question is where he goes next: more drama, or back to comedy?
So that's our funny people list. What can we learn from it?
The notion of a "comedic actor" is getting murky
I almost didn't include Jonah Hill on this list. He obviously got his start doing comedies, but now you're just as likely to see him in a prestige drama (albeit some that are comedy-leaning). Sure, he has another Jump Street on the horizon, but the bouncing between genres more closely resembles the careers of actors like Sandra Bullock or Tom Hanks, who do both comedy and drama, than a traditional comic actor like Adam Sandler, for whom dramas are an exception. The reason Hill stayed on the list is that the Ping-Pong approach is becoming more and more common. Of the ten actors on the list, only three haven't done a drama or a dramedy as one of their last two films. Just as we increasingly expect traditional movie stars to do comedy, we also want our comic stars to play it straight at times.
No comic actor is an island
Here's a fun game: Name the second-billed actor for The Waterboy, Mr. Deeds, and Don't Mess With the Zohan? Give up? Kathy Bates, Winona Ryder, and – I'm not making this up – John Turturro. There was a time when studios expected single comic actors – with their built-in fanbases – to carry a movie mostly by themselves (think Eddie Murphy, think Austin Powers). But with studios being more and more cautious, having a second star has become the norm. Going down the list: Kevin Hart did Get Hard with Will Ferrell; Zach Galifianakis's next movie should be Masterminds with Kristen Wiig; Rogen has The Night Before with MVS NO. 61 Joseph Gordon-Levitt (not to mention the Neighbors franchise with Zac Efron); Hill has the Jump Street series with Channing Tatum; Tina Fey's next movie is Sisters with Amy Poehler. Even comedy's biggest star, Melissa McCarthy, shared a poster with Jason Statham and Jude Law in Spy. Not to mention all the talk of Amy Schumer and Jennifer Lawrence writing a movie together. There is a tradition of comedy teams, sure, but in a post–Frat Pack era, they sure seem to be more of a necessity.
Comic actors need franchises, too
As is pretty clear if you look at almost every actor near the top of the overall MVS list, if you want to be star, you need a franchise. Where it used to be enough to say something is just a "Ben Stiller movie," now audiences want the same exact character (in 2016's case, that character is Zoolander). Galifianakis proved the value of it with The Hangover trilogy that put him on the map. Hart has a second Ride Along on the horizon, Hill has another Jump Street, Rogen has another Neighbors, and Ferrell is about to do Zoolander 2 after revisiting Anchorman last year. Then there is, of course, the upcoming Ghostbusters, which will be a nice anchor for McCarthy and Wiig. Get excited for the Trainwreck Cinematic Universe.
Being a comic star is a full-time job
As is, there is one comic actor in MVS top 29: McCarthy. But if you control for only Likeability and Studio Value there are then 5 in the top 29 – McCarthy, Hart, Schumer, Wiig, and Fey. Comedies might not have the earning potential of an action movie (especially not internationally, where comedy usually performs poorly), but studios get a lot of bang for their buck with these comic stars because many of them are essentially promoting year-round. As professional funny people, they are asked to appear on late-night shows and award shows regularly, whether promoting a movie or not. For example, Amy Schumer was one of the people Jon Stewart picked for his final episodes of The Daily Show, despite the fact that Trainwreck had already been out for months, and when it came time for Trevor Noah to pick his first guest, he chose Hart, a comedian with no projects to promote. Wiig hasn't starred in a broad comedy film in years, but her late-night appearances are a constant reminder that when she does, it's a must-see. Hell, Fey and co-star Amy Poehler have essentially been promoting Sisters for years, with the Golden Globes and their general beloved friendship. Sure, many of the stars on the overall list do these things, but comic actors are better at it. Many people host SNL, but a comic actor in their prime will actually be funny.
It's a new era
The first year we did Most Valuable Stars, Fey, Wiig, and McCarthy made the list. But if we had broken out the top 10 comic actors at that time, only Fey would have made that list, with Steve Carell, Adam Sandler, Vince Vaughn, Owen Wilson, Ben Stiller, Jim Carrey, Kevin James, and Sacha Baron Cohen all topping Wiig and McCarthy. It's hard not look at people who didn't make this year's top ten list (many of whom didn't even earn a spot in the MVS top 100 at all) and not see a commonality: They are all middle-aged white men. The top three in 2012 were Carell, Sandler, and Stiller. Now it's McCarthy, Hart, and Schumer. Sure, half the list is still white men, but that top three is a sign of progress.