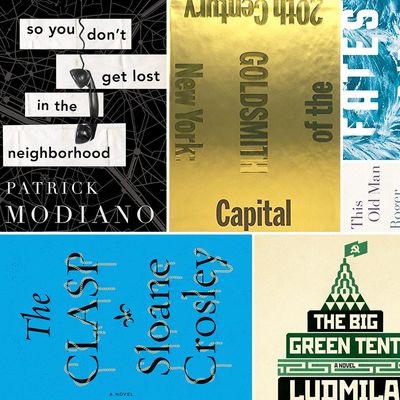 New York: Capital of the 20th Century by Kenneth Goldsmith
"Chapter One. He adored New York City. He idolized it all out of proportion."
Goldsmith is a conceptual poet who does uncreative writing — massive blocks of found text placed in massive quotes — and his new book is billed as his version of Walter Benjamin's Arcades Project, with New York standing in for Paris in a collage of other people's words. I can't decide whether kicking it off with the opening lines of Manhattan is either a crowd pleaser, or all too familiar. Like his recent recitation of the autopsy of Michael Brown — though for different reasons — leading with Woody Allen won't win him any new fans on Twitter.
This Old Man: All in Pieces by Roger Angell
"Dogs start the day with a spoonful of Alpo or some other canned meat on top of a heap of patented vitaminized kibble."
We don't learn very much from this rather lovely sentence, but it's nice to be reminded that a patent-holder makes a buck whenever a dog takes a bite.
The Clasp by Sloane Crosley
"At first they watched the rain from inside the tent and then they watched it come inside the tent."
Constructed on euphonious repetition, this sentence is much sturdier than the tent within it.
The Familiar 2: Into the Forest by Mark Z. Danielewski
"You do not know violence."
This sentence appears in white type on a black block panel, one among four, on an opening spread that has the reader turning the book sideways in order get going. Beyond the adolescent taunt of the words, its purpose seems to be to call attention to the ultra-Sternean violence the author is doing to novelistic convention throughout the deluxe edition of the second volume of his trilogy. Even the page numbers are diagonal. Now we know.
The Mare by Mary Gaitskill
"That day I woke up from a dream the way I always woke up, pressed against my mom's back, my face against her and turned away. She holding Dante and he holding her, his head in her breasts, wrapped around each other like they're falling down a hole."
This is Gaitskill doing the voice of an eleven-year-old girl and entirely succeeding in rendering the voice both convincingly childlike and truly gorgeous.
Eyes by William H. Gass
"Mr. Gab didn't have that gift, though his assistant who was supposed to be stupid but only looked so, would mutter beneath his breath, when annoyed by his tasks, 'he had the gift, he did, did Gab.'"
Gass has the gift, and its punning aside, the real pleasure to be gotten from this sentence comes when you think of all the people you know who are supposed to be stupid but only look so.
Fates and Furies by Lauren Groff
"A thick drizzle from the sky, like a curtain's sudden sweeping."
One thinks, usually, of drizzle being the opposite of thick, and of being lazy and gentle rather than sudden and sweeping. Still, an admirable deployment of the gerund.
So You Don't Get Lost in the Neighborhood by Patrick Modiano
"Almost nothing."
Modiano, the Nobel laureate of 2014 previously unknown to most Anglophone readers, is usually praised as a master of atmospherics — an indication that the first sentence of this novel, which describes a ringing phone that wakes its protagonist, could also describe what happens in many of his books. That would be fine if it didn't also quantify the pleasure to be gained from reading his prose.
Hotels of North America: A Novel by Rick Moody
"There is a style of hotel that we in the reviewing business refer to as assisted living, because of its interior stylings, its floral wallpaper, its imperial draperies."
With every new book of his, we in the reviewing business hope that Moody will give us reason to overturn Dale Peck's judgment that he's the "worst writer of his generation," but this novel, narrated in the form of hotel reviews by a divorced alcoholic father, doesn't look like the one.
The Big Green Tent by Ludmila Ulitskaya
"Tamara sat before a runny omelet on a plate, the vestiges of sleep still clinging to her."
A modest beginning for an epic Russian novel, but it wins by turning sleep into something with vestiges that cling.
Letters to Vera by Vladimir Nabokov
"I won't hide it: I'm so unused to being — well, understood, perhaps — so unused to it, that in the very first minutes of our meeting I thought: this is a joke, a masquerade trick."
Call me sentimental, but I find Nabokov's first words on paper to his wife absolutely endearing. Then there's the retrospective pleasure of learning that the one who would become the master trickster thought tricks were always being played on him.
M Train by Patti Smith
"It's not so easy writing about nothing."
Certainly not so easy when you used up all your good material in your first memoir.
List of the Lost by Morrissey
"Ezra, Hails Harri, Justy. You'd dig hard and deep to excavate four names quite so unusual. Yet there they were and there they stood, sounding exactly like what they were."
Close the book and put on Meat Is Murder.
Hear the Wind Sing and Pinball '73: Two Novels by Haruki Murakami
"There's no such thing as a perfect piece of writing. Just as there's no such thing as perfect despair."
"I enjoyed listening to stories of faraway places so much it became a kind of sickness."
These two novels, Murakami's first pair, only now appearing in English, at least confirm that the equation in his work of a generic and perhaps physically debilitating sort of sadness with the acts of writing and storytelling and the idea that writing can be both cause and cure for despair go back a long way.
A Strangeness in My Mind by Orhan Pamuk
"This is the story of the life and daydreams of Mevlut Karataş, a seller of boza and yogurt."
The effectiveness of this straightforward gambit depends on whether you find the prospect of a working-class Turkish Walter Mitty appealing — and I do.
The Witches: Salem, 1692 by Stacy Schiff
"In 1692 the Massachusetts Bay Colony executed fourteen women, five men, and two dogs for witchcraft."
The jolt of the dead witch-dogs immediately had you wondering what else Schiff knows that high school history teachers were hiding from you.
Katherine Carlyle by Rupert Thomson
"I was made in a small square dish."
The narrator is an IVF baby, and this is a good example of an attack sentence that immediately puts a novels preoccupations on the table. The key words are "made," because it's not "born" or "conceived," and "square," because squares are unnatural.