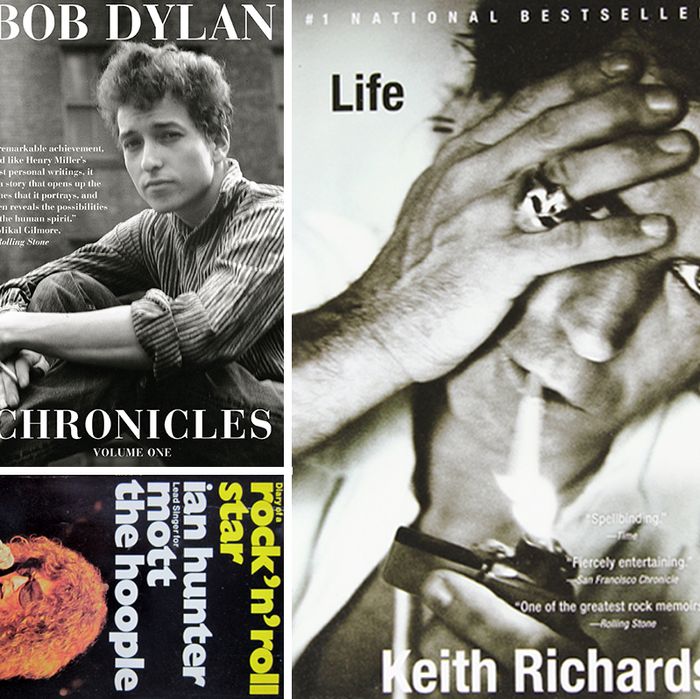 It's been a banner fall for music memoirs: Carrie Brownstein, Patti Smith, Chrissie Hynde, Grace Jones, John Fogerty, Jewel, Sara Bareilles, and Elvis Costello have already released books, while there's still a soul-baring Tom Petty biography due out imminently. The broad appeal of these memoirs is obvious: Artists are inherently fascinating already because of their music — and because us plebeians are nosy, we want to know everything about their personal lives. However, the prurient need to dig into salacious gossip, band drama, and drug-and-sex-fueled debauchery isn't relegated exclusively to those who've never experienced the rock-and-roll lifestyle. If anything, other musicians are the best judges of what makes a great music memoir or biography, since they can actually call bullshit. In fact, we figured they'd be the perfect group to help us curate a list of excellent music memoirs for your Kindle queue or nightstand stack. Some folks are authors themselves, while many others would likely write great memoirs themselves one day, but we see a few top contenders emerge between both camps: Patti Smith's Just Kids, Dylan's Chronicles, and Keith Richards's Life are repeat favorites.
Questlove, author of Mo' Meta Blues: The World According to Questlove, recommends Carrie Brownstein's Hunger Makes Me a Modern Girl
"I've been a fan of hers for the longest. According to her — I didn't realize it at the time — she sent me a copy of her book simply because it's basically a companion piece to my first book, Mo' Meta Blues. It was really amazing to see someone else's love affair with music, and their journey — them wrestling with it and then divorcing it, and then expanding and finding other avenues to do with it. She and I literally followed the same parallel roots without even knowing each other. I told her that if we would have met when we were kids, I don't know if we would have been best friends, but we definitely followed the same path, unbeknownst to each other. Her book is really, really an amazing journey."
KISS's Paul Stanley, author of Face the Music: A Life Exposed, recommends Eric Clapton's Clapton: The Autobiography
"I am not one for most 'rock' autobiographies, as, from my knowledge of some of the individuals who create them, they have no redeeming purpose and instead serve to self-promote through glorified half-truths and, in some cases, pure delusional fantasy. To quote George Orwell, 'The autobiography is the most outrageous form of fiction.' That said, I found Clapton fascinating in that, quite to the contrary, he seems to walk a path of continual dissatisfaction, discomfort, and self-destruction throughout his life. Strange to me that someone with his talent and his success comes across as still having neither found nor created much joy for himself. Not at all of that mind-set, for me, the book was an unsettling and somewhat draining read, but answered many of my own questions about the man and his music."
The Hold Steady's Craig Finn recommends Paul Stanley's Face the Music: A Life Exposed
"I really liked it because it has such a different arc than most rock bios. Paul avoided the booze and drugs that are the pitfalls of most rockers. But he still talks eloquently about being born with a deformed ear, overcoming bullying, and feeling empty inside even after KISS's massive success. In the end, he finds love and a very stable family environment, and finds that to be his biggest triumph. Throughout the book, he is very self-aware; he seems to know what people think of him. It's a really positive book, which is great because the other members of KISS have written pretty sour books. I came out of reading it with Paul solidly my favorite member of KISS. It's a great story."
Against Me!'s Laura Jane Grace, author of a forthcoming memoir, recommends Monte A. Melnick and Frank Meyer's On the Road With the Ramones
"Inge [Johansson], my bass player, gave me this book after he finished reading it. The book is an oral history of the Ramones as told by everyone who was involved: the band, the crew, managers, friends, etc. It's great because you hear everyone's perspective on the events that happen; it's not just one person in the band's narrative being told.
What I liked most about the book was how directly it connected the past and the present. It made events from long ago feel like yesterday, and it made you realize and understand how things changed from the start to the end of the band in a completely unromanticized way, but also not in a cynical way. For me, it also was extremely relatable and encouraging. I saw that not really all that much has changed about traveling the world playing in a punk band: It's the same dive clubs and same shitty hotels, the same inner-band drama, and will all probably end in an unceremoniously similar way."
Garbage's Shirley Manson recommends Patti Smith's Just Kids
"The scope of this memoir is broad and sweeping, and it transcends the typical account of a life in music, elevating the specifics of her own life experience into something entirely universal. An exquisite, inspiring, and mysterious book. I couldn't have loved it more."
R.E.M.'s Michael Stipe, author of Two Times Intro: On the Road With Patti Smith, also recommends Just Kids
"She breathes art and revolution through the medium of rock and roll."
Sara Bareilles, author of Sounds Like Me: My Life (So Far) in Song, also also recommends Just Kids
"Her story is fascinating and raw, and her voice as a writer is truly poetic. I have always heard much of the mythology of that time period in music in New York City, but it was so compelling to read about it from someone who was inside of it. I found her love for Robert Mapplethorpe to be inspired as well as pained, and she painted a portrait of her life that I couldn't stand to put down."
Duran Duran's John Taylor, author of In the Pleasure Groove: Love, Death, and Duran Duran, recommends Ian Hunter's Diary of a Rock 'n' Roll Star
"As a kid, I reread it over and over. It wasn't glamorized or sanitized, but it really 'took me there': the romance of America, its highways and cities, the venues and the fans. I was already a keen live-music fan going to shows in my hometown of Birmingham, but this book really turned me on to what was different about the road in America. I got hung up on it reading these pages, and am still not over it."
Speedy Ortiz's Sadie Dupuis recommends Will Hermes's Love Goes to Buildings on Fire: Five Years in New York That Changed Music Forever
[Ed. note: While Dupuis's pick is not technically a memoir or even a biography, both her blurb and Love Goes to Buildings on Fire are so entertaining and well-written, we thought it'd be a shame not to include them.]
"My parents earned their punk sea legs in New York's gritty late '70s. My dad held court editing video at the Mudd Club, and my mom worked for Punk magazine (after winning some kind of contest titled "PUNK Drunk As a Skunk" — I know, I know, my parents were far cooler than I will ever be). So I was terrified to read Please Kill Me: The Uncensored Oral History of Punk, because I didn't really want to know how much debauchery was going on in Mom and Dad's 20s, especially since many of the folks interviewed are people I grew up seeing with my family on holidays, like Bob Gruen and Lenny Kaye.
But I finally read (and loved) Please Kill Me [the oral history of punk, from Punk magazine founder Legs McNeil and author Gillian McCain] a few years ago. And after my dad passed away this year, I wanted to know much more about my parents' New York. I was happy to continue my education with Will Hermes's Love Goes to Buildings on Fire. It's an expansive work, and a herculean research effort, which covers punk but also explores the scene's many intersections with salsa, nascent hip-hop, minimalism, loft jazz, and performance art, and the writers, club owners, and DJs who tied together these circles. Hermes compiles so many surreal anecdotes — the origins of Chic's 'Le Freak,' Donald Trump at Studio 54's opening night, the heroics of Jayne County — and develops a narrative equally compelling for New York history buffs as it is for musical gormandizers."
Jewel, author of Never Broken: Songs Are Only Half the Story, recommends Bob Dylan's Chronicles, Volume One
"I enjoyed it especially because I was fortunate enough to be mentored by him when I was just starting out. We talked about literature, and he gave me books to read and music to listen to, like the Jimmie Rodgers boxed set. I knew from our brief time together that his mind saw all aspects of his career and stage presence as art, and I was fascinated to read about what he felt formed him as a young man and as an artist who has weathered the ups and down of a long-term career as a singer-songwriter."
Aerosmith's Joe Perry, author of Rocks: My Life in and Out of Aerosmith, also recommends Dylan's Chronicles
"A great window into the mind of the iconic songwriter of our century who rarely, if ever, gives an interview. His use of the English language in his lyrics are unsurpassed, I got that same feeling from this book. Chronicles is more like reading an honest, unedited journal than reading an autobiography. I enjoyed it because it felt down-to-earth, and this genius put his experiences and expressed his feelings in such a way that was inspiring to me. For example, I felt like I was there with him in Greenwich Village to his comeback in the '80s. As his words took me on this poetic journey of a life that could have only been lived by Bob Dylan. If Dylan's incredibly creative life was the Mississippi River, Chronicles is like a bucket of water that he scooped out to give us a taste that was totally captivating, and left me wanting to drink more."
Mötley Crüe's Nikki Sixx, author of The Heroin Diaries: A Year in the Life of a Shattered Rock Star and co-author of The Dirt: Confessions of the World's Most Notorious Rock Band, recommends Rod Stewart's Rod: The Autobiography
"This book stood out to me because it was an honest inside peek into Rod's life. It gave me a clear understanding of who he was during the Faces era and what it was like for him to leave and go solo, and also talked about how coming to America was disruptive to the people in his life. He talked about how he wrote music, too, and I am a big Rod Stewart fan from his work in the '70s. He wasn't bragging — he was really vulnerable and real. I really enjoyed it."
Best Coast's Bethany Cosentino recommends: Carol Ann Harris's Storms: My Life With Lindsey Buckingham and Fleetwood Mac
"This book was written by Lindsey Buckingham's longtime girlfriend, post–Stevie Nicks. Describing this book as 'crazy' is an understatement: It's a roller coaster of emotions. The honesty in which she describes her life with Lindsey and the other members of Fleetwood Mac is both heartbreaking and incredibly beautiful. I read this before I even started Best Coast, and I remember, after touring relentlessly for three years, I would think back to so many moments from this book and be like, Ohhh, I finally get it.
This book offers insight to what it was like not only to date Lindsey Buckingham (which doesn't sound like it was very much fun), but also what it was like to be around Fleetwood Mac at the peak of their career. What people often forget is that 'rock stars' live insane lives. It's not just about traveling and groupies and drugs and drinking too much. There is also an intense amount of emotional shit you go through while you're touring and living your life in the public eye. I think this book does a really good job of reminding people of that.
Although there is a lot in this book I have never come close to experiencing, it allowed me to feel like I understood the mind of a touring musician better than ever before. Prepare to cringe, laugh, cry, then cry a lot more. In my opinion, this is the perfect music memoir."
X's John Doe, author of the forthcoming Under the Big Black Sun: A Personal History of L.A. Punk, recommends Levon Helm's This Wheel's on Fire: Levon Helm and the Story of the Band 
"The Band changed the landscape of popular music. Just by listening to their records, they taught me invaluable lessons in songwriting, arranging, singing, and playing electric bass. We all suspected that theirs was a wild ride, but reading this firsthand account of that whirlwind is totally satisfying. It's rare to read the kind of love and respect he shows for all his bandmates without judging their faults and frailties. Their story lets you inside the balance of wildness and discipline that it takes to fulfill creative aspirations and provides a cautionary tale as well. It's just that good."
Maxwell recommends David Ritz's Divided Soul: The Life of Marvin Gaye
"I read this when I was 17 years old. It's the reason why I take forever to make records. I believe that timing is everything, and that's one of the quotes from that book. It's amazing."
Def Leppard's Phil Collen, author of Adrenalized: Life, Def Leppard, and Beyond, recommends Keith Richards's Life
"A completely humble account of what was the birth and height of rock-and-roll opulence and insanity, from one of the true musical-trailblazing pioneers of our time. Everything that happened to every musical generation that followed had already been done in a much more hard-core way by the Stones. I'm a teetotaling vegan, so my trajectory was already well in place by the time I read this book. However, it was fascinating to discover true rock-and-roll excess in its purest form, as it was honestly relayed to us. Keef literally wrote the book, and here it is."
The Zombies' Colin Blunstone also recommends Life
"A brilliant journey through the history of British rock and blues. Detailed, lucid, informed, and wonderfully indiscreet, from an indomitable spirit who never forgot his love of the blues."
Anthrax's Scott Ian, author of I'm the Man: The Story of That Guy From Anthrax, recommends Gregg Allman's My Cross to Bear
"From the murder of his father to his brother trying to hang him from a tree when they were kids to the insane levels of rock-and-roll excess, this book has it all. Oh, and did I mention getting to see the genesis of one of the best bands of all time through Gregg's eyes? I couldn't put it down."
Charlie Puth recommends Quincy Jones's Q: The Autobiography of Quincy Jones
"The Quincy Jones memoir is pretty crazy, especially because I'm a producer at heart. One year ago, I never thought I was going to be an artist, so anything producer-related interests me — just how he mixes. Because there was no digital option back then, he had to literally do everything on tape and layer everything on tape, which was incredibly hard to do when you didn't have it visually in front of you. So if he could do it back then, I could certainly do it right now."
Andra Day recommends Diana Ross's Secrets of a Sparrow
"It's just very rich. I'm a huge fan of Diana Ross and Motown, so it's amazing to see the era from her perspective. It's very interesting."
Additional reporting by Kat Ward, Ericka Goodman, Kelly Marino, and Kaitlin Phillips.