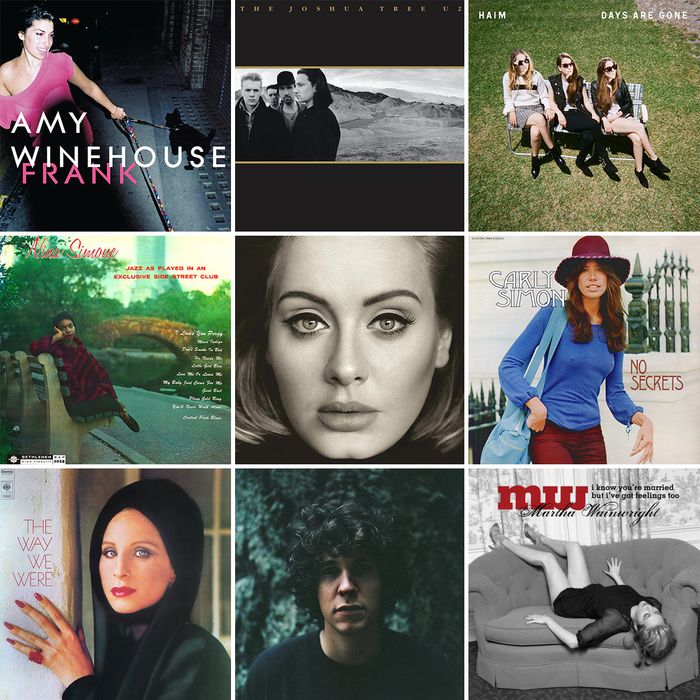 Part of the reason Adele took four years to follow up 21, her world-beating second album, is that she had to work out what kind of artist to be, having exorcised her demons, castigated her enemies, and started a family. As a naturally collaborative songwriter, she got in touch with some old friends (Paul Epworth, Mark Ronson), some new ones (Danger Mouse, Bruno Mars), and some of the most experienced songwriters in pop (Max Martin, Ryan Tedder) to try to help her figure out the right way forward.  
You can hear some of that experimentation in 25, in the touches of vintage-FM rock and soul, the modern pop productions, the occasional hint of pained French chanson, and the decision to focus on the pain of love as subject matter rather than sing her diary entries one more time. Here are 25 albums and songs that reflect that search for identity, without which 25 would sound entirely different.
Adele, 19
The album that first introduced her to the world. Part stage-school sophisticate, part cider-swigging guttersnipe with confidence born of years hanging around venues, the BRIT Schooler had been writing startlingly mature songs for four years by the time this album came out, including some of 25's, like "Send My Love (To Your New Lover)."
Adele, 21
The end of a bad relationship prompted Adele to write from a more wounded perspective; here she lashes out at her ex in "Rolling in the Deep" and recoils in pain for "Someone Like You." This is the album that forged her reputation as a writer of deeply honest songs, as opposed to well-observed ones. "Hello" appears to be cut from the same cloth, being an attempt to reconnect with a former partner and apologize for the way things ended. That song also signals a move away from cathartic honesty into the craft of songwriting, as her domestic life has clearly become far less dramatic.
Taylor Swift, 1989
This album effectively has the same title as 25, as that's the age Taylor Swift was when it was released, but her approach to writing about youth is the polar opposite of Adele's. While both discuss hard-won life lessons, Swift's lyrical wisdom comes from looking to the future with optimism. Adele's, on the other hand, comes from looking back with regret. Both eloquently represent what it feels like to be getting yourself together in your mid-20s.
Jacques Brel, Amsterdam: The Best of Jacques Brel
"Million Years Ago" is a very Brel lament; it's the casting off of that cloak of belonging that young people wear when they're forced to meet up in parks and on street corners, before they're old enough for clubs and bars. It has the kind of downwardly spiraling, shrugged melody that appears in so many of the Belgian singer's finest songs — "Ne Me Quitte Pas," "Amsterdam" — and just as Brel is prone to treating the end of a relationship as if it's a death, Adele makes the passage of time feel like a tragedy.
Harry Nilsson, "Without You"
"All I Ask" also offers a melodic face-lift to the chorus of this emotional steamroller of a song. Written in a state of some distress by Pete Ham and Tom Evans of Badfinger in 1971, "Without You" didn't find its true heartbreaking form until it had been slowed down and beefed up by Harry Nilsson. It remains both a template and benchmark for all power ballads.
John Lennon and Yoko Ono, Double Fantasy
Granted, this is more of an anti-influence, but Adele stated she had originally intended 25 to be an album of songs reflecting her life as a relatively content young mum, like the sort found on John and Yoko's final album ("Beautiful Boy," "Woman," "Dear Yoko"). However, she decided her original drafts were too sentimental for general release and ditched them all.
Barbra Streisand, The Way We Were
It had not been so apparent the debt Adele's voice and delivery owe to that commercially phosphorescent spot where easy listening meets Broadway, probably because the dominant narrative around her is one of constant catharsis and honesty. And yet, listening to a couple of the songs on 25 — in particular "All I Ask" and "When We Were Young" — there are unmistakable echoes of proper showbiz; of Barry Manilow, of Bette Midler, and, in particular, the honeyed angst of Barbra Streisand.
Gnarls Barkley, The Odd Couple
"River Lea" is a mystical song that blames the geography of Adele's upbringing, specifically the river that runs into North London from the Chiltern Hills, for her personality. It says that she is the product of a certain place, as marked by landscape as a blackberry is by the sun. This spiritual statement of self was co-written and produced by Danger Mouse, well used to dealing with extravagantly introspective vocalists as one half of Gnarls Barkley.
Stevie Nicks, "Edge of Seventeen"
There's another supernatural influence on "River Lea," and this is one that you can hear in Adele's cold breaths and stern delivery, especially in the chorus. Stevie Nicks is similarly fond of using nature as a metaphor for emotions (Fleetwood Mac's "Dreams" being a great case in point), but on "Edge of Seventeen," her bewitching voice — sometimes alone, sometimes multi-tracked — is primal and raw, like a one-woman thunderstorm. Adele's voice knows that state well.
Amy Winehouse, Frank
Adele has been quick to cite Amy Winehouse's first album as the inspiration for her own early steps in music, especially as she was a fellow graduate of the BRIT School for Performing Arts, had a similarly uncensored personality, and sang confessional torch songs in a strident voice steeped in jazz phrasing. The most Amy-ish songs on 25 are the damning and bleak "Love in the Dark" and "Million Years Ago," written around a descending guitar phrase not too far from the scabrous "Fuck Me Pumps."
Whitney Houston, Whitney
Aside from Amy, Whitney Houston is Adele's closest musical forebear in terms of background, success, and expectation. Like Adele, she was a performer from a very young age who came out of gospel and soul music and then crossed over to a mainstream audience, and released a great cover version of a song from a more typically credible artist (Dolly Parton in her case, Bob Dylan in Adele's).
U2, The Joshua Tree
"Sweetest Devotion" is a rolling 6/8 waltz, like U2's "Trip Through Your Wires." It is also a celebration of love's giddy head-rush with the Edge–style slide guitars, poetic lyrics of a spiritual and ultimately optimistic bent, and the kind of "woo-hoo" refrain Bono used to belt out on a regular basis. Even the gospel backing vocals are more reminiscent of "Still Haven't Found What I'm Looking For" than "Oh, Happy Day."
Siobhan Donaghy, "Ghosts"
There's a common production trick to some of Adele's more strident songs, where her backing singers are mixed as if their voices are coming from the back of a cave, to add a sanctified ambiance. "I Miss You" makes more of a feature of it, starting the song with wisps of wordless voice that sound like lost spirits and bringing the effect back at eerie moments. It's a production technique that Siobhan Donaghy — original Sugababe — made sterling use of when creating "Ghosts," the bewitching title track from her second album.
Carole King, Tapestry
Despite all the modern production touches, if 25 has a core approach, it's that of 1970s singer-songwriters, of whom Carole King is the queen. She often set a soulful melody to piano accompaniment and sang it with great pleading, bringing in a rock band for extra muscle and the occasional orchestra and strong harmony for drama. For a particularly good example of Adele channeling the Carole King sound, try "Lay Me Down," another of 25's extra tracks.
Carly Simon, No Secrets
The links between Adele and Carly go beyond sharing a reputation for quality work in the James Bond theme-song department. Anyone looking to write a song castigating an old flame, as Adele has done in her time, clearly has "You're So Vain" to beat. Above all, Simon's uncluttered ideas and direct delivery ring a bell in Adele. Her lyrics don't strive to be poetry because the songs are so candid, they don't have to be.
Tobias Jesso Jr., Goon
The melodies on Goon — Tobias Jesso Jr.'s debut — are blessed with a weightless quality, an airy melancholy that recalls the great singer-songwriter glut of the early '70s. Jesso Jr. worked with Adele on "When We Were Young," and while you can spot where his lightness pulls the song up and her earthy realism brings it back down to earth, it's that contrast that makes the song work.
Sia, "Alive"
"Alive" is one of the songs Adele co-wrote with Tobias Jesso Jr. and Sia but decided to leave off the album at the last minute, possibly because it does sound a little like a melodic dry run for "Hello." Though it's based more on Adele's personal experiences, Sia decided to adopt the song as her own for her forthcoming album of songs she wrote for other artists, This Is Acting. The two singers also share numerous mutual collaborators, including Sia's frequent co-writer Samuel Dixon (who worked on 25's "Love in the Dark") and Greg Kurstin …
The Bird and the Bee, The Bird and the Bee
Greg Kurstin really is the key backup player in the story of 25. Adele had written the happy songs and wasn't feeling hopeful or inspired. Then, in a meeting with the songwriter/producer (Kelly Clarkson, Ellie Goulding), they came up with the beginnings of "Hello," and something clicked. Ideas for songs started to come at some speed. The fascinating thing is that Kurstin's work with the Bird and the Bee (and indeed, his work on Lily Allen's albums) is closer to the kind of skippy, carefree pop music she had been preparing than the doom-laden ballads they would go on to create together.
Nina Simone, Jazz As Played in an Exclusive Side Street Club
Simone is one of the jazz artists Adele supposedly listened to as a very young child with her father, Mark Evans, a man so besotted with American roots music he gave his daughter the middle name Blue after his genre of choice. But whether Evans's recollection is true or not (he walked out) doesn't change the fact that Simone's stern tone and vocal gravity come across most in 25's more downbeat and judgmental songs, such as "Love in the Dark."
Bruno Mars, Doo-Wops and Hooligans
Previously a working songwriter for other artists, Bruno Mars wrote "Just the Way You Are" and "Marry You" as unashamedly sentimental songs designed for wooing and wedding, respectively. So when presented with a showstopping voice like Adele's, he helps write a showstopping tune, "All I Ask." This is the kind of brokenhearted ballad from which lesser albums would struggle to recover.
Haim, Days Are Gone
The reverberating piano chords and clean, scratchy guitar of "Water Under the Bridge" may suggest some of the doom and dread of the xx to start with, but when paired with the uplifting caterwaul of the chorus, those elements echo the sonic footprint of the Haim sisters on one of their slower, more thoughtful tunes.
Taylor Swift, "I Knew You Were Trouble"
This is the song that led Adele to seek out Max Martin — heroically adept pop songwriter — as a potential collaborator. She brought him the half-finished "Send My Love (To Your New Lover)," first started when she was 16, and he helped to flesh it out into a characteristically skeletal pop production, with a very Swift-ish verse refrain, a nimble chorus, and the none-more-Adele lyric: "We both know we ain't kids no more."
OneRepublic, Native
Ryan Tedder, the leader of OneRepublic and a prolific songwriter for hire, worked with Adele on two songs from 21 — "Turning Tables" and "Rumour Has It" — and had been astonished at the velocity with which she nailed both (as were listeners). For the follow-up, there's the lovelorn "Remedy," a courtly waltz with the same slightly worried chord progressions that you might hear on OneRepublic hits such as "Apologize" or "Counting Stars."
Martha Wainwright, I Know You're Married But I've Got Feelings Too
Another songwriter who pairs exceptional frankness with a keening voice, Martha Wainwright's musical diary entries often depict an inner monologue that is in a constant state of desperate need. On the bonus track "Can't Let Go," written with Linda Perry, Adele takes up a similar position, pleading with her lover, leaving a note in his jacket, and praying for resolution.
Belinda Carlisle, "Heaven Is a Place on Earth"
Music is a songwriter's world at present, and Adele clearly likes to work with a range of people to spark a broad selection of ideas. Rick Nowels is the Grammy-winning songwriter with whom Adele co-wrote "Why Do You Love Me," one of 25's bonus tracks. His previous credits include Celine Dion's "Falling Into You," Lana Del Rey's "Young and Beautiful," and Belinda Carlisle's solo highlight, the effervescent yet classic "Heaven Is a Place on Earth."