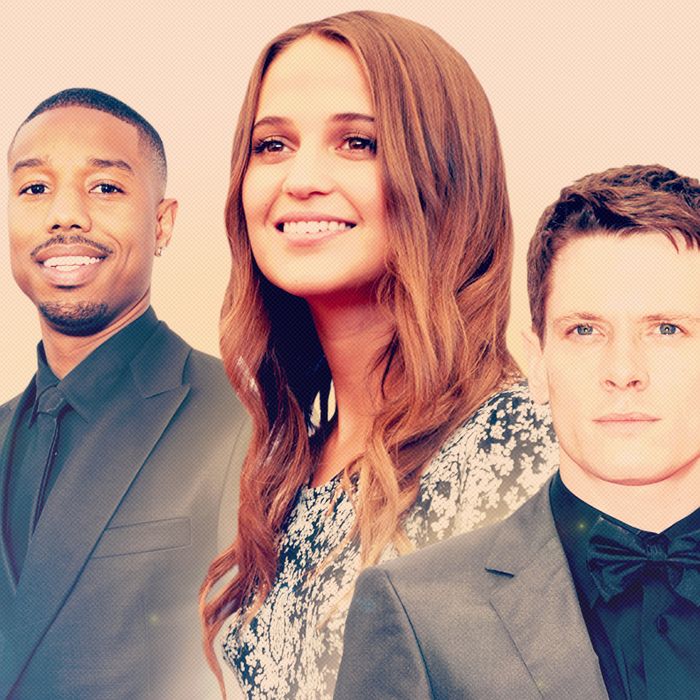 Photo-Illustration: Maya Robinson and Photos by Getty
On Monday, we'll be posting the 2015 edition of our Most Valuable Stars list — Vulture's empirical ranking of the actors and actresses who provide the most fuel to the Hollywood machine. Naturally, the hardest part about compiling a list of 100 marquee stars is that there can only be 100. That means a number of worthy candidates just missed the cut, and some of Hollywood's most promising up-and-comers haven't quite broken through yet. These five young stars are on the cusp of ascension — and in some cases, have been so for a year or two — and as such, merit recognition of their own. The 2016 MVS list is holding a spot for each of them; it's just a matter of the actors grabbing them.
Alicia Vikander
Unlike the following three actors, Vikander wasn't a Most Valuable Stars near-miss prior to this year. To change that, Vikander decided to appear in every movie that came in 2015, and her strategy has worked out nicely: she's almost certain to nab a Best Supporting Actress nomination for her lead-quality work in The Danish Girl, and she also starred in sleeper hit Ex Machina and the critically admired Testament of Youth. (Even factoring in The Man From U.N.C.L.E. and Burnt, that's still a great batting average.) Vikander looks set to maintain a presence in both prestige film and blockbusters, with Tulip Fever and Derek Cianfrance's The Light Between Oceans pairing nicely with Matt Damon's upcoming return to Jason Bourne.
Jack O'Connell
O'Connell graced last year's edition of the stars on deck, but after Unbroken turned out to be a bit of a disappointment, he couldn't quite crack the list this year. No worries: the 25-year-old Englishman has plenty of opportunities to make his mark coming up, including the Tom Stoppard–penned Tulip Fever, which co-stars his fellow almost-there up-and-comer Vikander, and Money Monster, Jodie Foster's high-profile Wall Street thriller. Nobody doubts O'Connell's abilities; he just needs the right showcase role.
Oscar Isaac
Talk to a random selection of film nerds and industry faithfuls, and chances are that Isaac ranks among their top tier of actors. But as beloved as Inside Llewyn Davis and Ex Machina were — and as impressive as Isaac was in both — he's still yet to lead a movie that made more than $25 million at the box office. That will change, in a big way, when Star Wars drops in December. Isaac won't be your best-kept secret for much longer, so enjoy it while you can.
Michael B. Jordan
Jordan was on the precipice of last year's list as well, but after Fantastic Four's box office flame out — get it? I really need to stop making this joke — he once again lands on the outside looking in. That could change as soon as next month: His Rocky spinoff, Creed, is MBJ's first chance at leading a studio movie by himself, and if it lands, expect Jordan's stock to rise accordingly.
Gal Gadot
The lowest-profile actor of these five, Gadot's upside makes up for it. By securing the part of Wonder Woman in Batman v Superman, Gadot guaranteed herself roles in about a thousand DC projects coming in the next few years, including her character's own films. To balance out the costumed crusading, Gadot's rumored to be in Keeping Up With the Joneses, a comedy co-starring Jon Hamm, Isla Fisher, and Zach Galifianakis. There's also John Hillcoat's Triple 9 and the Ryan Reynolds vehicle Criminal, but let's face it: Wonder Woman should be more than enough to make Gadot a star.