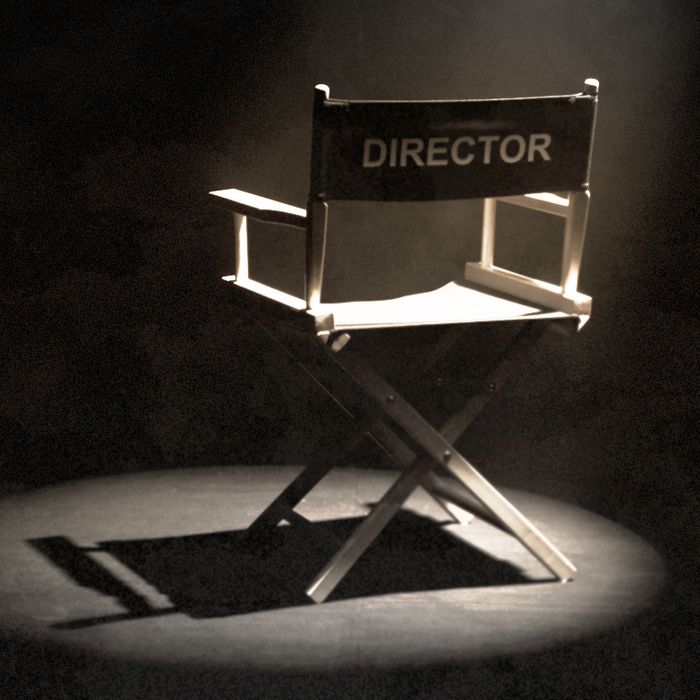 Photo-Illustration: Vulture/Caspar Benson/Getty Images/fstop
Vulture's list of "Shit People to Say to Women Directors" chronicles some of the crazy things that people say directly to female filmmakers' faces, but behind their backs, there are even more dumb reasons given why women don't get to direct more movies, and I hear them all the time. Here are five of the most misinformed.
"She's not ready."
Kathleen Kennedy is a badass producer who became the head of Lucasfilm in 2012, but recently, she said something sort of dispiriting when asked whether a female director would have the chance to helm one of the many Star Wars movies on the way. "There's nothing we'd like more than to find a female director for Star Wars," Kennedy insisted, though she added, "We need to not go to a filmmaker who's done one movie and expect them to come in and do something the size of Star Wars without having an opportunity to find other movies they can do along the way."
The irony here is that male directors frequently take the reins of a giant Hollywood blockbuster after making just one small-budget debut, and Kennedy recently hired two such men for Star Wars. Gareth Edwards got the chance to direct Godzilla after making the microbudget indie Monsters, and now Kennedy's hired him for Star Wars: Rogue One. Similarly, Colin Trevorrow, who was recently tapped for Star Wars: Episode IX, had only made the $500,000 indie Safety Not Guaranteed before Kennedy's own husband, Frank Marshall, picked Trevorrow to make the $150 million Jurassic World. Why is there an assumption that women have to keep proving themselves over and over when a man can make one movie and hit the jackpot?
"She didn't really direct her movie."
One of the most pernicious myths about first-time female filmmakers is that they had nothing to do with it. After Sofia Coppola delivered one of the most promising film debuts in American movies with The Virgin Suicides, I can't tell you how many people whispered to me that her then-husband Spike Jonze had really directed it. (Jonze's own feature-length directorial debut — Being John Malkovich, for which he was Oscar-nominated — came out that same year; suffice it to say, no one claimed it was really Coppola's doing.) I heard the same sort of story about Miranda July when her striking Me and You and Everyone We Know became a Cannes sensation, spurring a gossipy publicist to claim that July's then-flame Miguel Arteta had actually directed the bulk of it.
Coppola and July have directed films since, and both have a sensibility so iconoclastic that if you look back at their first features, it's now unmistakable who made them. Still, there are people in the industry who don't trust that sense of certainty in a woman, and they'll try to position a man in her orbit as some sort of Svengali. (Often they'll give all the credit to her cinematographer.) Even the Oscar-winning Kathryn Bigelow is not immune, as a whisper campaign during Zero Dark Thirty's awards run asserted that she was practically under the thrall of her collaborator Mark Boal. This shit is absurd, and no one would do it to a man. Let these talented women be regarded as the auteurs they clearly are.
"Women can't direct action."
Even when studios are making romantic comedies or dramas aimed at women, they won't necessarily hire women to direct those films. Imagine how difficult it is, then, for a woman to be hired for an action-adventure film or a superhero movie, the two genres that currently dominate the global box office. The Marvel Cinematic Universe has yielded 12 films since 2008's Iron Man, and directors have been hired to helm the next five; none of them have been or will be directed by women. Marvel made one attempt to fix that by hiring Patty Jenkins to direct the Thor sequel in 2011 (she parted ways with them in preproduction), but the studio did not seriously place another woman on any of its directorial short lists until two of its upcoming films, Black Panther and the female-led Captain Marvel, practically demanded that Marvel think outside the box. Even some of the franchises that star strong female characters, like the Hunger Games series and its mini-me counterpart Divergent, have all been made by men. It's a minor miracle that Warner Bros. actually picked a woman (Jenkins, as it happens) to direct its upcoming Wonder Woman.
What's to account for this disparity? Ask around, and you'll hear the same excuse over and over: "There aren't very many women who can make an action movie." Never mind the fact that many of the men hired for those movies, like Jon Watts (who'll be helming the Spider-Man reboot) or Taika Waititi (picked for Thor: Ragnarok), have no action movies on their résumés either, or that the Marvel second-unit department and the studio's extensive use of pre-visualized sequences will ensure that these men sign off on most action sequences instead of actually having to shoot most of them in-person. An infrastructure like that could coddle even the most inexperienced director, but what's really at the heart of this gripe is the sexist assumption that women lack a visual sensibility. The irony that this is claimed by men who can barely dress themselves is hopefully not lost on you, in the way that centuries of female painters, photographers, artists, and icons are clearly lost on them.
"Women want to do smaller, quirkier movies."
As film pundit and author Mark Harris recently tweeted, "Producers take a good small movie by a guy as a sign he's ready to step up; by a woman, it's a sign that she's found her niche." Put another way, if a female director makes a great Sundance indie, she gets a head-pat instead of a helping hand. Even in the days since we put out the 100 Women Directors list, I've heard from some defensive men in the industry that most of the women on it don't want to make big studio movies, so there's no reason to reach out to them.
Really? Women would prefer to scrap and save and struggle to raise financing for their next barely seen independent film, instead of working on a prestige drama for the Weinstein Company and earning a pretty paycheck? Should women like Leslye Headland (who's made spiky, raucous comedies like Sleeping With Other People and Bachelorette) have to wonder where their next films' financing will come from while Todd Phillips gets his pick of studio comedies and Paul Feig proves that female-led laughers can be hits? Plenty of male art-housers, like David O. Russell and Gus Van Sant, have happily taken the studio leap, and it's presumptuous to expect that their distaff counterparts wouldn't want that same sort of security and career opportunity.
"We asked one, and she said no."
This is the excuse former Sony head Amy Pascal used to use when asked about the behind-the-scenes gender disparity. "I have begged Kathryn Bigelow to make Spider-Man, James Bond, anything I can think of," Pascal told Forbes in 2013. "So far I haven't hooked her." But there are more female filmmakers than just the Oscar-winning Bigelow, and Hollywood needs to have its consciousness raised on that very subject.
Credit Destri Martino for doing just that: While Vulture put forth 100 female directors this week, Martino's site, the Director List, is an invaluable database comprising over 1,000 names, all searchable by a variety of criteria, including genre of expertise. "It started as a Pinterest board in May of 2012 after I got back from the Cannes Film Festival, where I looked at the market catalogue and realized there were so many more women directors than even I thought there were — and I did a master's dissertation on the topic," Martino told Vulture this week. "All the articles I'd seen were perpetuating this myth that there weren't many women directors, and I wanted to count for myself."

Martino, herself a filmmaker, admits that even she was surprised by the amount of women directors she's been able to add to the Director List, though it's nothing compared to the look on executives' faces when she tells them how many women they could be hiring. "I'll mention the number I have, and they're usually very surprised," she said. "I think that initial shock is important, but then I need to figure out a way to get them to use the tools that are there for them, and to think about what number means. They need to hire more people because there are people there who are talented and experienced — and available."