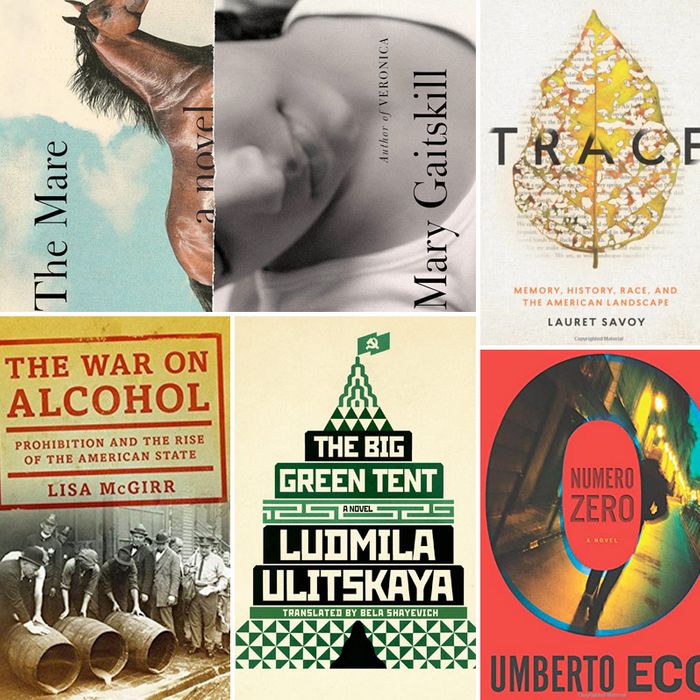 Each month, Boris Kachka offers nonfiction and fiction book recommendations. You should read as many of them as possible.
St. Marks Is Dead: The Many Lives of America's Hippest Street, by Ada Calhoun (W.W. Norton, November 2)
St. Marks Place just hasn't been the same since the artists left, or the anarchists, or the Lenape. This three-block free-for-all, currently dominated by crude T-shirts and cheap sushi, has always been the subject of some old-timer's nostalgia. Calhoun, who grew up there, wisely makes the strip's perpetual over-ness a core theme. Another is its never-changing status as a free zone for an ever-changing misfit parade. It was home to Warhol happenings, sure, and dirt-poor artists and savvy ragpickers, but also to Emma Goldman, Leon Trotsky, Ukrainian dissidents, religious heretics, and Jimmy "Rent Is Too Damn High" McMillan.
The Mare, by Mary Gaitskill (Pantheon, November 3)
Gaitskill's intense and interior fiction has never been easy to pull off, but her third novel raises the bar: As literary third rails go, kinky sex has nothing on the class divide. Childless, middle-age Ginger convinces her husband to invite a Fresh Air Fund kid — 11-year-old Velvet, a Dominican girl from a rough Brooklyn home — into their genteel, arty life upstate. Everyone seems slightly crazy as the story progresses via alternating narrators, but the source of the novel's painful beauty is the titular (slightly crazy) horse, whom Velvet is determined to tame or die trying.
Numero Zero, by Umberto Eco, trans. Richard Dixon (Houghton Mifflin Harcourt, November 3)
Frequently imitated for his amalgamation of intellect, conspiracism, and historical suspense, the author of In the Name of the Rose takes a more contemporary and satirical turn. In 1992, as Italy works to cleanse itself of corruption, a hack journalist is hired to ghostwrite a memoir about a never-to-be-published gossip rag in order to cover up the real rationale for its fakery. Eco's warped parable is rooted in a very specific time and place, but readers of Elena Ferrante or Rachel Kushner will likely catch the barbs in his clever absurdities.
The Big Green Tent, by Ludmila Ulitskaya, trans. Polly Gannon (Farrar, Straus, and Giroux, November 10)
One of Russia's most-read (and increasingly denounced) novelists writes page-turners that just happen to be monumentally important. Her focus here, as usual, is on the past, but the correspondence between the post-Stalinism under which her three intellectual characters suffer and the Putinism of today is hard to miss. Still, like that other plot-forward dissident, Nobel winner Boris Pasternak, Ulitskaya puts characters first and politics second. According to the oddsmakers, she might follow him to Stockholm one day.
Trace: Memory, History, Race and the American Landscape, by Lauret Savoy (Counterpoint, November 10)
Savoy is a geologist at Mount Holyoke, but this sui generis creation, wherein John McPhee meets James Baldwin, dissolves all academic boundaries. Trace is a memoir, a meditation on landscape and identity, and a travelogue with a mission. "As an Earth historian," writes Savoy, "I once sought the relics of deep time. To be an honest woman, I must trace other residues of hardness." Digging for her family roots in America's tripartite legacy — natives, African slaves, and European settlers — she unearths some genealogy, but more fruitful are the connections she makes between philosophy, ecology, and race.
The War on Alcohol, by Lisa McGirr (W. W. Norton, November 30)
When Prohibition is invoked — rather than simply written off as a failed experiment — it's usually as a cautionary tale about the limits of other wars on vices. Harvard historian McGirr works to reinstate it as a major, if not central, piece of American history. Many already know that it fed on anti-immigrant prejudice, loosened our morals, and led to the income tax, but McGirr goes much further, depicting a foundational era during which government surveillance took root and the country split into opposing and possibly permanent social factions.
Beatlebone, by Kevin Barry (Doubleday, November 17)
Barry won the 2013 IMPAC prize, beating finalists Murakami and Houellebecq, for his very first novel, City of Bohane, a dystopia starring homicidal hipsters. His second is even riskier: a literary fan-fiction fantasia. Two years before his death, John Lennon faces down writer's block and middle age by journeying back to his own private island, Dorinish, a rock off Ireland's west coast that Lennon actually owned. Talking seals and giant eggs make cheeky appearances; primal-scream sessions spin out of control; the specters of his mother and mortality loom. The final album that emerges is fictional, but this glorious lark feels canonical.