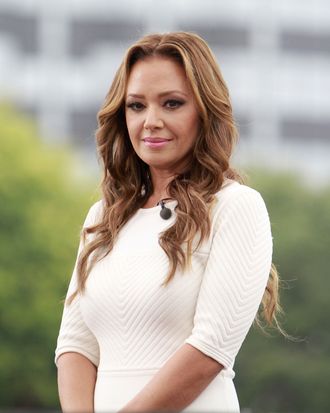 The flashiest parts of Leah Remini's book Troublemaker thus far have been her weird stories about Tom Cruise, Katie Holmes, and her involvement in the Church of Scientology. Understandable! There are a lot of creepy hard-to-look-away-from stories in Remini's 234-page memoir involving Xenu's most esteemed (former) couple. And while Troublemaker is first and foremost a book about Scientology, it's also a book by a working actor. Remini got her first acting gig at 18 on the set of Head of the Class and has worked steadily in the business for years, and she became best known for her role on The King of Queens. As a memoirist, Remini is funny and brash, and as quick to take a hit as she's willing to give it, whether it's about CBS head honcho Les Moonves telling her her last show was "shitty" or that time she confused her wedding photographer for a paparazzo.
Les Moonves convinced her to meet Kevin James for The King of Queens by putting down her canceled NBC show.
After NBC canceled her show Fired Up, Remini was feeling particularly down, and originally turned down the possibility of doing The King of Queens. She writes that it was ultimately Les Moonves, president of CBS, who got her "out of [her] funk." According to her, he called her agent to say, "Who the fuck does Leah think she is, passing on a show when she just came off some shitty show for NBC?" She writes, "Oddly enough, that kind of honesty always cheers me up," and prompted her to meet with Kevin James. She writes:
As soon as I walked into the room, Kevin took one look at me and said, "I'm sorry. Were you too busy not counting the money you weren't making on your canceled shows to make it to this meeting?"

I was in love.
She got a part on Cheers over Jennifer Aniston, but Jen was real chill about it.
During the pre-Friends era, Remini would always run into the same faces on castings, including Jennifer Aniston. She liked Aniston because she was "normal" and wasn't "douche-y" and wouldn't try to psych you out like the others might. On the last round of callbacks for the part of Rhea Perlman's daughter on Cheers, she told Aniston, "Fuck, I hope you don't get this one. I need to pay my rent." Jen just smiled and said, "I hope you get it, then." When she got the news, she said "Jennifer couldn't have been sweeter."
She almost played Monica on Friends.
She auditioned for the studio and made it to the network, where it was down to her and one other actress. But, instead of choosing one of them, the casting director said that they could both leave. "We walked out of the building and into the completely empty parking lot," she writes. "We chatted on the way to our cars, wishing each other the best, and then we saw Courteney Cox walking toward us, then past us and right into the building. Motherfucker! We both knew it right away: She had the part of Monica."
Halle Berry got her backstage with the New Kids on the Block.
Remini's first starring role was on a Who's the Boss? spinoff called Living Dolls, where her character Charlie Briscoe was friends with Alyssa Milano's Samantha and gets discovered by a modeling agent. The show also happened to star Halle Berry (who replaced Vivica A. Fox) in her acting debut. Berry apparently caught the attention of the New Kids on the Block and got them invited to a show backstage. Sadly, the show didn't last much longer.
She confused her wedding photographer for a paparazzo.
Remini got married to Angelo Pagan outside in the desert heat at the Four Seasons Hotel in Las Vegas in the middle of July. She said that she thought she saw a paparazzo on the roof of the building taking photographs. "I was both delighted and disgusted," she writes. "Paparazzi were a true sign of making it in this business, but what kind of fucking pig crashes a wedding?" She calls the security guy over and tells him that there's a paparazzo on the roof. She writes:
"There is a paparazzi piece of shit on the roof trying to grab a picture of me and I want him removed."

"Where?" he said.

"Really? You have to get a better eye for these things. Right there!"

"That guy?" he said, as he pointed directly at the stalker pig.

"Yes," I said. "Obviously."

"That's your wedding photographer," he flatly replied.

"Oh. Motherfuck …"
Her doctor told her she had to eat less when she was pregnant.
Her gynecologist suggested she see a nutritionist when she was about four months pregnant because she had apparently gained all the weight for the whole pregnancy, and then some. She said that she ate whatever she wanted, and as much of it as she wanted. Eventually, she gained 80 pounds during her pregnancy.
Thinking about Nicole Kidman kept her sane after she left the Church of Scientology.
All right: One last Scientology-related story. Remini officially left the Church when she filed a missing-person's report about the Scientology leader's wife Shelly Miscavige to the LAPD. Afterwards, she found herself adrift, and during this period, she writes:
I had one figure I kept front and center in my mind to keep from going crazy: Nicole Kidman.

That's right, Tom Cruise's ex was my guardian angel. Although I never met her or attempted to meet her, I thought about her a lot. While I stared at the dark ceiling at night, unable to sleep, I would say to myself, "Remember Nicole Kidman. She was declared an SP and left the church, and she's doing okay. Her career is still going, and she has a husband and a family…Just remember Nicole Kidman. She left and she's okay …"