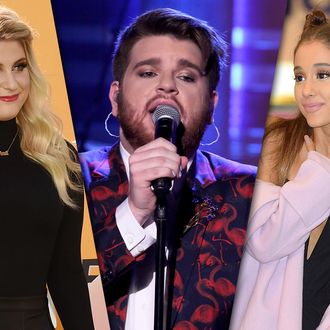 Meghan Trainor, Who is Fancy, and Ariana Grande.
ABC has nixed the possibility of two men dancing romantically together on Dancing With the Stars, TMZ reports. The openly gay musician Who Is Fancy (yes, that's his name) is set to debut his single "Boys Like You" with Ariana Grande and Meghan Trainor for a show on November 23. Since the song is about two men falling in love, and since the show is about dancing, the choreographer wrote the producers saying it would "be an awesome look to have 2 males dancing with each other." A producer then responded, "Apologies all but this is a definitive no from the network."
Instead, ABC said that they would allow "near dancing." That is, two guys dancing next to each other, occasionally touching an arm or a leg. But you know, nothing sexual. (Sort of like this very masculine performance to "We Will Rock You.") Of course, this is the kind of compulsory heterosexuality that has become almost comical on reality competition dance shows. Both So You Think You Can Dance and Dancing With the Stars have maintained fairly strict gender roles over the years (although to be fair, SYTYCD has loosened up ever so slightly on this), despite the fact that many of the dancers are probably not heterosexual. Can two men be more than "friends" on the dance floor?