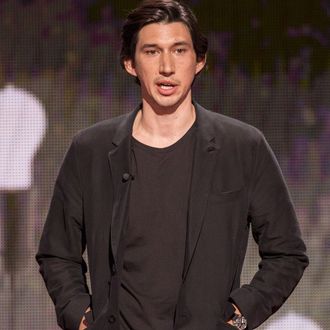 From U.S. military to Star Wars.
Photo: Ryan Lash/TED
When Adam Driver didn't make it into Juilliard the first time, he decided to enlist in the Marine Corps, which may have helped out his acting career. "I loved being a Marine. It's one of the things I'm most proud of having done in my life," he said during a TED Talk Tuesday night. After he decided to ease back into civilian life, he found that the military had given him more perspective. "I thought all civilian problems were small compared to the military. What was I going to really bitch about now? 'It's hot.' 'There's so much dirt on the air conditioner.' 'This coffee line is too long,'" he said. "I thought, This is great. I knew how to survive. I would go to New York and be an actor. And if things didn't work out I would live in Central Park and Dumpster-dive behind Panera Bread." We only assume he has experience weeding through trash, as where else would he have found Darth Vader's gnarled-up old mask?