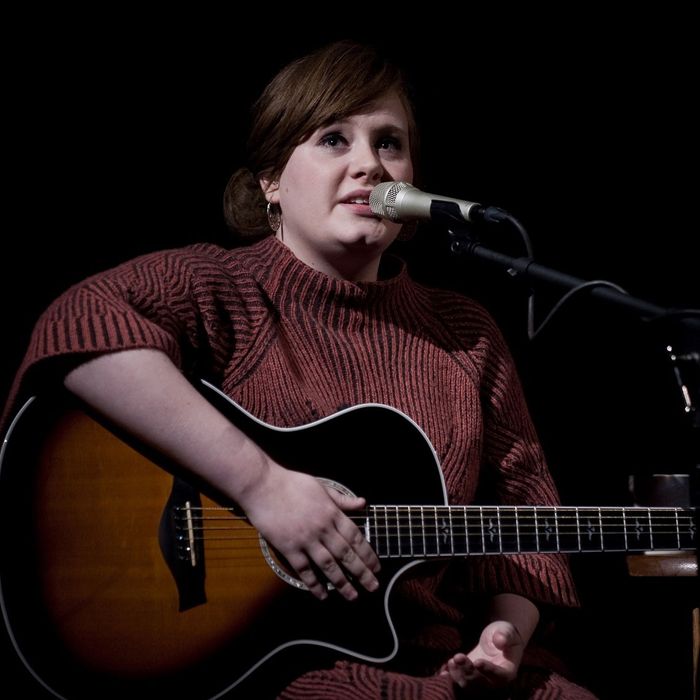 Adele in her U.S. debut at Joe's Pub back in 2008.
Photo: Kevin Yatarola
Update, November 23: Prior to Adele's show at Joe's Pub in lower Manhattan on Friday night, we interviewed the 184-seat venue's programming director Shanta Thake about her history with the performer. That piece is below. Following the concert — which was, as you might imagine, an extremely difficult ticket — we followed up with Thake to see how it went. Here's her report:
Adele completely exceeded expectations. We knew it would be something special, but how personal, fun, and emotional the day was blew me away. During the closed-room sound check, my staff and I stood frozen backstage as we heard the sound of her voice fill the building. We all cried. Because, yes, that's what Adele's songs do to most breathing humans, but also because of that incredible healing quality of live music. One of the security guards even choked up and said, "Damn, she sounds even better than on the album."
It was a particular point of pride that the first thing she did when she got onstage was point out the photo we have of her at age 20 on our hall-of-fame wall. That photo sits among artists like Patti Smith, Allen Toussaint, Leonard Cohen, and more. The simple, honest motion reminded me that while she is the world's biggest star, she's also just a young — albeit superpowered — woman. 

She sang three songs from 25: "Hello," "Million Years Ago," and "Send My Love (To Your New Lover)." There is no question that she is a brilliant performer and musician on every stage, but hearing those songs in our room was a bit of magic. The performance was followed by a Q&A with Elvis Duran and a listening session. Adele was so ridiculously warm and hilarious. As she listened along to the album with us — one of the most awkward things you can make an artist do onstage — she was cracking jokes, singing along, pointing out the high notes she doesn't always hit, and engaging her fans. She closed it out with an impromptu sing-along of "Someone Like You." The audience rose, pitching the room to one of the highest levels of energy and joy I've ever seen in my 12 years here.
As posted November 19: "Why Adele Is Playing to a Mere 202 of Her Fans at NYC Club Joe's Pub Tonight — and No, You Can't Get In:"
Not going to lie, the first thing I did when I found out Adele was performing at Joe's Pub, the awesome (and tiny) supper club adjoining the Public Theater in downtown Manhattan, was to ask my friend who works there for a ticket. Ha, I wish, was the basic answer. The short performance, a release party for her new album 25, will be followed by a Q&A, and is one day in advance of her appearance on Saturday Night Live. Tickets were raffled off to fans via iHeartRadio. And then I assume that Columbia Records staffers held their own Hunger Games to see who got the rest.
Personal disappointment aside, it's pretty admirable that Adele is the kind of megastar who never forgets her roots. Joe's Pub was the venue where she made her U.S. debut back in 2008. Programming director Shanta Thake remembers getting a call from an A&R friend of hers, XL's Kris Chen, whose taste she'd come to trust. He'd previously signed Vampire Weekend and worked closely with Franz Ferdinand, so when he said he was working to bring this new U.K. singer-songwriter Adele to the states, Thake had a listen. Seven years ago, Adele had already started to emerge in England, but, says Thake, "As is often the case, people will be a big deal there and never come out big here. I think when we heard the songs we were like, 'Oh my god, this girl is amazing.' But you hear that a lot." Joe's Pub is known for taking chances in their programming, though — their biggest hit this year was probably Bridget Everett's bawdy, tits-literally-in-your-face cabaret show — so they booked Adele. The tickets were $12.
That first show, Adele had requested a simple spotlight, nothing fancy. The show was all about her voice, but Thake remembers she had a cold, "so she was nervous because she felt like her voice wasn't at its full potential. She was drinking tea and lemon water. We were trying to get her honey and make sure she was feeling okay for what was a big show for her. And then she opened her mouth and we were like, 'What is happening here?!' Seeing her live was, like, a phenomenon. She was just a clear superstar."
Adele even signed her XL-Columbia record contract in the Joe's Pub dressing room, and when her debut album, 19, went platinum, the record company sent Joe's Pub the gold record (for selling 500,000 copies), which hangs in their offices. The next time she came back to New York, playing the Nokia Theater (now the PlayStation Theater) in Times Square, she talked about her Joe's Pub gig onstage. "She mentions us quite often and we feel this strong connection to having her first U.S. show here," says Thake. They'd all been reminiscing and listening to "Hello" on loop when Columbia called to say they wanted to bring Adele back. "There was a lot of screaming," says Thake. "You know, to get that call meant a lot. It really felt like we were on the other slide of that 'Hello' phone call, like 'Oh my god, you didn't forget about us!' It's just nice to have an artist who's sort of paying tribute to where she's been before. That's a really beautiful thing."
The idea was just to invite fans to listen to the album, followed by a Q&A. Then that got canceled. A few days of profound sadness passed before another phone call came from Columbia saying they wanted to do a live show. "I, personally, screamed out loud," says Thake. The idea for the show seems to have come directly from Adele. "She wants to do an intimate concert for her fans and really wanted to do it at the place that she has a history with in New York," say Thake.
Thake clearly has a great job, but this week has exceeded all her expectations, since shows like this come around so rarely for small venues. "I think a lot of artists, especially at her level, are very scared of doing intimate concerts," says Thake. "To be so close to your fans and have that much access can be a little terrifying, and it's kind of cool when an artist is actually willing to do that." How intimate, exactly? It's not just that Joe's Pub has a capacity of 184 seated (and 202 counting standing room), it's that the seats go right up to the lip of the stage, inches away from the artist. "The closest person," says Thake, "their table is the stage."
Now if only we could figure out whom to kill to get in.