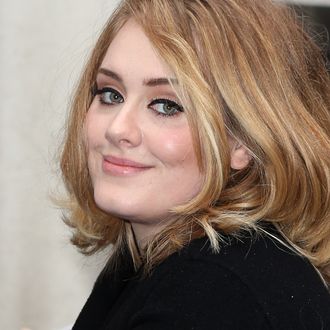 Adele wants all the awards.
Photo: Neil Mockford/Alex Huckle/GC Images/Getty
Adele already proved she can cry on cue in her "Hello" video, but can she act for real? We'll soon find out: Adele is in talks to make her film debut in a cameo in "Hello" director Xavier Dolan's English-language debut, The Death and Life of John F. Donovan. The film already has Jessica Chastain, Kit Harrington, Susan Sarandon, and Kathy Bates attached to it, and now Adele could be adding her name to that list. She recently told KISS FM UK, "I'm sure I'll get some flak for this, but I actually would like to act after working with Xavier. I would be in a film for him, definitely." Adele already has one Oscar for her Bond theme, but watch out, Hollywood: Adele's coming to snatch all your awards!