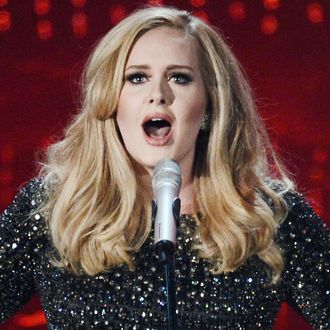 Big move.
Photo: Kevin Winter/Getty Images
Following in the footsteps of Taylor Swift, Adele reportedly will not stream her new album. The New York Times cites three sources involved with the release who say 25 will be available for purchase only when it arrives on Friday. Although the first single, "Hello," is currently streaming on services like Spotify, Apple Music, and Tidal and a performance of another new song is also up on YouTube, you'll have to either download or get the physical copy of her album to hear it. That might explain why her label plans to ship nearly 4 million copies of the album to the U.S., and expects it to sell 2.5 million copies with close to a million downloads in one week. You'll have no other option! There's no word whether or not Adele will stream it at a later date, as Taylor did when she finally put 1989 exclusively on Apple Music earlier this year. At this point, Adele is in full control of her empire.
Update: Spotify has confirmed that Adele's 25 will not be streaming on their site. "We hope that she will give those fans the opportunity to enjoy 25 on Spotify alongside 19 and 21 very soon," they've said in a statement to EW.