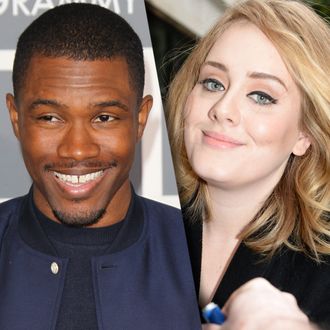 Nemeses until Frank's album drops.
Photo: Corbis
After 10,000 years, Adele's latest album, 25, is free and ready to conquer Earth — but now the queen of making people wait too damn long for an album is done waiting for music herself. In an interview with Rolling Stone, Adele reveals that she is basically all of us when she says, "I'm just fucking waiting for Frank fucking Ocean to come out with his album. It's taking so fucking long." For the record, Ocean announced on Tumblr in April that his album would be released in July. Which was four goddamn months ago.
To her credit, Adele realizes the hypocrisy of her demands: "That sounds so stupid, coming from me, doesn't it?" But we don't care. The queen has spoken. Where's that album, Frank?