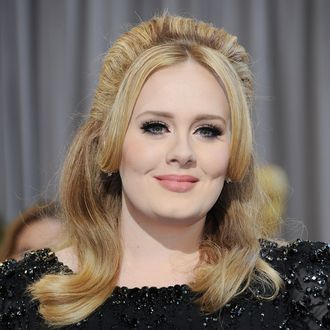 Bow down.
Photo: AFP/Getty Images
Everyone and their mother will be getting Adele's new album for Christmas this year — literally. Billboard reports that her label has shipped an astounding 3.6 million physical copies of 25 to the U.S., where she's expected to have the biggest-selling opening week in Nielsen SoundScan history. In 2000, 'N Sync's No Strings Attached shipped 4.2 million copies and sold a record 2.4 million in its first week. The music industry projects that Adele could beat their record with 2.5 million albums in a single week, thanks to both strong digital and CD sales. (No one's sure if her album will be available to stream when it's released on Friday.) Even more incredible: Billboard says that if sales of 25 keep climbing — and they are expected to — Adele might even sell 4 million copies of the album by the time we reach Christmas.
To understand just how astronomical those numbers are, consider that it took a band like Panic! at the Disco ten years for their debut album to sell even half of what Adele could do in just over a month. (Last week, A Fever You Can't Sweat Out sold its 2 millionth copy, making it certified double-platinum.) Adele's 21 has already gone diamond, with more than 11 million copies sold; by just next year, its follow-up could be halfway there. Is it possible that 25 can be as big as 21? Start placing your bets!