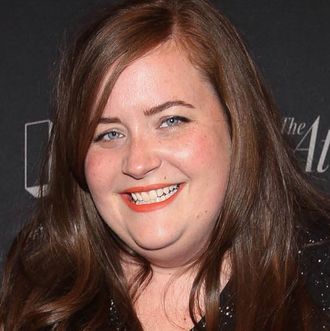 Photo: Rob Kim/Getty Images
Aidy Bryant's Girls character Abigail is returning for season five, and in a delightful turn of events she cataloged her trip to shoot in Tokyo for Lena Dunham's Lenny newsletter, sending FOMO coursing hard through your veins. Aidy kept a running tally of all the amazing shopping, unique restaurants and next-level toilet situations she ran into during her August stay. Meanwhile, you're at the desk you sit at every day eating the wet bottom slice of your Italian sub that you told yourself you would throw away, but now it's 4 p.m. and you've never been anywhere in Asia. Bon appétit!
During her trip, Aidy learned some devestating, and oddly connected, news:
Just FaceTimed with my boyfriend and dog, and I'm riding high. The time difference is very legit, a full 13 hours, so he's going to bed and I'm just getting up. Today is my first shooting day, and we are going to Takeshita Street in Harajuku. I plan to return as Gwen Stefani. Love, angel, music, baby!

A few hours later and wow, just finding out about Gwen and Gavin's separation. I don't know them, but I feel very sad. But I feel grateful I spent the day in Harajuku to honor them.
She also struggled with her own dietary limitations:
I'm gonna be real: I am not a fish person. So I'm living on noodles and the most famous Japanese cuisine, the quesadilla. I'm one of those obnoxious American tourists who's like, "CAN I HAVE SOME PIZZA PLEASE?" I want to be better, but I am what I am.
Before fulling immersing herself in the experience, toilet-wise:
I'm back at the hotel, and I'm feeling pressure to finally use this Japanese bidet. Do you think I'm a coward for being here this long and not using it?

I used it. It was okayyy, but I'm probably not going to do it again. Very intimate feeling. Like a very breathy chilled spritz in my most inner crevice. Fascinated that I saw so many in public restrooms all around Tokyo — from train stations to fast-food places, bidets were there, ready to work. I guess I prefer a dirty butt to a wet one. I'm sorry I wrote about butt washing. There are many beautiful shrines and fantastic restaurants in Tokyo.
Go read the whole thing. It's so cool and refreshing, it's like a bidet for your soul.