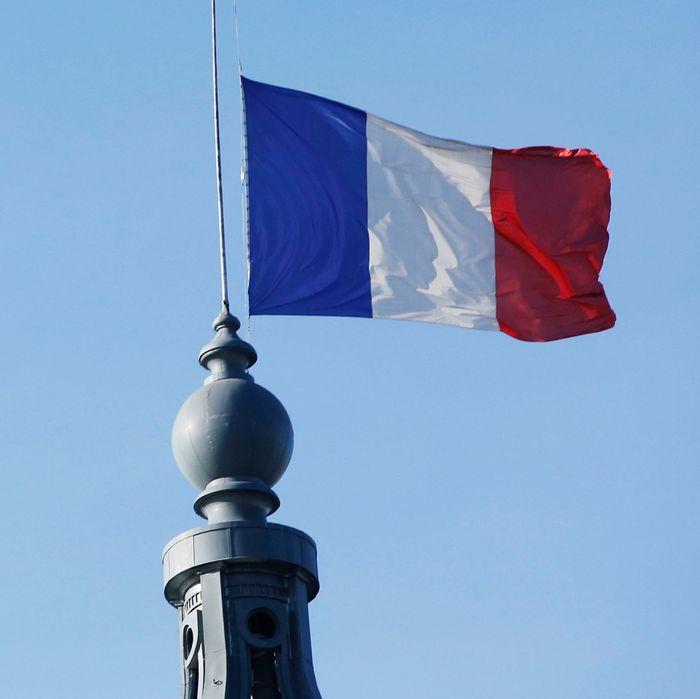 The French flag flies at half-mast at the Grand Palais on Sunday.
Photo: Malte Christians/dpa/Corbis
After a series of deadly coordinated terrorist attacks in Paris on Friday night, few people had art sales on their mind. But the government's decision to shut down Paris Photo, the enormously successful photography fair that draws upward of 60,000 visitors from around the world to the Grand Palais each year, two days early left the globe-trotting art world unsettled. This year's event drew 147 galleries from 34 countries, including a big cohort of New Yorkers.
"Paris Photo is the biggest gathering of its kind for the photography world — exhibitors and their staffs, artists, curators and trustee groups, book publishers," said dealer Yancey Richardson, now back in New York.
Like many of her colleagues in the industry, Richardson was having drinks with clients when word came of the attacks late Friday night. "We were just sitting there hearing the death count go up and the report of the attacks at different places. That was frightening because it sounded like whatever was going on was moving." Those in the targeted arrondissements, including one of Richardson's artists, were forced to remain where they were until morning. Others had police escort them to their hotels or, if they were lucky, caught a ride. Several photographers from the Magnum photo agency went directly to the scenes of the crimes to document the tragedy.

On Saturday, fair organizers announced it would remain closed that day but advised galleries not to dismantle their booths in case it would reopen Sunday. Chris Littlewood, photography director at Flowers Gallery, hoped that would be the case. "At that point it wasn't really about doing business or making sales," he said. "But out of principle I would've gone and been there in support of the fair itself, as much as for standing up for arts and culture. It's a difficult balance, maintaining security and not giving into the terrorists."

Ultimately, the minister of culture and communication ordered all arts institutions on the Île-de-France to remain closed until further notice. "The Grand Palais made the difficult decision to close its doors to the public Saturday morning, leaving our loyal audience of collectors and photography lovers deprived of two full days to meet and share around their common passion, photography in all its forms," said the fair organizers in a statement.

Packing up his booth in silence on what would have normally been one of the busiest days of the fair "felt very eerie," said Littlewood. "It was like they got what they wanted."
Jean-Daniel Compain, a senior vice-president at Reed Exhibitions, which runs the fair, told the L.A. Times: "We will face the barbarians. It's a question of civilization and culture."

Organizers have reimbursed ticket holders who planned to visit over the weekend and have created a virtual tour of the fair, available on its website. Paris Photo plans to return to the Grand Palais next November to celebrate its 20th anniversary; its Los Angeles version will return in April.