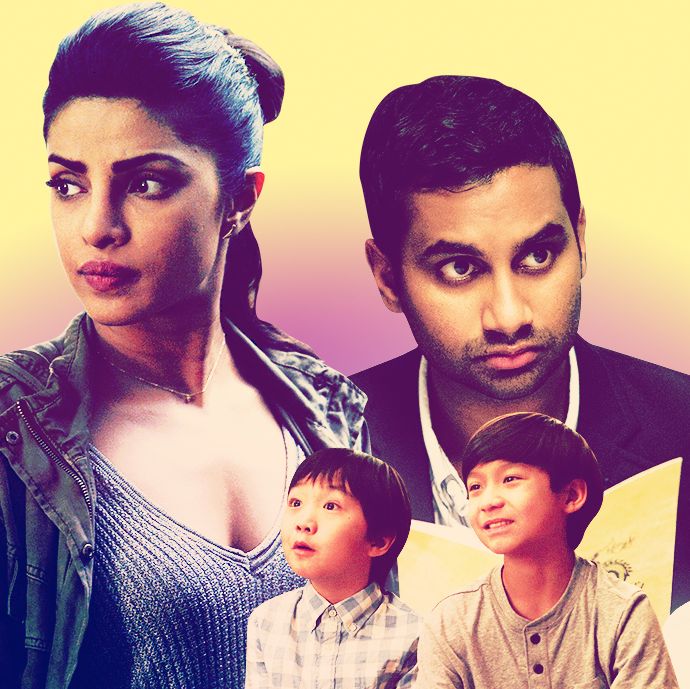 Photo-Illustration: Maya Robinson and Photos by ABC and Netflix
In a recent episode of Fresh Off the Boat, Louis, the Huang patriarch, goes on a local morning show to promote the family restaurant. He's a hit doing impressions of Donald Duck and Rocky to the delight of the white anchors of Good Morning Orlando. But when Louis comes home all smiles, Jessica berates him for acting the fool: "We don't get opportunities to be on TV," she says. "That's why when we do we need to present our best face." She reminds him of Long Duk Dong from Sixteen Candles — the cartoonishly offensive portrayal of a desexualized Asian man that haunts portrayals of Asian-Americans in popular culture. Louis goes back on the show to save face, and the pendulum swings in the other direction. He's charmless and self-serious, lecturing the anchors about racism. Jessica reproaches him again: he needs to be funny, but not a buffoon, respectable, but still likable. "You realize doing all that is impossible, right?" he says. "I know," she sighs. "I just want it to be perfect."
It was a pointed reminder of Fresh Off the Boat's own high-pressure debut earlier this year. At this time in 2014, there were just two shows headlined by Asian-American actors: Mindy Kaling's The Mindy Project and Selfie, starring John Cho. Both were romantic comedies with Asian-American leads and would get canceled by their respective networks for flagging ratings: Fox declined to renew The Mindy Project and ABC would cancel Selfie after just six episodes. (RIP, Selfie.) Fresh Off the Boat came in with enormous expectations: It had been 20 years since the last Asian-American family sitcom on a broadcast network, Margaret Cho's All-American Girl, had flamed out in one abbreviated and tumultuous season despite strong ratings at first. At the time, many Asian-American writers criticized the show for its hackneyed portrayal of a vague "Orient." There was a fear that history would repeat itself: What if Fresh Off the Boat just recycled Asian stereotypes? If the show faltered, would Asian-Americans have to wait another 20 years to get another shot? It had to be perfect.
Fresh Off the Boat didn't merely succeed, it managed to do the seemingly impossible: It resonated with Asian Americans (except for Eddie Huang) as well as non-Asians, picked up favorable reviews, and kept a political edge. The fall television season that followed brought more Asian-American leads to television than ever before. ABC premiered the soapy FBI thriller Quantico, starring international Bollywood actress Priyanka Chopra, along with another Asian-American family sitcom, Dr. Ken, built around comedian Ken Jeong. Hulu saved The Mindy Project, and The Walking Dead fans mourned the prospect of losing Steven Yeun. Asian-Americans popped up in some unexpected places, too: Karen David plays the princess on the medieval musical Galavant, Lori Tan Chinn emerged from the background on Orange is the New Black, and Vincent Rodriguez III plays the fantasy boyfriend, Josh Chan, in Crazy Ex-Girlfriend. The most recent addition — and arguably the most critically acclaimed — is Aziz Ansari's new Netflix show, Master of None, which features another Asian-American actor, Kelvin Yu, as the laid-back hottie of the friends. What a difference a year makes.
Master of None, in particular, has deftly tackled the issues of race: Its easy, conversational tone belies how cleverly it dismantles racial tropes. Moreover, it manages to acknowledge systemic racism toward people of color while refusing to be defined by it. Over the ten-episode first season, Ansari's character, Dev, works on the set of "the black virus movie" The Sickening, where he meets Benjamin (H. Jon Benjamin) and Colin Salmon, playing an inflated version of himself. It's Benjamin who plays the sage mentor — a role often occupied by a "magical Negro" character, whereas Colin is the wealthy eccentric with a penchant for domino shows and baking cinnamon buns. These reversals are evident if you're aware of them, but the jokes are still delightful even if you're not.
The commentary gets especially refined in the fourth episode, "Indians on TV." The opening before the credits is a montage of famous "Indian" roles throughout the years, from The Simpsons's Apu to Ashton Kutcher in that Popchips commercial. It contextualizes the rest of the episode, in which Dev reads for a role on a sitcom called Three Buddies along with a fellow actor and friend, another Indian-American actor named Ravi Patel. After their auditions, Dev is accidentally forwarded an email conversation where a TV executive says that while they were both great, "there can't be two." Otherwise, it would be an "Indian show." And yet, throughout the episode, Ansari slyly constructs his own version of Three Buddies. He talks about the email with his friends Brian (Kelvin Yu) and Denise (Lena Waithe), both of whom are people of color, and then again with Ravi, while the camera cuts away to their friend with the great pectorals, Anush (Gerrard Lobo), doing burpees in the kitchen. Not only can there be two, but there can be three.
While it's been a watershed year for Asian-Americans on TV, not all Asian-Americans are happy with what's on screen. 2 Broke Girls's Han Lee carries on Long Duk Dong's legacy, and then there's Dr. Ken, which has raised ire for portraying Asian men as "weak" and "effeminate." But in actuality, the show functions on the idea that Dr. Ken is an insensitive doctor with poor bedside manner, thereby playing into the familiar trope of the incorrigible husband as epitomized by Archie Bunker in All in the Family. It's a middlebrow comedy, uninterested in making any sort of cultural commentary.
In fact, what's most remarkable about Dr. Ken is that it's wholly unremarkable. Even though critics almost universally panned the show, it was one of the first freshman shows that ABC picked up for a full season, because it had solid ratings. And yet, it's almost impossible not to play a "What if" scenario. What if Dr. Ken had premiered before Fresh Off the Boat? It might have collapsed under pressure like All-American Girl. But in this case, it flew under the radar. It didn't have to be perfect, or present a good face, or rep Asian America hard. It could just be fine — mediocre, even — and we don't have to agonize over whether the show was worth defending because it was "the only one." It could simply be left alone, and that, in some ways, might be the biggest gain of all.