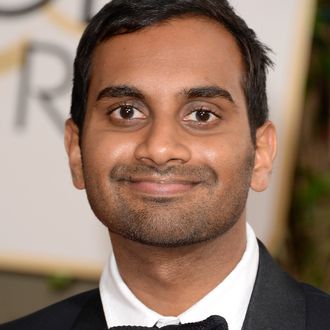 Aziz Ansari.
Photo: Jason Merritt/2014 Getty Images
Master of None has been out for less than a week, but already it's garnered tons of love (as well as produced some very touching byproducts and lessons). Tied to the show's recent release, co-creators Aziz Ansari and Alan Yang participated Thursday in a Reddit AMA session, in which they talked lots about behind-the-scenes fun facts, food, and what Michael Schur would do in given situations (W.W.M.S.D?) — a few Parks & Rec–related questions were tossed in, too. Most importantly, though, if you're a fan of MoN, you should know the duo's working on setting up a weekly discussion thread for re-watching the series (keep your eyes peeled for that, here and here).
Until then, read on for the MoN AMA highlights and follow along with our own recaps here. Warning: If you haven't yet binged the whole series, spoilers and in-show references follow.
Is Mindy Kaling actually real?
Aziz: It was so awesome when Mindy randomly texted me "hahahahhaahaha I am real" […] Also Gerrard aka Anush improvised that. Also, everyone in our crew always would yell "PRASHANT!" during any work day after we filmed that scene.
Is that how Aziz's parents talk to each other?
Alan: Dude [his dad] sounds like that in real life


Aziz: Yeah, same with my mom. When she goes "STOP THAT!" that's exactly how she yells at my dad IRL. And when she told me that "sat on the couch and cried" story in real life, it was in that exact same deadpan tone.
How did Dev get that sick apartment?
Aziz: we agreed Dev should have decent money from his commercials (Gogurt, Wendy's voiceover, Garden Depot) and national commercials actually pay a decent amount. (I based this kind of on Rob Huebel who was doing pretty well during his Inconsiderate Cellphone/NetZero days). We mainly did this to differentiate from the other other New York shows where characters are younger and not doing as well work wise. Also Dev is in a cheaper neighborhood and our production designer Amy Williams was very conscious about the stuff she bought for Dev.
Aziz: We pitched only to premium spots cause we didn't want to deal with content issues. (Example: The show opens with Rachel and I talking about jizz/precum.) On Netflix, we never had one issue with content. Also, no need to edit to commercials. Most importantly though, Netflix really believed in us and told us they wanted to go straight to series and do 10 episodes. No pilot/development process. It was a great experience. Also, I love how everyone has gotten to just see all the episodes, rather than wait 9 weeks until someone can see an episode I really am proud of like Mornings.
How they came up with the ending:
Aziz: That ending was really hard to think of and then I thought "what would Mike Schur do?" and came up with that.


Alan: I also thought "what would Mike Schur do?" and then went and watched baseball for fourteen hours, which didn't help.
What's the story with the Nashville date?
Aziz: One of our writers had that experience and it fit with my "Monster Truck Rally Theory" from the book, so seemed perfect. Also loved going to Nashville so we could use that country music and I could eat at Arnold's Country Kitchen.
Aziz: When people ask about Dev vs. Aziz, I'm gonna say its similar to Jimmy Smith, Jr. vs Eminem in 8-Mile.

Here's what next season will be if MoN becomes an anthology series (à la American Horror Story):
Alan: Next year the show is going to star Forest Whitaker as a down-on-his-luck cop investigating a drug ring on the streets of Memphis who gets embroiled in a dark mystery involving illegal crocodile smuggling, the yakuza, and an evil Haitian priestess with whom he has an electric physical chemistry.
I haven't told Aziz about this plan yet.
How come Aziz is shown dating mainly white women?
So cool people talking about this kind of stuff and having all the conversations about race, etc. since the show premiered. As far as Rachel (and other love interests too), we didn't set out to cast someone white and auditioned people of all ethnic backgrounds, and wanted to cast the person I seemed to have the best chemistry with to sell this huge relationship arc. In the end, Noel blew us away. And, for the writing, I'm pulling a lot from my own real current relationship, which is with a "white" person - so we can do interesting scenes like the scene in 109 (Mornings) about the parents (which many South East Asians have told me really resonated with them and they'd never seen an interracial relationship depicted this way in TV/film before), or the awkwardness of the beginning of 110.

For the others, there was Claire Danes, who is a friend and a fucking legend in my book, so we were psyched to collaborate. And Nina Ariande just killed us with her Cartman impression.

Anyway, I'm a fan of all these conversations and there are interesting nuances in both interracial relationships and relationships between two Asian people – if we get a second season it's definitely an interesting topic to address.

Bottom line - if we did a hundred episodes, we definitely wouldn't have Dev date a hundred white women a la Jerry Seinfeld in the hit television comedy Seinfeld. Race and dating is an intriguing issue that Alan and I have talked about in real life. Example: Alan really did have a white girlfriend's mom that hugged him more time in one dinner than his entire family had his whole life.
With Hollywood's gender inequality generating headlines lately, who were some of the key women behind the camera?
Aziz: Lynn Shelton directed 2 episodes, Ladies and Gentlemen and Old People. She was great […] I want to give a huge shoutout to Alison Jones, casting GOD who worked on getting us our main cast. She introduced us to Noel and Lena early on and we loved them. Then, when they auditioned the both blew us away. Casting a show like that, it's really about who you have chemistry with and can improvise and play it all in a real way. Those two (and all our cast) are CHAMPIONS. We found Kelvin later on when we went to New York.
Want to know more about the late Harris Wittels's involvement? Here you go:
Aziz: Harris was a writer on the show up until his passing. We dedicated the series to him. Some of my favorite Harris bits - turtle briefcase, 8 Mile convo, dominos


Alan: We loved Harris and when we started the show we wanted to hire him as a writer immediately. I had worked with Harris in the Parks and Rec writers room for six years, and he was legitimately one of the funniest people I've ever met – also, he himself would often say he was the fourth or fifth funniest person in the world… AND HE WASN'T WRONG.
Harris was kind of our number two guy in the writers room. When we would leave to write drafts, he would help run the room. He had a lot of experience from Parks and he contributed so much to Master of None. He helped us with story and of course, he pitched a lot of the funniest stuff in the show, including: the domino stuff with Colin Salmon, the whole Eminem run in the beginning of Nashville, and the turtle in a briefcase joke.

I think about him a lot and I miss him every day. He was one of my good friends and I wish he were here to see all of these people enjoying what he helped make […]

Harris also wrote:

I once sent a girl an e-vite to my heart.
What happened?
She declined.

He was able to come up with that because he actually did that to a girl.
And she declined.
Okay, so whose perspective is "Lose Yourself" actually from?
Aziz: Really need Eminem to weigh in, I don't know what to believe anymore […] It's not completely B-Rabbit because he put out the song as Eminem, and he says "there is no movie." My final conclusion might be "there is no movie, there's no David 'Future' Porter" should been the line, because as Dev says, Mehki Phifer the actor does exist.

[Note: The internet pitched in, as one Redditor pointed out Eminem has actually answered this question on Genius.]
Aziz: We haven't heard officially from Netflix. But Alan and I, like true Asians, have started an insane chain of ideas already. The show came out less than a week ago. We really have been inspired by the massive reaction to the show.
Bonus: Are you insane, and do you want to know every single place Aziz and Alan ate at while filming in New York? Okay, cool:
Alan: I kept a list of all the places I ate at in New York while we made the show because I am a crazy person. You didn't ask, but here's the list anyway.

Del Posto Contra Uncle Boons Marlow and Sons Momofuku Ko Diner Maison Premiere Charlie Bird Otto Polo Bar Szechuan Gourmet Paulie Gee's Reynard Lucky Luna Huerta (tapas) Northern Bell (wings) Brooklyn Star Peter Luger Duzan (shwarma Astoria) Rocky Slim's Five Leaves Upland John Dory Oyster Bar Casa Mono Peking Duck House Henry's (banh mi) Han Dynasty Momofuku Ssam Bar Bar Primi Estela Dell Annima ABC Kitchen Vic's Cherche Midi ABC Cocina Somtum Der Mighty Quinn's Claudette Ramen Lab Romans Nomad Bar Dirty French (chicken and crepes) Ivan Ramen Mark Burger Dimes St. Anselm Lucali Soba-ya Meat Hook Sandwiches Hometown BBQ (beef rib) Prosperity Dumpling Pies n Thighs Mission Chinese Tuome Brancaccio's (egg sandwich) Roberta's Bamonte's Saltie Murray's Cheese Shop (breakfast sandwich) Faicco's Italian Specialties Via Carota Jeffrey's Lupa Luke's Lobster Il Buco Alimentari Donostia Lafayette Bo Ky (on Bayard, curry chicken soup with egg noodle) Shun Lee Palace La Sonrisa Russ and Daughters Freemans Rebelle Cafe Gitane Santina Prairie Whale (Great Barrington, Berkshires) Momofuku Noodle Bar Cafe Mogador (chicken tagine with charmoulla sauce) Harvard Club Lobster Joint Eastern District Glasserie The Bao Sabor A Mexico Oiji Kabob Shack Ganso Yaki Shake Shack Four Horsemen Bobwhite Lunch and Supper Counter Vanessa's Dumpling El Rey Porchetta Totto Ramen Grand Central Oyster Bar Union Square Cafe Karczma Dos Toros Spotted Pig Cafe Habana Kao Soy L'Apicio Cheeky Sandwiches (chicken biscuit) Rosie's Malai Marke Nomad Untitled at the Whitney La Lunchonette Thelewala Caracas Arepa Bar El Cortez Gramercy Tavern Corner Bistro Fuku Fish Korilla Mable's Steakhouse Porsena Lupulo (prawn on the plancha) Hanjan Peasant Esme (chicken sandwich) Speedy Romeo Greenpoint Fish and Lobster Wildair Taquitoria Tres Carnes Los Tacos No. 1 Fung Tu Wo Hop Xi'an Famous Foods Seamore's Marta Laut Mokbar Happiest Hour Eataly Roebling Tea Room La Cevicheria Bolivian Llama Party Tacoway Beach C&B Cafe RedFarm Early Coffee Walter Foods Javelina Neta Babbo The Clocktower Cosme Cafe Boulud JG Melon Black Seed Grand Banks Downtown Bakery Osteria Morini Sushi of Gari Babu Ji Motorino Coppelia Clinton St. Bakery Superiority Burger Blue Smoke Zaragoza Katsu Hama GG's Halal Guys Shopsin's Skovorodka White Bear Ootoya Barbuto Mu Ramen Tempura Matsui Bruno fuku+
You're welcome.
For more from the AMA session, head here.