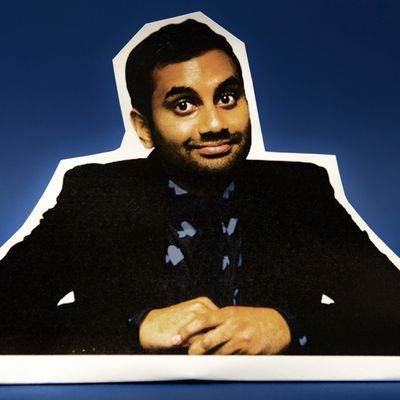 Photo-Illustration: Maya Robinson
When the world first met Aziz Ansari in the late 2000s, he was the ultimate fun-loving stand-up, telling ridiculous stories about his little cousin Harris and chilling with Kanye West, all filled with topical pop-cultural references. But in recent years a transformation occurred: Aziz transitioned into one of the most thoughtful comedians on the scene, exploring the immigrant experience and everyday sexism by creating a dialogue with his audiences. His new Netflix series, Master of None, out today, has picked up glowing reviews all week for its sharp takes on race, gender, friendship, and its warm sensibility. And while promoting the show, Ansari has been more open about Hollywood racism than ever. Here's a look at how he got here.
***
Aziz Ismail Ansari, 32, grew up in Bennettsville, South Carolina, in a Tamil family. His parents immigrated from India in the early '80s: His father, Shoukath, is a gastroenterologist, while his mother, Fatima, works at his medical office. Early on, Ansari entered the performing arts, taking dance classes as baby Aziz:
He was no slouch academically, attending the South Carolina Governor's School for Science and Mathematics, a public boarding school for gifted students in the state.
Here he is in his senior photo, with a couple of solid yearbook quote selections below his face:
"To meet so many kids from different backgrounds with different ideas and interests, it really influenced me," he told the Charleston City Paper of his time at the Governor's School. His main goal at that point, however, was simpler: "People always ask whether I dreamed of being a comedian," Ansari wrote in a 2013 Reddit AMA. "When you're growing up in Bennettsville, your dream is to just get out of Bennettsville."
2000–2004: Ansari enrolls at New York University, studying marketing at the Stern School of Business. But he is more inspired when he goes to his first stand-up show, at the Comedy Cellar in Greenwich Village, and he begins doing open mics as a student, performing at local clubs like Comic Strip Live, focusing his comedy on pop culture, relationship woes, and Cold Stone. Rather than transfer to the Tisch School of Arts, Ansari decides to stick it out at Stern. ("I stayed with Stern because marketing was … how do I put this? … it wasn't too rigorous on the workload.") And he starts laying the groundwork for his comedy career, often spending his weekend nights in college in Times Square, handing out flyers to tourists to come to his shows.
2005: Ansari begins hosting Crash Test, a free late-night show on Monday nights at the Upright Citizens Brigade Theater. It eventually features rising alternative comedians — in the first month, performers including Chelsea Peretti, Nick Kroll, Todd Barry, and Jessi Klein came through. Even more important, he invites a different co-host every week, which eventually leads to him sharing hosting duties with Rob Huebel and Paul Scheer, who became his future collaborators (and continue Crash Test in L.A. to this day). Here are Huebel and Ansari, in some extra-baggy cargo shorts, in 2006, riffing off the idea of Googling yourself:
In this early Crash Test video, Ansari lost a challenge and had to walk around NYC blasting embarrassing songs from a boom box:
Ansari was still working a day job at an internet marketing company at this point to make ends meet. In February '05, he's interviewed for a Wall Street Journal article about struggling creatives, "Is It Time to Get a 'Real' Job?":

"'For a few weeks, I was working to put together a pitch for a pilot for HBO, and I didn't have time" to deal with projects for his day job, says Mr. Ansari. But because his business partner is a friend, he understood."
Ansari experiments with his stand-up at UCB with a handful of colorfully titled shows: Aziz Ansari Punched a Wall, Aziz Ansari Hates Driving, and Aziz Ansari Isn't Fucking Around Anymore. And he moves into NYC's alternative scene; here's a clip of him doing a bit with Eugene Mirman about his undying obsession with M.I.A., at the now-defunct Rififi in the East Village:
Around this time, Ansari starts making his first TV appearances, starting with a bit part on ESPN Classic's Cheap Seats:
His most memorable turn, however, came as a fruit vendor with anti-Antipodean sentiments on HBO's Flight of the Conchords:
2006: Ansari starts getting some broader critical recognition, winning the Jury Award for "Best Standup" at HBO's U.S. Comedy Arts Festival.
2007–2008: MTV picks up the show Human Giant, a sketch show Ansari co-created with Huebel, Scheer, and filmmaker Jason Woliner. The quartet had already been producing comedy shorts, riding the wave of early internet videos.
Their first big viral hit is "Shutterbugs," about a talent agency for children:
And Ansari acts the hell out of his role in "Escalating Interview":
Human Giant aired for two seasons on MTV. The show was not canceled, as some assumed — the creators moved on when Ansari signed on as a regular on Parks and Recreation.
2008: One of the ways Ansari built such a devoted fan base was through his Tumblr, Aziz Is Bored, a bright spot in the blogging platform's early years. The site is now more of a promotional tool for Ansari, but back in his flip-phone days, it looked like this: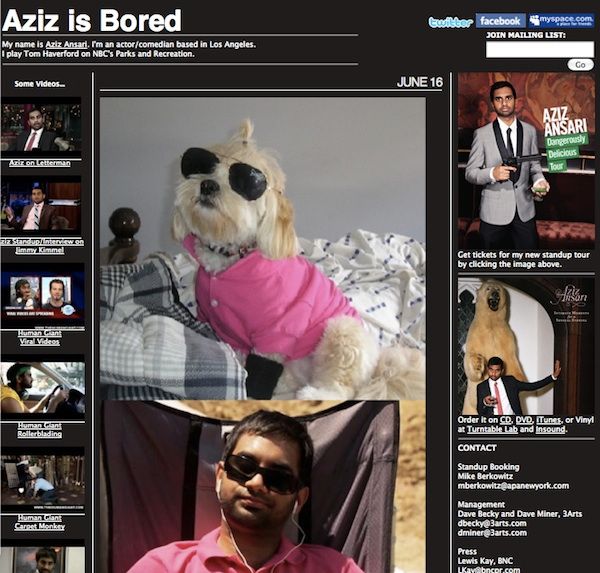 Ansari filled the feed with an enticing variety of personal posts, from Human Giant exclusives to his thoughts on then-senator Obama to an overwhelming number of food photos. Reading it felt like an intimate experience, and for followers it established Ansari as a relatable, excited, tasteful young guy who likes LCD Soundsystem, writes Friday Night Lights fanfiction, and hates Time Warner as much as you do.
2009: Ansari appears in the Judd Apatow–Adam Sandler film Funny People as Randy Springs, a.k.a. Raaaaaaaandy, an obnoxiously successful comedian. A character evolves out of the movie, starring in his own digital shorts and eventually becoming Ansari's stand-up alter ego. Randy appears in Ansari's first stand-up special, 2010's well-received Intimate Moments for a Sensual Evening.
With this special, Ansari establishes himself as the high-energy, pop-culture-obsessed character that became his calling card. His references to race are relatively gentle, but he touches on it in one bit from Intimate Moments, "Are White People Psyched All the Time?":
2009–2015 Ansari is the first person cast on the show that will become Parks and Recreation — when he's brought on, creators Greg Daniels and Mike Schur don't even have a premise. His character, Tom Haverford, is the fashion-focused, status-conscious underling to Amy Poehler's wide-eyed optimist, Leslie Knope. Haverford's over-the-top persona makes him an instant favorite. He coins the catchphrase "Treat yo' self," spawns a website devoted solely to his spectacular food slang, and comes up with endless business ideas:
Over the next few years, Ansari continues to do stand-up, focusing on material that's less silly and more nuanced. "When you start doing stand-up," he told the New York Times in 2014, "you're like 'What can I talk about to get laughs?' And now, I'm like 'What's something that's really interesting to me, that I want to talk about?'"
2012–2014: Ansari releases his stand-up special Dangerously Delicious, under the so-called "Louis C.K." model, offering direct downloads for $5. While this hour is most famous for its "50 Cent doesn't know what a grapefruit is" story, Ansari begins tackling weightier material, with a bit devoted to his favorite racial slurs:
In his 2013 special Buried Alive, Ansari's deep dive into dating in the modern world includes a reflection on the values, good and bad, of arranged marriages (a topic he expands on in his book, Modern Romance, and Netflix show, Master of None):
In 2014, Ansari goes on an arena tour around the country, culminating in two performances at Madison Square Garden. These become his next Netflix special, 2015's Live at Madison Square Garden, which Ansari directs. His comedy takes a more reflective tone, and Ansari makes a point of thanking his parents for immigrating to the States:
2015: Ansari's fascination with the way dating and romance have evolved in the technological age became such a staple of his stand-up that he writes a book, Modern Romance: An Investigation, with sociologist Eric Klinenberg. He reportedly signs a $3.5 million deal for the book, and it debuts on the New York Times' best-seller list.
The book's success proves the marketability of Ansari as an overall star; the same year, he debuts on Forbes's list of the highest-paid comedians at No. 6, reportedly pulling in $9.5 million.
Today, Ansari's new series, Master of None, co-created with former Parks and Recreation writer Alan Yang, debuts on Netflix. He writes, directs, and stars in the dramedy, which has been called Ansari's Louie. It follows his character Dev, an actor attempting to make it in NYC. Dev's parents on the show are played endearingly by his real parents, Shoukath and Fatima (Shoukath in particular is a crowd-pleaser), while the range of Ansari's acting abilities really come through in his role as Dev.
Earlier in the year, Ansari described the show as "more like 1970s comedies that are kind of grounded, really funny, but talk about real things," citing films like Tootsie and Manhattan. It touches on everything from the lack of opportunities for minority actors to women walking home alone at night to why we're not more decent people to one another. And at EW Fest last month, Ansari spoke more candidly than he ever has about how limited Hollywood still is in its view of race ("there would never be two Indian people in one show," he said), an issue he covers extensively in the "Indians on TV" episode of Master of None. The show — which the New York Times called "the year's best comedy straight out of the gate" — marks Ansari's full transition from energetic stand-up to serious-minded Hollywood power player.
You can watch all ten episodes of Master of None on Netflix.