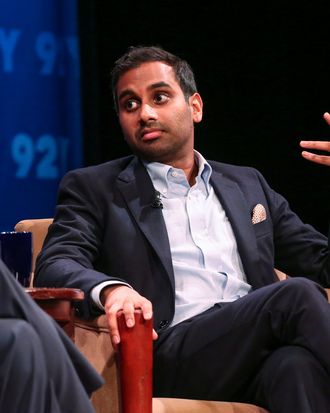 Aziz's dad did not make this screening.
Photo: Michael Priest Photography
While watching Master of None, if you start to wonder why you haven't seen that amazing actor playing Aziz Ansari's character's dad before, it's because he's Ansari's real dad, Shoukath, making his television debut. During an advanced screening and conversation at the 92nd Street Y Monday night, Ansari spoke once more about casting his parents. As he told it, he auditioned other actors for the roles, but he felt like they were just doing impressions of immigrant parents. "It felt very hacky where it's like, 'Oh, let me get my keys! Oh wait, there's some tandoori chicken in my pocket,'" he joked.
But now that critics have seen the show, some have a new favorite Ansari. Aziz mentioned a Variety review that said, "Shoukath steals more than one scene out from under his son." "To do that to an Asian person, to an Indian son, is so awful," joked Ansari. "He made the crew break more than anyone else on the show. You know, so much of that is just making unexpected choices. And my dad would make the weirdest choices."
So what's Shoukath Ansari's next big project? His father told him he'd just do a commercial. "What would you do a commercial for?" Ansari asked. "He's like, 'I'll do a commercial for anything.'" May we suggest Rent-a-Swag?