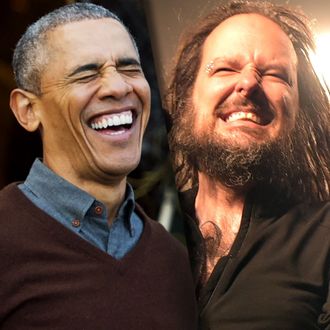 Jonathan Davis (left) and Barack Obama.
Photo: Saul Loeb/AFP/Getty Images; Theo Wargo/Getty Images
In his most controversial act since taking office nearly seven years ago, President Obama on Thursday denied that he is Jonathan Davis, lead singer of Korn. "I am not the lead singer from Korn," Obama told a White House press conference, stunning observers with his brash exercise of executive power. His remarks broke an unspoken presidential tradition; since Washington, no U.S. president had ever used his bully pulpit to deny fronting the California nu-metal band whose "Freak On a Leash" hit No. 6 on the Billboard Alternative Rock charts in 1999. Though Obama did speak with unprecedented openness about whether or not he was Davis, he refused to address the Korn singer's allegations that he was "an Illuminati puppet."
(Below the jump we will explain the context for Obama's remarks, but honestly it's kind of better if you just let it be a whimsical mystery.)
Ready to have your illusions ruined? Okay. Obama was speaking at the Medal of Honor Ceremony for retired Army captain Florent Groberg, who was wounded tackling a suicide bomber in Afghanistan in 2012. Davis visited Groberg in the hospital during his recovery, but the injured Korn fan was so out of it he assumed he was hallucinating. At Thursday's ceremony, Obama assured Groberg that he wasn't hallucinating this time, either: "You are actually in the White House. Those cameras are on. I am not the lead singer from Korn." So, basically, it was a slightly heartwarming dad joke, but wasn't it slightly more fun when you didn't know the context?