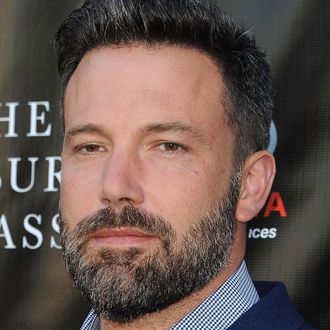 Ben Affleck.
Photo: Angela Weiss/2015 Getty Images
Ben Affleck is very aware people are looking forward to his forthcoming Batman v Superman — and to whether it will be any good. So much so, the actor's not even trying to hide the nerves tied to unspooling such a popular undertaking. "There is a ton of pressure on it," Affleck told Variety recently, as part of a story on Warner Bros. CEO Kevin Tsujihara. "I mean I would be bullshitting you to say there isn't."
That pressure isn't just coming from fans of the superheroes, but also from the studio behind the project. To that end, Affleck said Tsujihara has been instrumental in making Dawn of Justice a product of a higher quality — something that's trying not to be a shoddy, forced franchise fling. Of Warner Bros. in particular, he added:
They are going to have a great year. … They are now developing … probably the single greatest under-exploited IP asset in the entertainment business, the DC comic world. And now they have started to exploit that and you are going to see that blossom. And, when it does, it's going to be massive.
That massiveness begins next year, and you'll be able to decide for yourself on March 25 whether or not Affleck & Co. were able to deliver. For more from the actor's interview, as well as the Tsujihara story, head here.