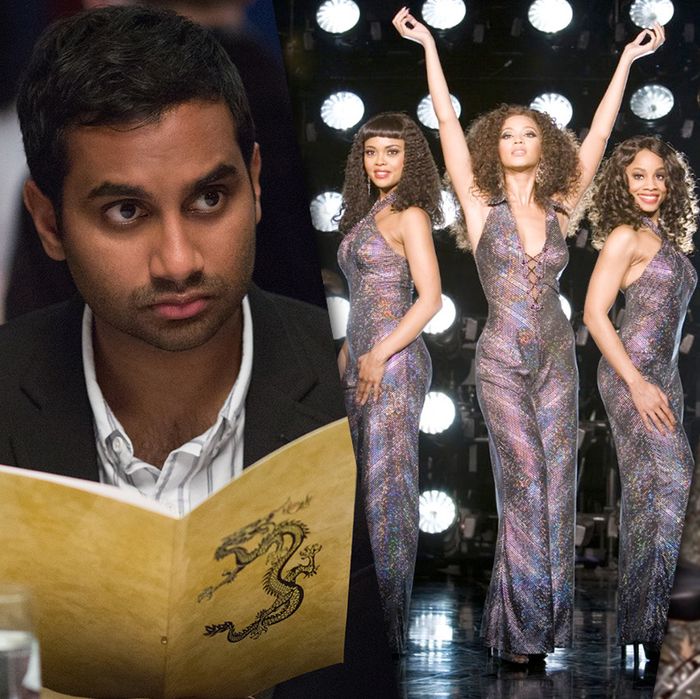 Photo: Netflix, Dreamworks and Touchstone Pictures
The four main streaming services — Netflix, Hulu, Amazon Prime, and HBO Now — tend to add and remove content at an exhausting pace, which is why we keep track of the best options for you at Vulture's What To Stream hub. Since it can be hard to filter through all the new information each month, we've compiled a list of biggest streaming news for each service here to help you prioritize.
Netflix
The newest arrival from Netflix's November offerings is Master of None, Aziz Ansari and Alan Yang's* semi-autobiographical series about a young actor (Ansari) and his group of friends in New York. Vulture's Margaret Lyons called Master your "next great TV love" and it's hard to argue the point — it's Louie meets Girls, with a bigger heart and more Uber jokes. Other recent TV additions include the charming Jane the Virgin and The Great British Baking Show, which might be the most relaxing reality program every filmed. If you're more in the mood for a feature, the site added Results, starring Cobie Smulders as a fitness coach; Beasts of No Nation, starring Idris Elba as an African warlord; and Boogie Nights, starring 13-inches of plastic as Mark Wahlberg's massive penis. And, before they go, you might want to check out Stranger by the Lake (gone November 13), a queer (in the sexuality sense) French thriller, and Bel Ami (gone November 22), a queer (in the odd sense) "French" costume drama.
Hulu
Hulu added a ton of Bond movies this month, so you can watch Goldfinger to pregame for Spectre in theaters. It's also brought on Waterworld and Rushmore, for those high-achievers with a Showtime log-in. If TV's more your style, Hulu has bunch of original comedy options suited to different tastes, from The Mindy Project (sweet) to Casual (bitter) to Difficult People (saucy). There are also plenty of network shows to stream, from Scandal to Fresh Off the Boat, and a few other series available in full — check out the first seasons of FX's Fargo and You're the Worst, continue that Seinfeld binge, or start up on The Good Wife.
Amazon
Amazon released its slate of fall pilots, including series that feature Christina Ricci as Zelda Fitzgerald, Anna Camp as a second-wave feminist, and Tig Notaro as herself. Margaret Lyons says to watch Notaro's pilot and skip the rest, which means you have time to catch up the rest of Amazon's TV collection, including original series Transparent and Red Oaks, older seasons of The Americans and Hannibal, or the first two episodes of the The Man in the High Castle, which releases its first full season November 20. On the film side, Amazon has a thriving collection of old and new features, including recent additions My Best Friend's Wedding, Eternal Sunshine of the Spotless Mind, and The Hunger Games: Mockingjay – Part 1.
HBO Now
HBO's streaming site hosts Project Greenlight, if you want to get mad at Matt Damon, and The Leftovers, if you want to get mad at God. There are also recent episodes of Doll & Em and Last Week Night, for two very different sorts of anglophiles. Of course, you can always find old catalogs of everything from The Sopranos to Game of Thrones, but if you want to catch up on Getting On before its third-season premiere November 8, you better stream that first. The site's recent film acquisitions include Dreamgirls, American Sniper, and Planet of the Apes. But before you get to those, check out The Fly and Neighbors, both of which leave this month.
For monthly in-depth coverage, head to Vulture's What to Stream hub.
*This post originally referred to Master of None's co-creator as Jeff Yang — we regret the error.