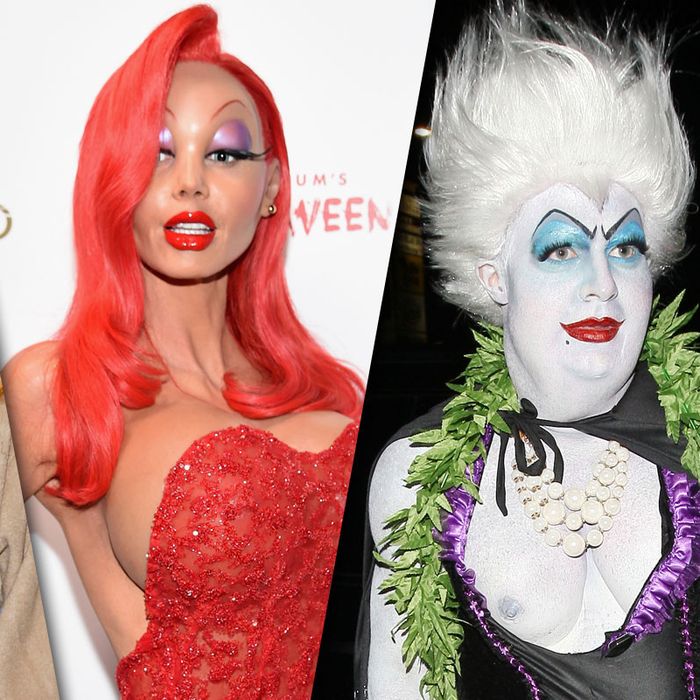 Halloween is the heaux stroll for people who don't work the actual heaux stroll but work the Lean Cuisine cubicle stroll, as in heating up that frozen chicken Alfredo and then shuffling back to their desks. But more important than Halloween itself is after Halloween, where we mere mortals scour the internet and judge celebrity costumes. We have shown you all the costumes we can find, but now it's time to pick the best and worst, from Lady Boner or Lady Groaner. Let's get to it, shall we?
Lady Boner: Neil Patrick Harris and his family dressing as Star Wars characters:
For me, this photo is all the #Goals — Family, Squad, Life — rolled into one. The costumes are on point, they captured each character's essence perfectly, David Burtka's Han Solo crouch and gun-point in particular. Also, they picked the best location for this photo shoot. (If that were my family, I would've straight-up been like, "C'mon, everyone! Let's take a group selfie in the bathroom in front of the Bed, Bath, & Beyond shower curtain.") In short, once again, NPH & Co. have put the world on notice, as if to say, "That is how you do Halloween as a family." We hear you loud and clear!
Lady Groaner: The Today show anchors as Peanuts characters
Y'all, what in Krispy Kreme hell is this??? No, seriously, what. The. Fuck. Is. This:
Why oh why would the folks at Today think this is the way to go with Peanuts? This is so creepy that even director David Lynch would be like, "Chill, fam." I mean, these are beloved cartoon characters from all of our childhoods, and the folks at Today have basically ruined them with their "lifelike" interpretations. I mean, Meredith Vieira's Pig Pen is up in here looking like the "Before" in one of those Hair Club for Men infomercials from the '90s. No one asked for that shit.
Lady Boner: Jessica Alba & Kelly Sawyer as Romy & Michele
Romy & Michele's High School Reunion is one of my favorite comedies of all time. When this movie came out on VHS in 1998, I must have watched it ten times that year. So seeing a celeb showing love to one of the best '90s female comedies makes me smile. Plus, it was nice to see a woman able to come up with costume that's not deep-fried in "Look at how sexy I am!" Yes, there's skin showing here, but it seems like Alba & Sawyer really embraced "Ho, but make it fashion." Well (and tastefully) done, ladies!
Lady Groaner: Hugh Grant as a Lion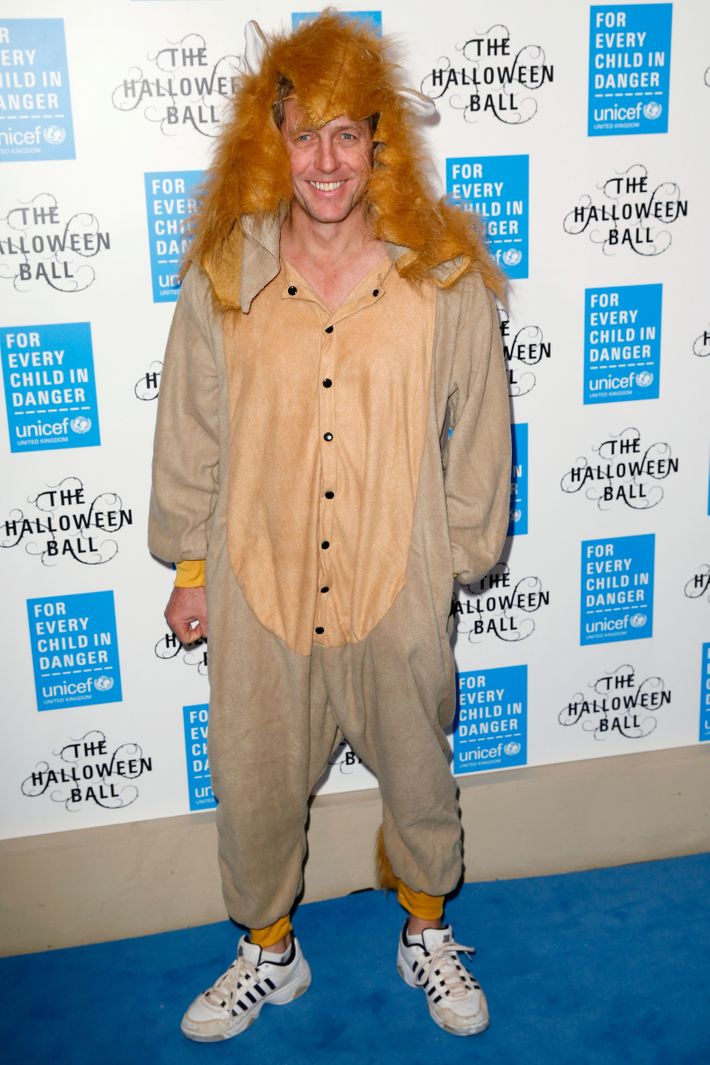 Because "That Old Ass Uncle Who Always Walking Around with $7 in Loose Change in His Pocket" isn't sold at stores, Hugh settled on this. This outfit is the definition of giving zero damns. The lion hood isn't even straight on his head, and he's wearing some New Balance sneakers like he's about go do some yard work.
Lady Boner: Josh Duhamel & Fergie as Karl Lagerfeld and Choupette
I love, love, love, that Josh and Fergie went as Karl and Karl's cat, Choupette. It shows creativity and a sense of humor. They have officially become my new favorite celebrity couple. JK, that title still belongs to Drake and his bulky sweaters from "Hotline Bling."
Lady Boner: Ciara & Russell Wilson as Catwoman & Batman
It's pretty difficult not to be overshadowed by Beyoncé even when you're at your own birthday party, but Ciara figured out a way. Not only did she and her beau do a cute couple Halloween costume, but they had a damn Batmobile straight chilling behind them like it's a Toyota Camry. As a lifelong Batman fan, I fully geeked out seeing Ci Ci and Russell posing in front of the Batmobile with the swag of the Obamas.
Lady Groaner: Miranda Kerr as Marilyn Monroe
To be clear, I love Miranda, so this is only a Groaner because it's a clichéd costume. It's 2015, guys! We've all seen enough pictures and footage of Marilyn. Every ounce of boners have been boned over her. Plus, none of your girlfriends are in the mood to wait while you clop across the street in your hooker heels and pose over a subway grate in hopes of a gust of wind to blow your dress up so we can see your Hanes Her Way underoos. Come up with something more creative next year, Miranda! I know you have it in you.
Lady Boner: Colton Haynes as Ursula
Wow, did he nail this costume!! The wig, makeup, prosthetic work, and outfit are all on point. I mean, he could have phoned it in like a lot attractive male celebrities do, and gone as something lame that still shows off how hot they are, but I admire that Colton fully embodied the spirit of Halloween and something creative with a tried-and-true idea. Kudos, CH!
Lady Half-Chub: Tyra Banks as Richard Branson
This is equal parts terrifying and also on point, which is why this gets a half-chub. Most of us, including Richard, will have nightmares about this, but also, Richard is probably going to fap to this later, so …
Lady Groaner: Stella Maxwell as a sexy baby
Jesus, come take the wheel from this heifer because this costume is all sorts of wrong. I mean, objectifying a baby like this is actually disturbing, and I'm shocked that she didn't have one friend to tell her not to do this. Well, I'm saying this to all friends and non-friends who will need a costume for all future Halloweens: Please, don't dress as a sexy baby. It is morally wrong.
Lady Boner: Conan O'Brien as a zombie
When I saw this yesterday, I initially thought it was a still shot from The Walking Dead. That's how good the makeup and clothing are here. I like that Conan took a very simple idea and executed it extremely well. He looks scary and good here, so I think I would? As in hit it? And, yes, I have Iyanla Vanzant on speed dial, because clearly I'm going through some things and need to work it out.
Lady Boner: Ellen DeGeneres as "Karla" Kardashian
Only Ellen can come up with something as funny as Karla Kardashian. This is just perfect, and that's all there is to say!
Lady Groaner: Elisabetta Canalis as sexy (eyeroll) Che Guevara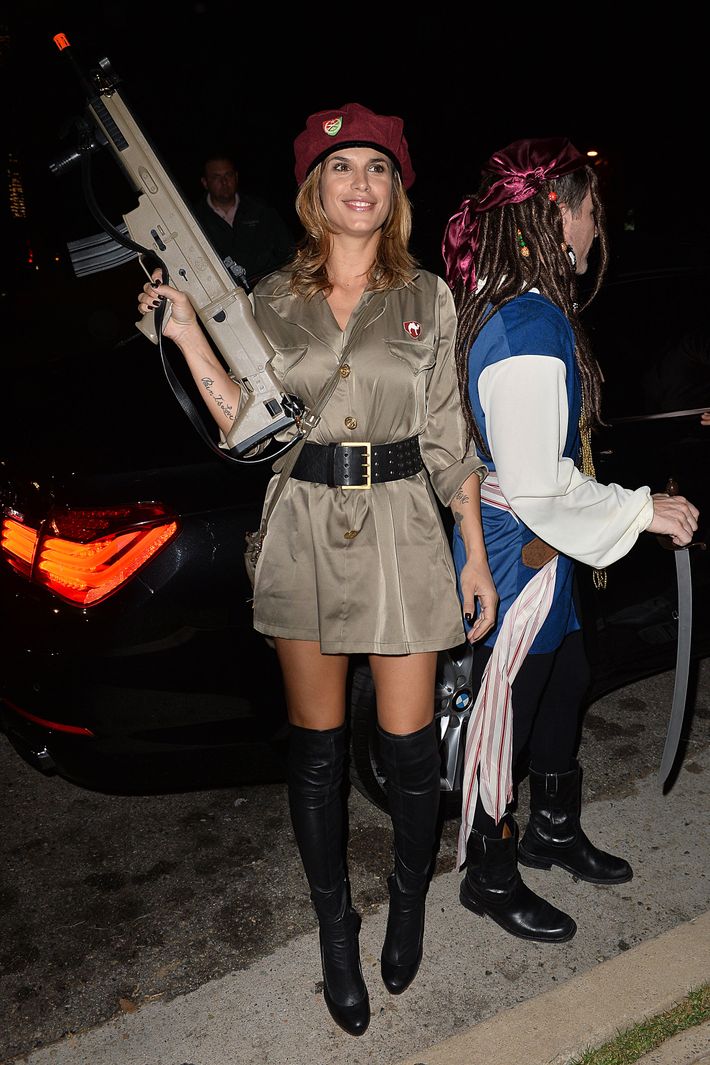 See, this the kind of goofy shit that probably made George Clooney break up with her a few years ago. Amal would never do something this ridiculous, y'all. Che was a Marxist revolutionary who joined Fidel Castro's 26th of July Movement that overthrew the Fulgencio Batista dictatorship in Cuba, so it's pretty cool to see that all of that got reduced to a very attractive woman wearing a short skirt and hoisting a gun. Look, I'm all for being sexy on Halloween, but not everything needs to be sexy. Oy.
Lady Boner: Kelly Ripa & Michael Strahan as Kim Kardashian & Kanye West
Kelly and Michael always get it right. They dressed as Katy Perry and the shark from Perry's Super Bowl halftime show earlier this year. They've also done Peter Pan, Miley Cyrus and Robin Thicke from the VMAs, and Christina Aguilera and CeeLo Green from The Voice. But Kels and Michael absolutely killed it as Kim and Kanye. I wish I had their Halloween dedication and budget.
Lady Boner: Kevin Hart & Eniko Parrish as Martin & Gina from Martin
How freakin' cute is this? So cute that it makes me want to get boo'd up so next year, my future boyfriend and I can dress up as this.
Lady Groaner: Karrueche Tran as Lil' Kim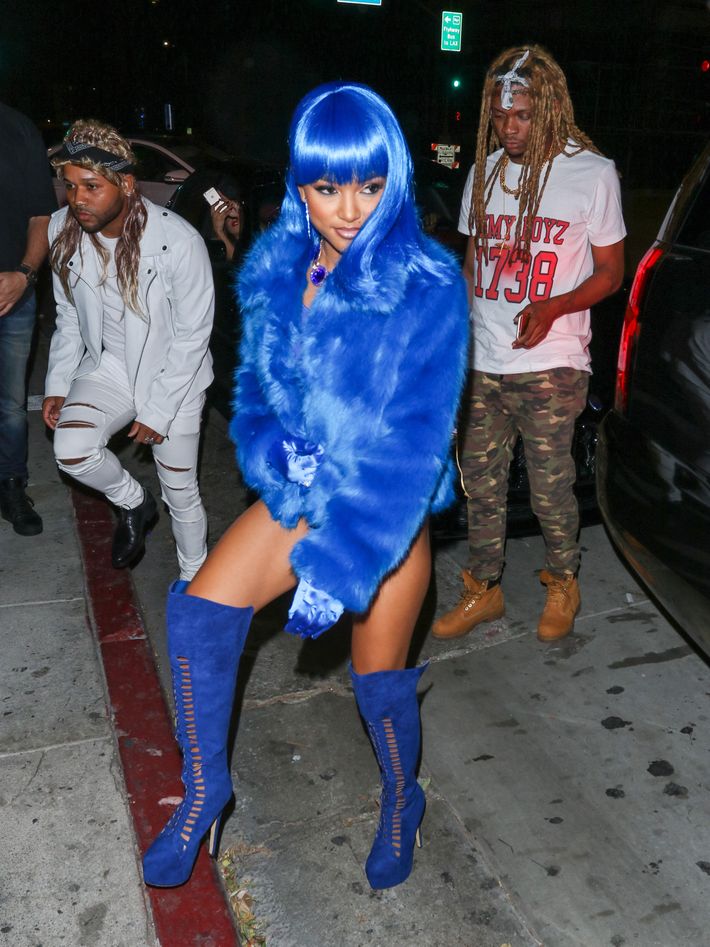 Yes, yes, yes, labeling Karrueche Tran, who, among other things, is Chris Brown's ex, as a "celebrity" is probably questionable. And maybe that's why she has her butt out, so she can get more attention? IDK. What I do K is that she is supposed to be Lil' Kim, but it's October, y'all! It's cold as hell. I mean, if you want to show a little bit of booty cheek, fine. But Karrueche is showing about 65 percent of her butt. Girl, you're not a honey-glazed ham on display at Boston Market. Leave a sliver of mystery, and stop losing precious body heat.
AND NOW, WINNER OF 2015 HALLOWEEN:
Lady Boner: Heidi Klum as Jessica Rabbit
Hands down, this is the best celeb Halloween costume of 2015. Most people, when they go as Jessica Rabbit from Who Framed Roger Rabbit, they simply throw on a dusty red wig from Ricky's, the cheapest, sparkliest red dress they can find, and some 5-for-$20 Victoria Secret undies and bras so they can prop their boobs up. Heidi said, "Screw that," and went hard in the paint. She put on prostheses to transform her face and give her those killer costume curves, which is a process she began at noon and didn't debut until she arrived at a party at 10:30 p.m. that night. Wow! Her dedication is incredible and was totally worth it. All hail Heidi Klum as the Queen of Celebrity Halloween Costumes.
Alrighty, what were your favorite and least favorite celebrity costumes from this year? Let me know in the comments below.