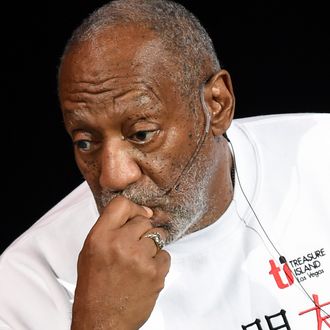 Bill Cosby.
Photo: Ethan Miller/2014 Getty Images
An L.A. Superior Court judge ruled that Bill Cosby and his old lawyer, Marty Singer, can be deposed in Janice Dickinson's defamation case against the comedian. Since the lawsuit revolves around Cosby and Singer publicly calling Dickinson a liar, the judge said questions will have to focus on "the subject of whether Mr. Cosby and Mr. Singer knew or should have known that the statements made in Mr. Cosby's defense were false," according to the New York Times. "We are very gratified that [the judge] agreed with us that their deposition should be ordered," Dickinson's lawyer told the Times.
Dickinson, a 60-year-old former supermodel and America's Next Top Model judge, last year accused Bill Cosby of drugging and raping her in 1982. The defamation suit came in May, after Cosby and Co. called Dickinson a liar. "Cosby knows that he drugged and raped Ms. Dickinson," the lawsuit stated. "He knew that calling her rape disclosure a lie was a false statement."
Cosby's team will appeal the court's approval because they claim it's legally incorrect. "[The court's ruling] deprives Mr. Cosby of a right well-settled under California law to have his motion to strike heard before unnecessary, expensive and burdensome discovery," one of the comedian's lawyers said in a statement released to the media. "It is disturbing that Mr. Cosby is not receiving the same protections as every other defense litigant in California." If accomplished and pursued, the Dickinson deposition will likely take place sometime before November 25, according to reports.
Update: What initially seemed like a possibility has become much more concrete. Dickinson's attorney, Lisa Bloom, has pinned down and revealed a date for the deposition: November 23.
The attorney also revealed that she'll be asking Singer questions under oath on November 19, in her L.A. office. The L.A. Times notes Singer will be able to assert attorney-client privilege when it comes to certain questions, and Bloom will likely be unable to gather answers about Cosby's other accusers. (As previously reported, Bloom's questions will be limited to Dickinson and should revolve around whether assault occurred.) Although Cosby's new lawyers have appealed the move, Bloom told ET (above) on Wednesday she will "continue to fight at every level."
This is not the embattled entertainer's first time being questioned under oath about sexual assault, nor will it be the only deposition potentially on the horizon. (Portions of a transcript from a 2005 civil case were released earlier this year, and his most recent round of deposition answers will unseal December 22.) As of now, Cosby has not been charged with any crimes, but has steadily accrued an ever-growing list of accusers and defamation suits.