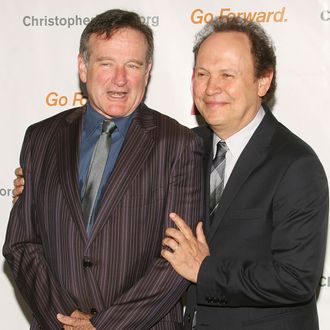 Photo: Frederick M. Brown/2007 Getty Images
In his appearance at the New York Comedy Festival on Thursday, Billy Crystal shared several of his favorite memories of Robin Williams — shedding light on Williams's dark sense of humor in the process. Crystal recalled how the late comedian was a "close friend and brother to me," and how Williams acted like an uncle to his kids. "Every wedding album and bar mitzvah video," Crystal recalled. "He's the first one with the chair lifting them up."
But Crystal also celebrated the darker and more political side of Williams humor. He remembered one incident from a press tour in Europe. "Someone said to him, 'Why do you think there are no funny people in Germany?' and he responded, 'Maybe because you killed them all,'" Crystal remembered. "The laughs were unbelievable."
The two hosted Comic Relief together, HBO's fundraiser to end homelessness — which may explain Williams's very irreverent response to the Ronald Reagan's death in 2004 (the former president wasn't known to be a friend of the cause). While watching Reagan's funeral on television, Crystal received a call from a number he recognized as Williams's. Here's the conversation that followed, as Crystal recalled it:
Hello?

Bill? Hi, it's Ronald

Mr. President, this is quite a coincidence. I'm watching your funeral. Who's in the box? 

That's my stuntman, Jim McCallister. He did all my football stuff when I played the Gipper. He's a great guy. I just wanted to take the time … I'm calling from Heaven to let you know that everyone's okay. It's wonderful party up here and it's all going great.  

Really? Let me ask you, Mr. President. What's Heaven like?

Well, it's a lot hotter than I thought it was going to be.

Hotter? Well, sir, you might not be in Heaven.

The humidity is making my shirt stick to my ass.

Sir, if you're in the afterworld, and it's hot, chances are you're not in Heaven. You might be in the other place.

That would explain why I'm in a hot tub and Nixon's balls are resting on the bridge of my nose.