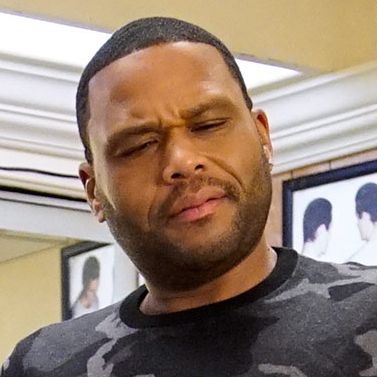 One of the most subtle details of Black-ish is how carefully it depicts black hair-care. We often see Bow, Zoey, and Diane with their hair wrapped at night, and they wear a range of styles from straight to curly to braided. This week's episode, however, focuses on the ways black men take their hair seriously. "Chop Shop" takes a trip to an especially sacred space: the men's barbershop.
Dre is proud of his long-term relationship with his barber, T. Jackson (Barry Shabaka Henley), and hopes to instill the same haircut loyalty in his sons. However, Junior decides to take a chance on another barber, Smoke (Keraun Harris), who talks to him like he's one of the boys. Dre, upset with Junior's lack of integrity, says that he's violating one of the most important rules of the barbershop: You never switch chairs. A man always stays with the same barber, no matter what.
After Smoke gives Junior a fresh cut that impresses the whole family, Dre comes home with a haircut that's so bad, he has to wear a knit cap to work. His white co-workers don't understand the significance of the bad haircut, or his anger about Junior's barbershop betrayal. Dre's white colleagues simply don't understand black hair; they call his hair a textured tattoo and are shocked that it even grew.
Black hair in the workplace and in the military are thorny subjects. Black women are often victims of discrimination because of their hairstyles. When Dre's white colleagues make such clueless and ignorant remarks, "Chop Shop" reveals another side of those frustrations — black men aren't immune to hair judgement either.
Dre's assistant Curtis launches the night's barrage of NBA-related gags, joking that his hair looks like the starting lineup of the San Antonio Spurs: five rings, no fades. Inspired by Kobe Bryant's refusal to let a bad game hold him back, Dre decides to give T. Jackson a chance to correct his haircut. Dre comes home looking even worse than he did before; Bow points out that Kobe has ruined the current Lakers and that, maybe, Dre should let Smoke cut his hair.
Junior won't give him Smoke's number, so Dre tries to squeeze in a cut with him at the barbershop. The men tease him so much about his LeBron James–like hairline, though, that he runs out. Then, he hires a concierge barber to come to the house. Junior, still not impressed, lists the ways Smoke has already changed his life. (After listening to the Smoke's advice, Junior even managed to talk to a crush!)
Dre realizes he needs to keep exposing Junior to the wisdom of the barbershop, no matter which barber he chooses. Junior's loyalty to Smoke means he is growing as a man, which is exactly what Dre wanted for him in the first place.
Meanwhile, Bow's clash with Mama Ruby over the Christmas-card photo shoot seemed to be a chance for Black-ish to tease Empire, its Wednesday-night competitor. Inspired by the Fox drama, Mama Ruby changes the theme from Winter Wonderland to "elegance," which basically means a lot of animal print and marble. Mama Ruby even dresses up as Cookie Lyon, assigning herself bad-bitch status. Later, Bow blows up about the kids being dressed as the Lyon family, which seems to be the Black-ish's way of lightly criticizing Empire … until Bow also also joins in the theme. Perhaps the two shows can coexist, after all.
"Chop Shop" honors black hair in a variety of subtle ways, but specifically does so by bringing black men's hair center-stage. The barbershop scenes also give the show an opportunity to cast some of the black actors many of us grew up watching: Jason Weaver (Smart Guy, The Jacksons: An American Dream) and Marcus T. Paulk (Moesha) make notable appearances. It's yet another reminder that our current Golden Age of Television Diversity is far from America's first experience with shows devoted to black family life. Clearly, Black-ish understands why that legacy matters.