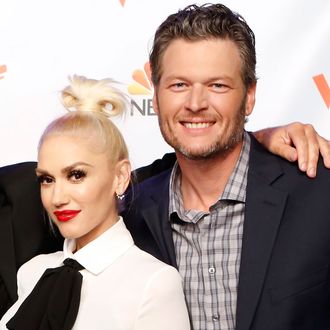 Music's next power couple?
Photo: NBC/Getty Images
Blake Shelton and Gwen Stefani's romance may but a day old to us, but there's more history there than you think. According to People, Blake and Gwen have already made music together, and — shocker! — it's a country song. Apparently, they wrote, but have not yet recorded, a mid-tempo ballad around the start of this season of The Voice. (Hey, remember when Blake used to make songs with Miranda Lambert? Sigh.) It's said to be "about telling a lover to leave the relationship if that is what they truly want," which, given their recent divorces, is pretty damn meta. Let's just hope it turns out better than their painful cover of "Hotline Bling." And for more reaction to their budding relationship, leave it to Blake's ol' pal Luke Bryan to say pretty much what we're all thinking: "It can't be true, because there's no way Blake could ever score a girl like that." Alas, Blake wins again.