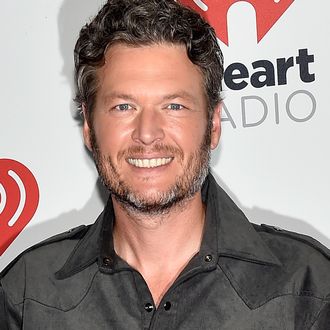 Blake Shelton.
Photo: David Becker/2015 Getty Images
Country music star and Oklahoma's Good Samaritan Blake Shelton underlined the versatility of tractors this weekend, after he and his dog reportedly used one to rescue four men who got stuck in a mudslide there. Friends Bryar Blanton, Lenyell Blanton, Adrian Poplin, and Josh Turner were reportedly hanging out near Washita River in Ardmore on Friday, when their truck slid into and got stuck in a mud hole. Bryar shared his account of what happened next with ET Online:
Me and Adrian started walking down the road [looking for help] and [that's when] Blake and his dog, Betty, stopped and picked us up in his truck […] He told [Adrian and I] to hop in […] Then, we went back to the river [where my friends were stuck] and he tried to get them out with his truck. He couldn't do it, so he said he would be back in 15 minutes with his tractor.
In a huge victory for tractors everywhere, the Voice coach reportedly pulled the boys out, helping them avoid what would've been hours of trouble. Bryar, who called Shelton "a hero," in an interview with E!, made sure to snag pics-or-it-didn't-happen evidence and share his gratitude via social media:
This is not the first time Shelton has rescued someone in Ardmore — he accomplished a similar feat earlier this summer, involving a man, a river, and his truck — proving, among other things, Shelton needs to visit Ardmore more or start a roadside assistance business. For more on Shelton's latest good deed, watch ET's original report here: