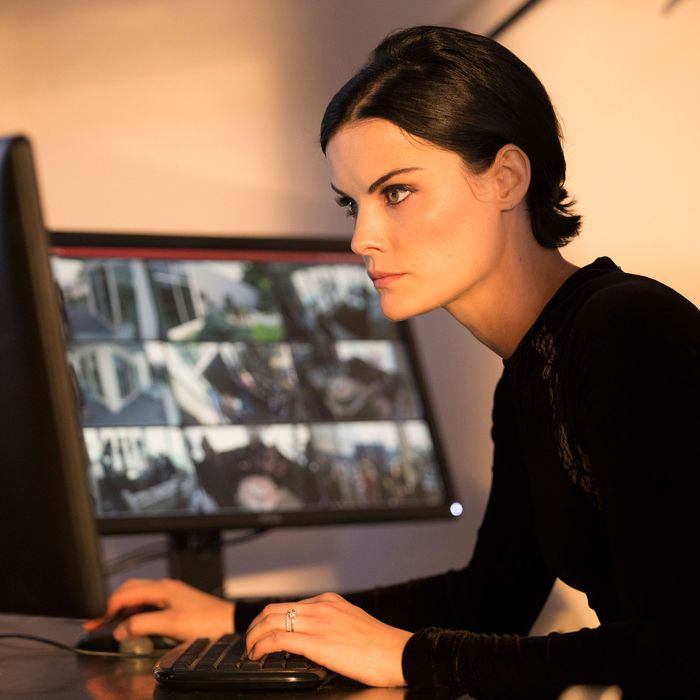 Jaimie Alexander as Jane Doe.
Photo: NBC
Almost everyone acts like someone they are not in this episode of Blindspot. Jane and Weller are posing as international assassins. The hacker criminal they're hunting is attempting to channel Vince Vaughn. Patterson is trying not to be a lovesick puppy. Zapata isn't quite sure who she is anymore. But in the end, everyone's true nature is exposed.
As usual, Patterson (Ashley Johnson) decodes a tattoo with uncanny timing, leading the FBI to a pair of assassins in search of a list of witnesses connected to a mob boss. Weller (Sullivan Stapleton) and Jane (Jaimie Alexander) take the pair out and use their identities to attend a black-tie gala where they hope to buy the witness list. Instead, they're whisked away to a douchey hacker's beach house where they gradually take down his henchmen and a competing buyer. The hacker, who has renamed himself Rich Dotcom, is eerily (annoyingly) like Vince Vaughn in his deadpan stream-of-consciousness rants, absurd declarations about cognac and caviar, and weird darting eyes. Jane and Weller smash his cognac glasses in retaliation.
This story line serves to get Jane and Weller out of their usual office attire and into a scenario where they can brush against one another and stare deep into each other's eyes without the fetters of Mayfair's (Marianne Jean-Baptiste) supervision, Jane's boxy V-neck T-shirts, and Weller's dour world view. Weller finally seems human, chuckling, making cheesy jokes, and twirling Jane on the dance floor. Still, there is no kissing (look for it in next week's finale), and Jane plays up her discomfort with her femininity while alone with Weller, yet takes full control of her lithe beauty and charm when embodying the Bulgarian-speaking assassin cover.
In the midst of playing house with Weller, Jane experiences flashbacks that place her in an engagement with tree-tattoo guy. Tree-tattoo guy is, presumably, still lurking around, watching out for Jane, though he hasn't surfaced for several episodes. There has still been no resolution or mention of Jane's identity. (Will this be the finale's ultimate cliff-hanger?)
Woven into this episode's plot is a continuation of my favorite story line (and maybe the most plausible of the show) between Patterson and her earnest, nerdy boyfriend David (Joe Dinicol). In an attempt to win her back, he places a cipher on her coffee-truck blackboard that reads "I miss u," and — ever-observant — Patterson catches it, but again denies his affections. Undeterred, David makes like a spy and stakes out the Brooklyn Historical Society where he and Patterson discovered a code book a couple episodes back. After seeing a redheaded woman who appears to be using the code books, he follows her around Brooklyn and, in turn, is followed by a man with very large ears. Of course, it all ends very badly.
"Authentic Flirt" has been the most meaningfully dramatic episode of the season with a closing sequence heightened by a cover of the Pixies' "Where Is My Mind?" As the opening bars play, Mayfair sits in an interview room waiting for Saul Guerrero (Lou Diamond Phillips) to arrive and sign an affidavit declaring his FBI informant status. Simultaneously, Weller's team is eating pizza and drinking beers at a housewarming for Jane. Zapata throws out the bug she's been wearing for CIA creep Carter. David is tailing the redhead. At the height of the song, Saul Guerrero — on order from Carter — is stabbed before he can meet Mayfair and expose Daylight. David lies in the street bleeding, presumably killed by the redhead. Whoever was tailing David calls Mayfair who relays the bad news to Patterson at the hospital.
The height of the season has come, and several plotlines — Jane's identity, Weller's relationship with his father, tree-tattoo guy's whereabouts — still hang in the balance. However, we do know that with Guerrero gone, Carter has trumped Mayfair. David (who, for a moment, I thought might have a secret identity) is just as innocent as he appears and ends up being collateral damage, surely sending Patterson deeper into already neurotic fear of relationships. Weller and Jane are headed for a serious make-out. And Daylight is still under wraps.
Tattoo Meanings
A gaggle of stray letters in the same typewriter font all over Jane's body form the anagram "Ashwell Creek Kennel" leading them to an unmonitored puppy forum being used as an undercover communication message board.
The bird tattoo on Jane's neck is connected to the tree tattoo guy in her sex dream who seems to have been her fiancé or husband.
Blind Sides
There's a foodie in the writers room. Wylie Dufresne's pigs-in-a-blanket at Alder get a mention, as does LES cocktail bar Attaboy. There's also a whole unnecessary moment devoted to the explanation of cognac distillation, which is actually partially incorrect, but a good try anyway.
Weller is capable of having fun. And he's a pretty decent dancer.
Jane speaks Bulgarian, obviously.
The whole FBI team cleans up nicely.
"Authentic Flirt" is an anagram for "If truth can't lie" or "Lift the curtain."