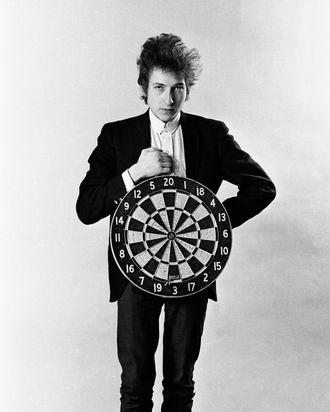 Let's pretend that Bob Dylan's The Cutting Edge 1965–1966: The Bootleg Series, Vol. 12 — which covers the studio processes that resulted in the epochal, rock-changing trio Bringing It All Back Home, Highway 61 Revisited (both 1965), and Blonde on Blonde (1966) — exists only in its two-disc version, as it might have some years back. We could rightly laud it, toss the word revelatory around a bit, and wonder idly at just how much is left in the vaults to exploit. There's got to be a stopping point, right?
But since it's 2015, we get three versions of The Cutting Edge: two CDs of highlights, six CDs of deep diving, 18 CDs of are you fucking nuts? This isn't just a sop to the nuts who initiated the entire Bootleg Series enterprise by, you know, illegally releasing and/or buying Dylan's outtakes and concert recordings at the dawn of the '70s. It's a sop to the marketplace, period — a place where size counts, where marginalia and ephemera from labels like Numero Group are given equal, worrying credence alongside your Dylans and Beatles by dint of their overize-fancy-object treatment. A boxed set can seem like the only way to introduce a vintage artist to a younger generation; nice as it is that small boxes containing David Bowie's complete 1969–74 catalogue or every Replacements album now retail for decent prices, they're also evidence that  in the streaming era, back catalogues — once a proud industry's financial backbone — now amount to fire sales. (Unless, of course, you go in for $30 versions of 50-cent vinyl.)
The real reason, though, for the are you fucking nuts? model can be found on another box that Sony issued only in Europe three years ago: a four-CD-R box (not even finished CDs!) titled The 50th Anniversary Collection: The Copyright Extension Collection Vol. I. Its 87 tracks constituted every unreleased Dylan recording in the vaults from 1962 and 1963. This collection's 100 copies existed for one reason: to exploit a loophole in European law that extends a copyrighted recording's term from 50 to 70 years, but only if the recording sees release. Otherwise, it goes into the public domain — meaning that anyone who wanted to bootleg these recordings could potentially do so legally, without that copyright extension.
This also explains the proliferation of public-domain compilations on U.K. labels such as Chrome Dreams, which has issued four volumes of tracks played on Dylan's former Sirius XM show Theme Time Radio Hour. Moreover, Chrome Dreams also has released several discs of long-bootlegged live Dylan performances from 1961, the year before he signed with Columbia Records: at Carnegie Chapter Hall, a Minneapolis apartment, and the Gaslight Café. (The latter is not to be confused with Dylan's official Live at the Gaslight 1962, released exclusively through Starbucks in 2005.) Releases like The Copyright Extension Collection and the 18-disc Cutting Edge exist to prevent such a thing happening to the music Dylan made for Columbia.
A rule with outtakes sets: When you fume "But they put the album version out because it's better" a lot, that's bad. By that standard, the six-disc The Cutting Edge is better than average. Basically, discs one, two, and four have their moments, disc three is a tedious showpiece, disc five is delightful and full of surprises, and disc six is game but flagging. Yet it breaks down even easier than that: Aside from the third disc, devoted entirely to work versions individual tracks of "Like a Rolling Stone," the Bringing It All Back Home outtakes tend to be monotonous, those of Highway 61 Revisited more changeable, and the Blonde on Blonde outtakes, for a few songs in particular — well, revelatory.
All of it is proof that inspiration doesn't just land but is worked at. We learn how assiduously Dylan worked on his own singing. Take "One of Us Must Know (Sooner or Later) (Take 19, Alternate Take)": a strong, well-phrased version, compared to the finished take on Blonde on Blonde, is clearly a test-run. The bands, too, are figuring out their changes, offering tentative licks that will be quicksilver on the final albums. That's as true of the impeccably adaptable Nashville cats assembled by producer Bob Johnston for Blonde on Blonde (Kenny Buttrey's drumming on Take 5 of "Stuck Inside of Mobile" is like walking on stilts, the finished take ice-skates) as the it is of the gaggle Tom Wilson hired for Bringing It All Back Home's side A.
In his book Like a Rolling Stone, Greil Marcus turned the endless takes it took to get the finished version of "Like a Rolling Stone" into the saga of a musician who won't give in till he gets it. It's dramatic as a quest, but not as a listening experience — unless you wish a home-run derby were a strikeout exhibition. Or maybe you can just make your own remixes with the stems (isolated lead guitar, piano/bass, and drums/organ tracks) that cap the disc off. Bonus points if you can work in the studio talk that tend to be the highlights of the other takes.
But something happens when we get to what became the Blonde on Blonde sessions, first in New York and then, much more fruitfully, in Nashville, the first of several albums Dylan recorded there. Suddenly, the arrangements are beginning to shift shape nearly every time — the kind of thing that Bobheads have been extolling since the bootlegs started coming. Perusing Paul Williams's Bob Dylan: Performing Artist Volume One, a close 1991 reading not just of Dylan's albums but available live performances and bootlegs, part of me was allured and part deeply skeptical: Does anyone deserve this kind of scrutiny? A surprising number of Blonde on Blonde outtakes do — three songs in particular.
Initially recorded in November 1965 with the Hawks (né the Band), "Visions of Johanna" starts out (Take 5) as an amphetamine yowl à la Highway 61: tense beat and harmonica/guitar dueling at the end. Then Take 7: slower, doomier, heavier on Garth Hudson's organ, equally good. Take 8, a rethink: Harmonica bray leads into a bolero-inflected blues crawl, Dylan's vocal leaning ahead of the rhythm, pushing it, but too announcementlike for the lyric. Take 14 is closest to the finished product, which was cut in February 1966 in Nashville with different players.
A similar alchemy takes place over five versions of "Stuck Inside of Mobile With the Memphis Blues Again," where it helps when Dylan is obviously comfortable with the lyric (his singing on the second version, subtitled simply "Rehearsal," is less savory), and three versions of "She's Your Lover Now," one of Dylan's most pained and expansive compositions of the period (which also didn't see the light of day until 1991, on the first Bootleg Series box set). If the OG bootleggers who first extolled unissued Dylan are responsible for the issue of slack music guised as deep scholarship, we owe them for these handful of tracks. To live outside the law, you must be honest. Just don't expect everyone to say that they agree.