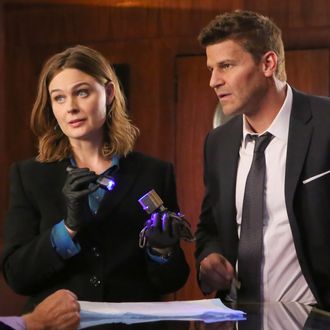 Dramaaaa.
Photo: Kevin Estrada/FOX
In one of the more fabulously worded lawsuits you'll read today, the executive producer of Bones is suing Fox for — wait for it — "accounting chicanery." Barry Josephson, who has produced Bones for all 11 seasons, now says the network has cheated him out of potentially millions. In the suit, obtained by The Hollywood Reporter, Josephson claims Fox Networks CEO Peter Rice and other Fox execs "fraudulently threatened" him into accepting a lower license fee or else his show would be canceled. He even says he was tricked into agreeing to such fees, claiming that Fox execs lied to him about the other participants' willingness to accept the low fee, including the show's stars, Emily Deschanel and David Boreanaz.
Citing "Hollywood accounting" for Fox's shady business tactics, Josephson claims to have discovered in his audit of the show's first seven seasons that the company has underreported millions in revenue. The lawsuit says Fox has committed "a veritable mother lode of accounting chicanery and self-dealing" amounting to nearly $30 million, and he's seeking unspecified damages (but likely millions) on breach of contract, fraudulent inducement, and several other claims. How bad do you, too, wanna sue someone for "accounting chicanery" right now?