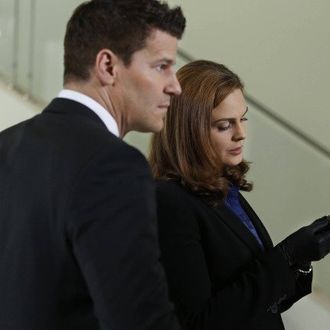 Remember when the phrase "accounting chicanery" was fabulously used last week in a Bones-related lawsuit against Fox? Well, there's more to that story now, as THR reports that another of the show's EPs (Kathy Reichs), along with its stars (Emily Deschanel and David Boreanaz), have shot off a similar suit seeking to expose more than a dozen of the network's allegedly sketchy accounting tricks, as well as "tens of millions of dollars" in cheated profits. Bones is Fox's longest-running drama and one of its most successful, but "as the series became more profitable for Fox over the years, [periodic] accounting statements issued by 20th TV counter-intuitively showed plaintiffs falling farther and farther away from achieving profits," reads a portion of the complaint, which was filed Monday in L.A. Superior Court and is available in full, here.
This latest suit calls for "causes of action for breach of contract, breach of the implied covenant of good faith and fair dealing, fraudulent inducement, fraudulent concealment, inducing breach of contract, intentional interference with contract, and accounting and declaratory relief," according to THR. Reichs, for example, "was nearly $90 million away from receiving profits payments, and plaintiffs Boreanaz and Deschanel received statements showing they were nearly $100 million away from profits," according to 2009 statements the suit cites. (Which is insane, if accurate, because the former was reportedly promised 5 percent of profits, and the latter talent, 3 percent.)
Like Barry Josephson's suit, this latest filing also alleges threatening negotiating tactics, self-dealing, misallocating funds, and sweetheart dealmaking on the part of Fox. For more on the suit, as well as the filing itself, head here.