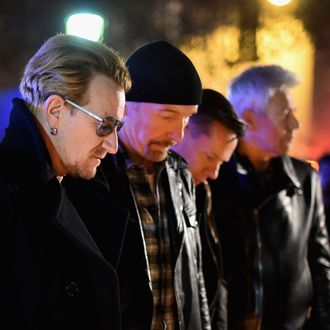 Photo: Jeff J Mitchell/Getty Images
U2 was rehearsing in Paris, less than three miles away from Le Bataclan concert hall, where terrorists opened fire on music fans attending an Eagles of Death Metal concert Friday. The band was slated to perform on Saturday as part of their Innocence + Experience tour, but have since rescinded the show, as Paris is in lockdown. Emphasizing that canceling the concert was not the band's idea, lead singer Bono said to Irish DJ Dave Fanning in a radio interview:
"Our first thoughts at this point are with the Eagles of Death Metal fans. If you think about it, the majority of victims last night are music fans. This is the first direct hit on music that we've had in this so-called War on Terror or whatever it's called. It's very upsetting. These are our people. This could be me at a show. You at a show, in that venue. It's a very recognizable situation for you and for me and the coldblooded aspect of this slaughter is deeply disturbing and that's what I can't get out of my head."
Bono and his bandmates also visited and left flowers at a memorial next to Le Bataclan theater in Paris on Saturday.
After the terrorist attacks on the World Trade Center in 2001, U2 performed for three nights in Madison Square Garden in late October, with Bono describing the shows as the most emotional in the band's storied career. After the attacks in Paris, Bono brought up the 2001 concert: "The feeling of Madison Square Garden was just unbelievable and the feeling was just this is who we are, you can't change it," he said today. "You're not going to turn us into haters or you're not going to turn us around in the way we go about our lives. That was the feeling of Madison Square Garden back then and I hope that will be the feeling at Bercy when we get back there." U2 is closing their Innocence + Experience tour in Dublin this month, and will likely reschedule their Paris concert for sometime after November 28.