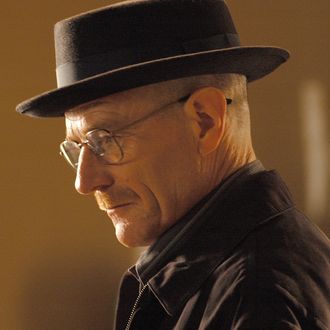 To get in free, say his name.
Photo: Ursula Coyote/AMC
Just like Don Draper's fedora, Walter White's porkpie hat is joining the Smithsonian. The iconic headgear is just one of a collection of Breaking Bad props that Sony donated to the Smithsonian Museum of American History on Tuesday, alongside gas masks, chemical suits, a bag of Heisenberg's famous blue meth, and cups from the famous New Mexico chicken chain Los Pollos Hermanos. The objects will join the museum's permanent collection, but they won't be on display anytime soon; when they are, you will not want to be the one who knocks (anything over).