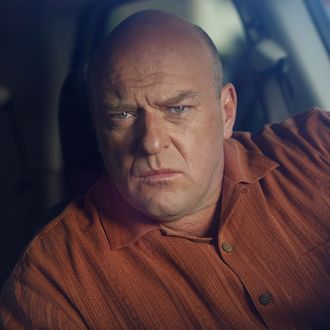 Same fate, different journey.
Photo: Cathy Kanavy / AMC
It all could have ended differently. Breaking Bad gave us a memorable stretch of episodes in its final season, but one of its biggest plot twists almost happened a lot sooner. "We had the writers strike in 2008," Vince Gilligan, the creator of Breaking Bad, told Kevin Pollack on the most recent episode of the web show Kevin Pollack's Chat Show. As Gilligan recalled, Breaking Bad was two-thirds of the way through production of its first season when the writers strike shuttered production, effectively preventing the writers from killing off Hank Schrader, Walt's charmingly boorish cop brother-in-law.
"We were writing and shooting and editing in a vacuum, no one had seen the show yet, and I really had the feeling that I needed to throw the kitchen sink at it, that the writers and I needed to get every bit of drama," said Gilligan. "The writers strike came along, and we didn't get to do our last two episodes. We had to end our season one with seven episodes instead of nine. Our ninth episode that year, we were seriously leaning toward killing off Hank, Walt's brother-in-law, played by Dean Norris, in that first season … I was ready, willing to throw the kitchen sink at it, because I was afraid we wouldn't hold people's attention." Instead, of course, Gilligan waited until the show's antepenultimate episode to kill off the good cop, which is a far, far crueler way to go. 
The audio of the full interview is below, with the section about Hank's fate beginning around 12:22.