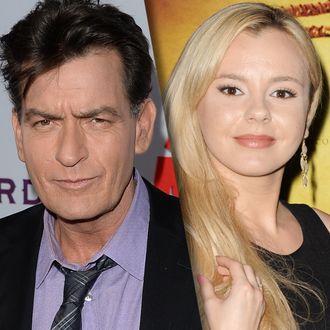 Former lovers Charlie Sheen and Bree Olson.
Photo: Getty Images, Corbis
Porn star Bree Olson was living with Charlie Sheen in 2011, around the time he was fired from Two and a Half Men and, as we now know, he learned he was HIV-positive. After Sheen's Today show interview with Matt Lauer, Olson, whose given name is Rachel Oberlin, talked about her relationship with Sheen on "Howard Stern." "We were sleeping together every night," she told Stern. "Never said anything. 'I'm clean,' he told me. 'I'm clean, I'm clean.'" She said that there were threesomes and a "stream" of women he slept with, and that he wanted to use lambskin condoms, which are ineffective in protecting against sexually transmitted infections. Olson added, "There were times when we didn't use condoms." This statement goes against what Sheen told Lauer, which was that he had always informed his partners of his HIV status before having sex. 
Yesterday after news broke that Sheen was HIV positive, Olson got got tested and reported that she was negative. She tweeted, "Recorded myself for half an hour being tested for HIV and getting the results. This is so stressful." Last week on Facebook, she wrote that she refused to comment on the rumors to news outlets, and that she had tested "clean across the board" for tests since they broke up.
Stern asked Olson, "Does he owe you a phone call today to say, 'Bree, I'm sorry'?" She replied, "I don't want it … I'd say 'fuck you' and hang up the phone."