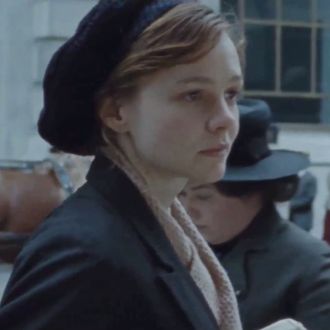 When Carey Mulligan first heard of the movie Suffragette, she dismissed it. Speaking with Deadline, she said, "I naïvely had this idea it was tea-drinking ladies chatting, but by page three I was so invested and shocked by all the things that these women did." She went on to star in the film, which has incited conversations on labels and what "feminism" means in 2015: "I've been between America and London [promoting the movie] and I don't think the definition of feminism is different between the two locations. Recently, it has felt like a new word … People are afraid of labels and I think this year they're starting to reclaim what the word originally meant, in a positive way that's interesting."
She was, of course, also asked about Jennifer Lawrence's "pay gap platform":
How did Jennifer Lawrence's statement on the discrepancy in pay between male and female actors resonate with you?
I think it's a good thing for someone like Jennifer to speak out; it means an awful lot to women. Sure, there's been cynicism toward her speaking out and the fact that she makes a lot of money, but she is completely and selflessly rising above that. (The discrepancy) is inherently unfair and she has an enormous platform to speak out against it. Men in Hollywood look up to her because she is powerful. She's using that platform to correct something that isn't right. It's a long overdue conversation and it's admirable what she has done. This is an age-old issue that's in every part of society.
In light of recent news that Scarlett Johansson made as much as her male costars for The Avengers: Age of Ultron, and with Marvel's Jessica Jones earning rave review from critics and fans, the state of women in the Marvel Cinematic Universe is rapidly shifting. But don't expect Carey Mulligan to appear in an MCU movie anytime soon:
Following your Oscar nomination you've exercised the power to choose roles and you've selected smart material. That said, have there been opportunities to star in tentpoles and franchise films?
Those films have come my way in the past. The style doesn't appeal to me. The Marvel films — while I enjoy watching these movies — the material doesn't speak to me. With these types of franchise films there's always the conversation of starring in more than one film and I'm not interested in playing the same character in more than one film. What's appealing to me is playing different characters.