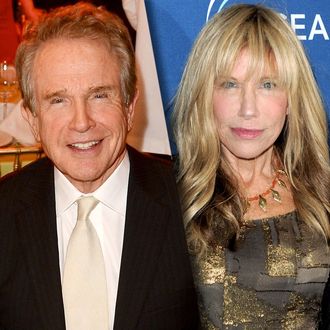 Exposed!
Photo: Getty Images
The subject of one of music's greatest diss tracks has finally been exposed. With her new memoir out this month, Carly Simon has revealed to People one of the three men who inspired 1972's "You're So Vain." We've known for years that Simon's ex Warren Beatty was on the receiving end of her verbal attack, but which part of the song was written specifically for him? "I have confirmed that the second verse is Warren," she now says. (Free tip, Carly: There's this lyric annotating site, perfectly designed for spilling tea, if you so desire.) Here's the verse she's referring to:
You had me several years ago
When I was still quite naive
Well, you said that we made such a pretty pair
And that you would never leave
But you gave away the things you loved
And one of them was me
I had some dreams, they were clouds in my coffee.


True to the song's venomous chorus, Simon says Beatty totally thinks the whole song is about him. But what about the other two verses? (David Geffen, Mick Jagger, David Bowie, David Cassidy, Cat Stevens, and of course James Taylor have all been rumored, but she's denied most of those.) Sadly, Simon's not about to give away all her secrets just yet: "I don't think so … at least until they know it's about them." Looks like we'll just have to wait for a second memoir!