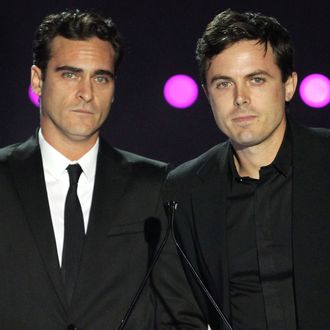 The bad boys of Hollywood.
Photo: FilmMagic.com/Getty Images
Brothers-in-law and mockumentary collaborators Joaquin Phoenix and Casey Affleck have cooked up another delightful scheme together: THR reports the duo is developing an adaptation of Robert Olmstead's Western novel Far Bright Star, which tells the story of a failed hunt for Pancho Villa* in 1916. Affleck will direct the film — his first since I'm Still Here — while Phoenix will star as a soldier wandering the desert after the mission goes awry. (Consider it a Gerry prequel.) We'd like to say there won't be any rapping this time, but with these two, who knows for sure?
* This post originally stated the mission was to find Sancho Panza, who is a completely different, and also fictional, person. Vulture regrets the error.