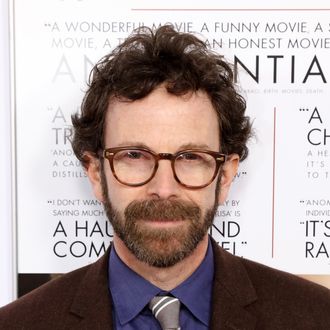 Who would turn this guy down?
Photo: Mark Davis/2015 Getty Images
Charlie Kaufman's stop-motion film Anomalisa has earned glowing reviews on the festival circuit this year, but its release also marks the first time the writer-director's name has been in the press for a good while — at least since his last feature, the mind-bending Synecdoche, New York came out in 2008. In an interview with Uproxx, Kaufman talked about how he spent much of that time developing Frank and Francis, a movie-musical that would star (deep breath) Jack Black, Nicholas Cage, Steve Carell, Elizabeth Banks, Kevin Kline, Catherine Keener, Paul Reubens, and Jacki Weaver. The film, as you might expect from the writer behind Eternal Sunshine of the Spotless Mind and Adaptation, had a truly intricate plot, in which a film director goes to war with an overly critical film blogger. But given a cast of that size, and the complexity of the pitch, however, Frank and Francis struggled to pull together funding and Kaufman eventually switched to Anomalisa, which got much of its funding through Kickstarter.
Still, the dream of a Charlie Kaufman musical might live on. When asked about returning to Frank and Francis, Kaufman told Uproxx: "It could still happen. It would have to be reinvented, though. We had a whole cast and we were headed into pre-production. So, I'd have to get people back and who knows if they would be interested anymore. But, at this point, we don't have any money, so that's a secondary concern."
Where are the eccentric billionaire patrons when you really need them?