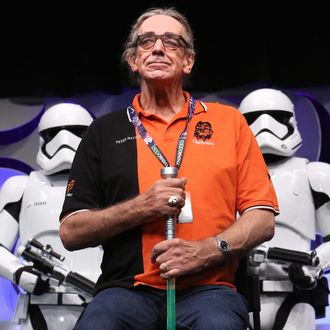 Peter Mayhew, less hairy.
Photo: Jesse Grant/Getty Images
On Reddit, a woman named Sarah said that her 7-year-old brother Sam died in an accident. "Boy, did he love Star Wars. The force was definitely strong with this one," she writes. She says that word of Sam's passing reached Peter Mayhew, the actor who played Chewbacca, who wrote a letter to Sam's best friend Liam, who was going to see the new movie with Sam on Christmas. Hearing of the story, Mayhew wrote Liam:
Liam,

I am sorry to hear that you won't be able to see the new Star Wars movie with your friend Sam. I know that sometimes things happen and we can't figure out why and all we feel is sadness. It's important to remember the fun you had with Sam. Best friends are never really gone, they live on forever in our hearts and memories. I know that you are going to love Star Wars: The Force Awakens and I bet you make some new friends that also love Star Wars. I wish you the very best, and May The Force Be With You!

Cheers, Peter 'Chewbacca' Mayhew
Mayhew confirmed to Radio Times that the letter was real, and said, "I hope my words are of some comfort to him." Chewie, loyal friend until the end.