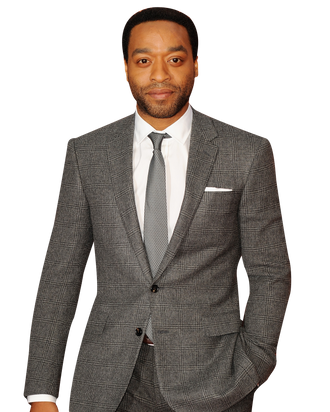 Perhaps it's fitting that in director Billy Ray's time-spanning thriller Secret in Their Eyes, Chiwetel Ejiofor plays a dogged FBI investigator pursuing one unsolved murder case for 13 years: After all, Ejiofor's Hollywood career started 13 years ago, too, after his star-making role in 2002's Dirty Pretty Things put him on every acclaimed auteur's radar. Since then, Ejiofor has toplined a Best Picture winner with 12 Years a Slave, in addition to starring in movies both intimate and major, including this year's major hit The Martian.We met up with Ejiofor recently in Los Angeles (where the actor was so well-rested and fresh-faced that you'd never know he just flew in from the South Asian set of Marvel's new movie Doctor Strange), and asked him about his carefully considered career and the frenzy inspired by his friend Benedict Cumberbatch.
You've had a pretty packed year: In addition to this film, you were in The Martian and Z for Zachariah, you did the stage play Everyman in London, and now you've signed on to be a part of the big Marvel machine.
It feels great to be involved in so many things that I really love, that are happening around the same time. And it's really engaging and gratifying to be able to mix up film and theater. I had a terrific summer in London doing Everyman at the Olivier, one of the best experiences that I've had, really. Especially because the summer was slightly hysterical in London. People don't get that much sun there, so everybody gets a little mad when the sun comes out!

When you've got a year where you're that busy, do you feel more at ease as an actor?
I don't feel that, particularly. I don't know if that's a fault — maybe it is. I feel very engaged with the work I'm doing now, but I don't feel I need to book myself up for the next four years in order to feel secure. I'm very happy to see what happens, and the not knowing is what I think makes being an actor exciting.

Although some of that not knowing may be taken care of, given that your Marvel contract probably asked you to sign on for potential Doctor Strange sequels.
Obviously, the idea is that you'll be part of something that could have more incarnations, but that's sort of not the focus. The focus is that you just want to make the film that you're making as good as you can make it. That's what I'm in engaged with at the moment. It's a really fascinating project.

So when you have time off, you're okay with it?
You never know. We pushed back briefly on the start date for Secret in Their Eyes, and it allowed me to have a little break at the end of last year where I thought I'd have time off, and then Ridley Scott called and said, "Hey, listen, I have this movie." So suddenly I could go to Budapest and film The Martian. It's stuff like that you can't predict, and you just have to be open to the experiences offered to you — and that particular experience with Ridley was incredible. It's great that people loved that movie as much as I did.

The original Argentine version of Secret in Their Eyes won the Best Foreign-Language Film Oscar several years ago. How much did that film influence your decision to star in the remake?
I hadn't seen it before we got the script, but I've seen it since, and I thought it was amazing. Billy Ray wanted to meet and have a conversation about it, and we had a talk and it was good. And then more people came onboard, and it was very exciting when both Julia [Roberts] and Nicole [Kidman] wanted to make the film. Both iconic actresses at this point, legends in their own lifetime, and I don't think either of them have worked together before.

We meet your character at a point of total, bags-under-his-eyes obsession … but today, sitting opposite you, you look handsome, well-rested, and completely at ease. How much do you throw yourself into a character's mind-set when they're losing it entirely?
You have to. You have to try to experience it as much as you can. I was very interested in what this time difference would mean to somebody. To be obsessed with something for 13 years … what would that do to somebody's mind? And to play the two time zones was really fascinating. To try to play the lightness of spirit in the early times without it being cute, with it being honest, was interesting.

You've talked in interviews about how skeptical you are of fame … and yet you are famous, especially after having starred in a Best Picture winner. So how do you deal with it when you can sense people in this room reacting to your celebrity?
Yeah, I just don't think about it. [Laughs.] I don't worry about it, primarily because there's nothing you can do about it. This is something that I'm very grateful for, but on the whole, people are very respectful with me. They're nice, and they ask for an autograph or photograph, and it very rarely has any kind of hysterical quality to it. That's the thing I don't respond very well to, and I see it very often with friends of mine. For example, I'm working with Benedict Cumberbatch at the moment, and people have that quality when they're around him. They get a little hysterical about it, and that is really odd to watch. To be in the center of that is very peculiar.

Maybe you get less of that because you star in such sophisticated projects?
Well, so does he! [Laughs.] But people still get a bit nuts. Each actor influences the people who go to see their movies in totally different ways. It's fascinating to see that distinction in action, but I'm sort of glad it's not something I contend with.

I'm actually surprised to see you in L.A. today because I know you and Benedict have been filming Doctor Strange in some far-flung location.
I was in Nepal, yeah. I had to fly all the way back from Nepal to here. Which is a long way, as it turns out!

It's presumed that you're the adversary in the film, Baron Mordo. What drew you to playing the antagonist?
In a strange way, I don't want to answer that question, if you don't mind. Because I feel like it's linked to things I shouldn't get into. I hope it will be interesting when we bring the film out to see what those characters are like — or what they're not like. You're gonna have to wait and see!

Last question for you, then: Ten years ago, you starred as a drag queen in a little indie called Kinky Boots. Are you surprised by how much of an afterlife that story has had since it was turned into this Tony-winning musical that has now gone all over the globe?
It's been great! I met Joel Edgerton on that film, who's become a very close friend of mine, so whenever I see anything advertising it, I just remember that time and getting to know him very well and having a great time. I think that film was a little ahead of its time — now there'd be a really major appetite for a film like that. Then, people were still trying to skirt around the drag-queen or transgender community, and they weren't as engaged or embracing of those communities as they are now. But, yeah, I was in London over the summer and I saw a policeman wearing the red boots, and it was amazing. I mean, talk about the unpredictability of my profession: It's just amazing, where things go and the avenues they take. Decisions you make can reverberate in incredibly surprising ways, and that's thrilling.