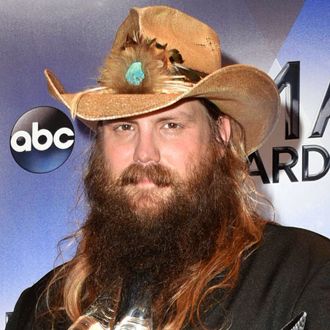 Chris Stapleton.
Photo: AdMedia/Corbis
Music award shows, pointless as they may seem to indifferent viewers, mean a whole lot to the artists. (Just ask Kanye.) Take Chris Stapleton: Up until last week's CMAs — where he performed with Justin Timberlake and beat out several country-music superstars in the night's biggest categories — Stapleton was just another prolific songwriter (for everyone from Adele to Luke Bryan) who'd taken a stab at a solo career with this year's terrific Traveller. But thanks in huge part to the Country Music Association's surprising support for the newcomer on prime-time TV, he's quickly on his way to becoming country music's next household name. His debut album is now the No. 1 album in the country, six months after its initial release. Billboard reports that Traveller sold more copies in the last week (177,000) than it has since it was released in May (just 96,000 by October 29), when it debuted at No. 14 on the Billboard 200. It didn't even top the country chart the week it arrived, instead bested by Zac Brown Band; now it's No. 1 on that chart, too.
With a headline-grabbing week behind him, Billboard says his version of "Tennessee Whiskey" (performed at the CMAs with JT) will debut on this week's Digital Songs chart at No. 2, most likely behind Adele. (The Hot 100 chart is still TBA.) Stapleton's seemingly overnight success means he'll have charted higher than both fan-favorites Carrie Underwood (who's at No. 2 again) and Eric Church, whose surprise fifth album, Mr. Misunderstood, will enter at No. 3. Another interesting factoid: Stapleton's reentry on the list, along with a few other new albums, means that Taylor Swift has finally been edged out of the Top 10 after spending a full year there for 1989. So, can one night signal a changing of the guard in country music away from its reliable bro-country to something arguably more substantial? It's too early to tell, but don't be shocked when Stapleton is up for the coveted Entertainer of the Year award in the not-so-distant future.