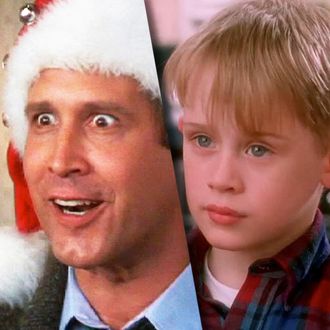 A Tale of Two Christmases.
Photo: Twentieth Century Fox
James Hughes, son of the legendary writer and director John Hughes, put together an oral history of Home Alone for Chicago magazine. In it, he reveals how the film ultimately found its director, Chris Columbus. After directing the 1988 flop Heartbreak Hotel, Columbus was worried about finding a new directing gig. Which is part of why he was so excited when Hughes thought of him for the sequel to the wildly popular Vacation — Christmas Vacation. Also, "To do a Christmas comedy had been a dream," Columbus tells Chicago. So he met with the film's star, Chevy Chase …
"Chevy treated me like dirt," Columbus explains. Needing a job, he began working on the film, shooting establishing shots (some of which can still be seen in the movie). But then he had another meeting with Chase that went even worse. According to Columbus, he then called Hughes and said, "There's no way I can do this movie. I know I need to work, but I can't do it with this guy."
Two weeks later, Hughes sent Columbus two other scripts. One of them was Home Alone.